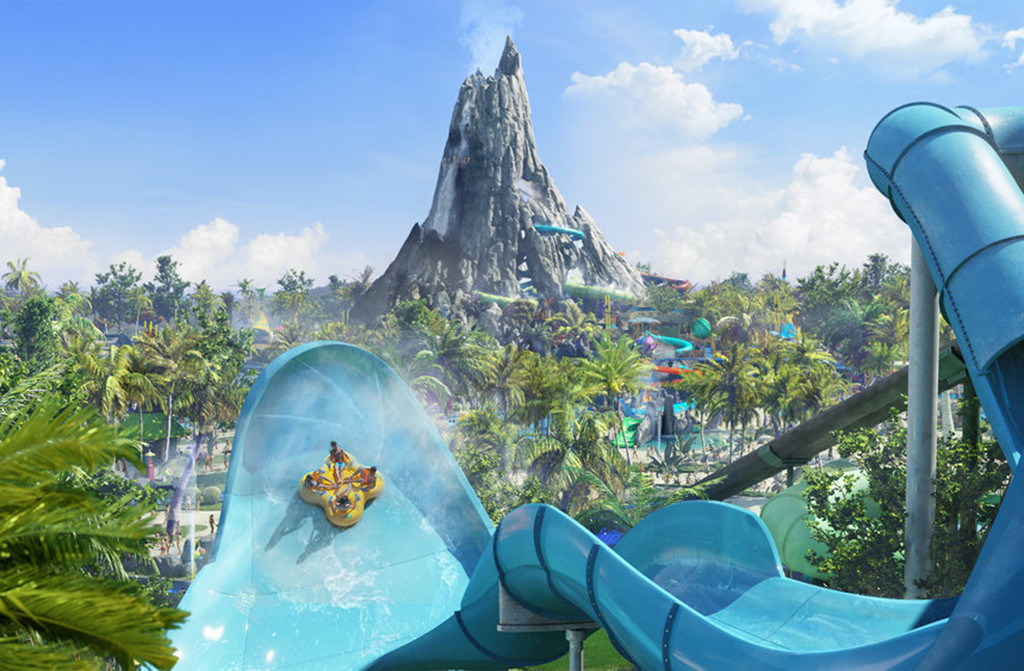 NBCUniversal
Crank up that Will Smith, because it's summertime and vacation is in clear view!
Sun! Sand! Acceptable day drinking! Summer is coming in hot and fast and whether you're going on a family trip or day outing with friends, visits to the amusement park are always a guaranteed good time. If you've got a season pass to a local park or are just looking to take your vacay to the next level, you should probably create a mini-scavenger hunt for yourself and track down these Easter eggs hidden throughout some of America's best and beloved amusement parks.
1. Summer Swim: If you're looking to cool off in the Florida heat, but still seek adventure, hop on over to Universal Orlando's Volcano Bay, which opens May 25. While the overall theme brings is inspired by early Polynesia, engineers found a way to bring 21st century technology into the mix with Tapu Tapu wristbands, changing the way you experience the park completely. While the bands save you a place in line (making Volcano Bay the first "queue-less" park), the awesome feature is the "tap-to-play" experience, which can trigger special effects throughout the park. If you spot special markings  along the paths and waterways, use the Tapu Tapu to activate things like shooting water cannons at guests on Kopiko Wai Winding River, controlling water streams from whales in Tot Tiki Reef, and even illuminate images with the walls of the Krakatau Volcano's caves.
2. Black Suits Comin': Universal Orlando's Men in Black: Alien Attack features replicas of the films' sets, but if you want to feel like you're a top secret agent right next to K and J, ask a staffer to get special access to the immigration room. Sure most visitors assume the room is just another feature you walk by in the queue, but if you can get in, MIB fans will love the details inside, like tabloid covers and various paperwork, which is the best Easter egg in the room. Look out for immigration papers for several aliens including Admiral Ackbar from Star Wars: Return of the Jedi, Kang from The Simpsons, Creed Bratton from The Office, and Dick Solomon from 3rd Rock From the Sun. Warning: Staffers may or may not use the neuralyzer on you after you exit.
3. Hold On To Your Butts: While there, you should probably hit up Universal's Islands of Adventure, since it was voted No. 1 theme park in the world by TripAdvisor last year. The entrance of Camp Jurassic alone features a hidden feature: If you step on the dinosaur footprints, the dinos will roar right at you. Once in the Jurassic Park Discovery Center, be on the lookout for an unassuming can of Barbasol shaving cream. Fans of the film franchise will remember that villain Dennis Nedry (Wayne Knight) hides dinosaur embryos in a container, which is disguised in the shaving cream can. No word on whether real dino embryos are in Orlando...
4. Decode the Stone: As one of Disneyland's most popular rides, Adventureland's Indiana Jones Adventure: The Temple of the Forbidden Eye usually has a long and winding queue. Luckily, Disney engineers made sure guests could stay entertained in the Indy world during the wait. In addition to being able to shake the loose bamboo pole in the spike room or pulling the rope in the rotunda room, the walls are also lined with petroglyphs in the "ancient Marabic dialect". When the ride opened in 1995, guests were handed decoder cards to decipher the messages while they waited, but if you visit today, you're on your own and sans decoder. However, good news is that there are still some floating around out there and you can buy them on eBay before your visit.
5. Life is the Bubbles: Disneyland is a strict no-booze zone (except in the VIP Club 33), so if you're a stressed out parent who just needs to relax a little, head over across the way to California Adventure, where the wine in "Napa Valley" is flowing. If you're feeling more Under the Sea vibes, head upstairs from Ariel's Grotto to the Cove Bar, where there is a secret menu (subject to availability). Those in the know can order a classic Zombie, a Black Pearl (aka Long Island Iced Tea), and Mickey's Fun Wheel, which has a bonus garnish of a lemon slice that looks like Mickey ears.
6. Hidden Mickeys: Both in Disney World and Disneyland, there are hidden Mickeys throughout the parks. In Tomorrowland, you'll find one if you look for a high streetlamp near the Speedway. The fixture has three round hooded lights, and at certain times of the day, it will cast a Mickey shadow on the ground.
7. Put Their Service to the Test: Over in Magic Kingdom, if you can score a reservation in the very popular Be Our Guest restaurant, don't miss out on your chance to try "the grey stuff" it's delicious. Seriously, it's an item on the secret dessert menu that is worth every bite. The tasty treat is said to be a shortbread cookie topped with white chocolate mousse and inside is red velvet cake and raspberry center inside.
8. No Veritaserum Needed: Potterheads will already be overwhelmed when the universe they imagined from the books and saw on screen becomes a real experience at The Wizarding World of Harry Potter (Universal Studios Hollywood and Universal Orlando), but if you want true wizard cred, try using spells throughout the park. Once you find the perfect wand (or the wand finds you), you'll be given a map with specific locations to try out your spells. But that's not even the best part: There are even more secret spells not listed, so you'll have to Maurader Map-it by heading to Knockturn Alley. Once there, hold up your map to a black light, and that will reveal the spell locations written in invisible ink.
9. Hello, It's Me: After sipping on some butterbeer, go to King's Cross Station and instead of just posing for photos in one of the red phone booths, dial "MAGIC" to get a special message from the Ministry. By the end of the day, you'll be able to pass your O.W.L.s with flying colors.
(E!, Universal Studios Hollywood and Universal Orlando are all part of the NBCUniversal family.)