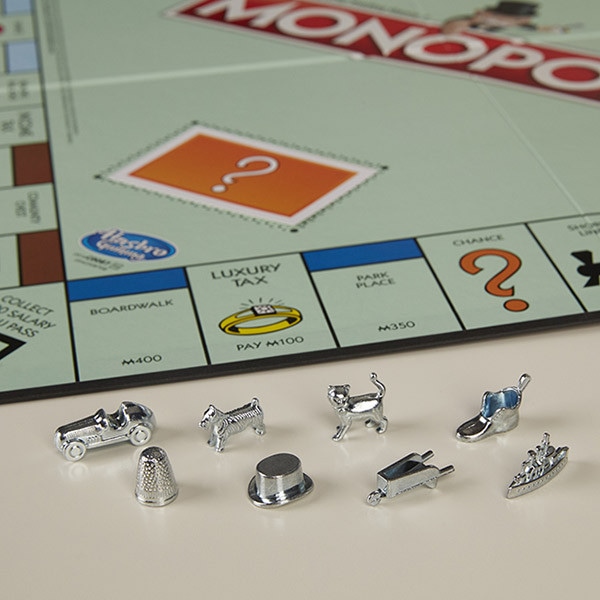 Hasbro Inc.
It's the end of an era.
Monopoly has booted the boot, thimble and wheelbarrow from its iconic game, choosing to replace the iconic pieces with a Tyrannosaurus rex, a penguin and a rubbery ducky. The new tokens will add a bit of terror and cuteness to the property acquisition game board, which turned to its fans to figure out the new pieces.
Hasbro announced the winners, which were selected from 64 options, Friday morning.
"While I'm sad to see the iconic thimble, boot, and wheelbarrow tokens go, it will be fun to have some new, fan-sourced tokens in the mix," Jonathan Berkowitz, Hasbro's senior vice president of marketing, said. "Personally, I've always especially liked the boot token, but I'm excited to move onto the T-rex."
The other contenders were a winking emoji, a hashtag, an '80s-style cellphone and a pair of bunny slippers. The Scottie dog, cat, top hat, race car and battleship will continue to have a place on the board...should players select them. The big reveal comes only a couple of days ahead of World Monopoly Day, March 19.
Since the game's creation in 1933, Monopoly has had 20 different pieces from which players could choose, but the thimble, boot, top hat and race car were among the originals. This is the second time the game has hosted a contest to determine which pieces would stay or go. In 2013 Hasbro launched "Save Your Token," and millions of voters opted to ditch the iron in favor of the cat.
What do you think of the new pieces? Sound off in the comments!