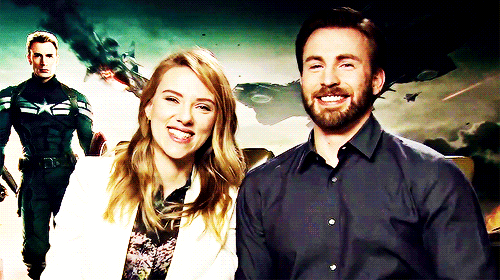 Tumblr
If Marvel fans had their own super powers, perhaps bringing Scarlett Johansson and Chris Evans closer together would be on the top of their to-do list.
While the Hollywood stars have starred together in several Marvel movies including Captain America: The Winter Soldier, some admirers have always wondered if these two could turn into more than friends.
Sure, tabloids have come up with wild headlines that they could possibly be romantically connected. According to a source, however, Scarlett isn't focused on getting into another relationship following her divorce from Romain Dauriac.
"Scarlett just got separated from Romain and is still dealing with the fact that now she's had two failed serious relationships," an insider shared with E! News. "She's not trying to rush into anything and is just chilling."
While both stars proudly represent team single and remain just friends, here's five reasons why so many fans are still shipping the famous pair.
On-Screen Chemistry: In the Marvel franchise, it's hard not to root for Captain America and Black Widow's bond and friendship. They always say the best relationships stem from the best friendships. Just sayin'.   
Kid Lovers: Because Scarlett has a beautiful daughter, the next man in the actress' life must love kids. Lucky for fans, Chris appears to love children. Whether having a blast at Nickelodeon's Kids' Choice Awards, playing a hands-on dad on the big screen (Hello Gifted) or simply smiling with young fans, this guy could make a great parental figure. 
Red Carpet Magic: While these two usually pose with their entire cast or completely solo, we can't help but remember the rare occasions where they buddied up for a few photographers. One case in point was at the London premiere of Captain America: The Winter Soldier in 2014.
Dynamic Duo: Some fans can't help but point out the magic that happens when these two are paired up together for press tours. Perhaps it's Scarlett getting completely surprised by Chris on The Ellen DeGeneres Show. Maybe it's the pair entertaining troops on the USO Holiday Tour. Ultimately, these two know how to have some innocent fun when they hang out.
Newly Single: Earlier this month, Scarlett filed for divorce from her husband of two years. As for Chris, he recently broke up amicably with Jenny Slate after nine months of dating. Fans totally get if they need some time to heal their hearts. But when they're ready, they may have found their future plus one.