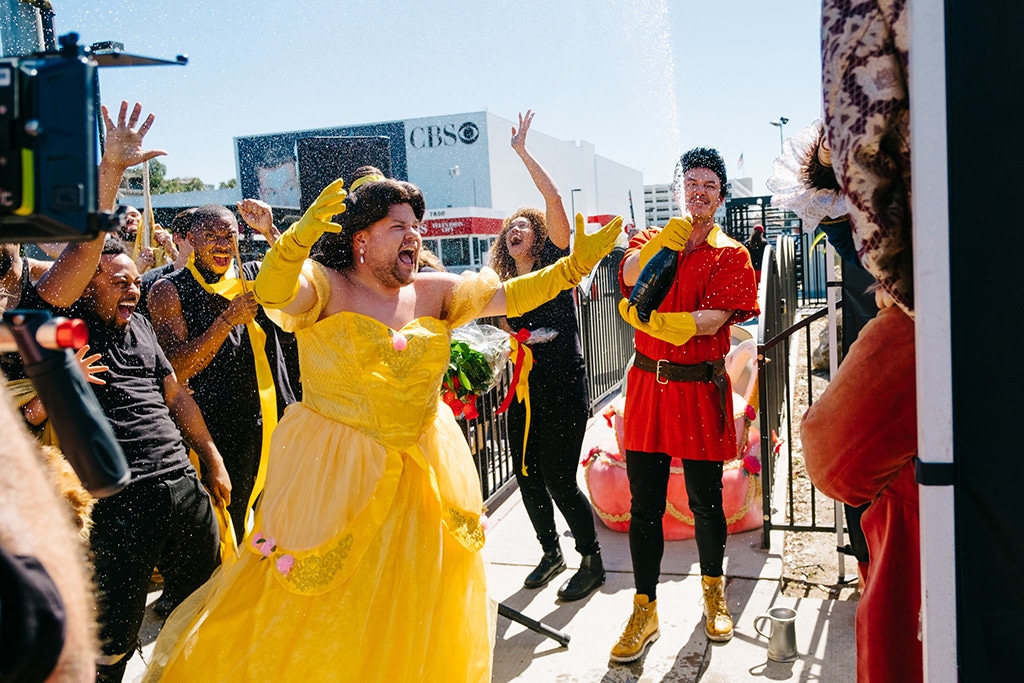 Terence Patrick/CBS
Carpool Karaoke isn't James Corden's only brilliant recurring segment.
The Late Late Show show occasionally recruits some lively actors and dancers to give over-the-top performances from Broadway shows as part of his Crosswalk the Musical bit, which is part musical, part road hazard.
The segments are filmed on a crosswalk on a busy street in Los Angeles near the CBS studios, where the series is shot. With short times allowed for pedestrians—which means the performers scramble back to the sidewalks hastily and hilariously—and the audience of drivers sitting in heavy traffic, the spectacle draws plenty of bewildered faces and tons of laughs from viewers.
We ranked the four Crosswalk the Musical segments that have aired so far:
4. The Lion King: In 2016, Corden enlisted the help of Neighbors stars Seth Rogen and Rose Byrne to help perform songs from The Lion King. Unlike Disney's polished Broadway production, the host's group had to make due with costumes that were far...cozier, as they belted out "I Just Can't Wait to Be King," "Hakuna Matata" and "Can You Feel the Love Tonight?"
Rogen did not take part in the signing but played a vital part of a key scene none the less.
"Oh my God, did everybody just see what happened here?" Corden asked. "I didn't see this guy. I just saw the moon."
"Someone's gonna get killed doing this," Rogen said later.
3. Grease: Also in 2016, Corden and a group of performers performed the songs "Summer Nights," "Greased Lightning'" and "We Go Together," " from the hit Broadway musical
Corden played Danny Zuko and pretended to act like a total diva before he and his T-Birds and the Pink Ladies took to the street, even jumping on someone's car.
"This is live theater," he said.
2. Phantom of the Opera: In 2015, Corden recruited the cast of the Broadway's show's national tour for Crosswalk the Musical, with him playing his dream role of the Phantom.
Accompanied by a performer wielding a two candelabras, the host dramatically led leading actress Katie Travis, dressed as Christine Daaé, down the crosswalk while singing the seductive "Music of the Night."
He and the cast later donned colorful costumes and masks sang and danced to "Masquerade" as one driver was shown watching and smiling.
And for the title song, Corden and Travis made their way down the crosswalk again in—what else?—a motorized gondola. Now that's going the extra mile!
Wearing costumes more reminiscent of the type found in the original 1991 animated movie and on cast member character actors at Disneyland, the group performed "Belle," "Gaston" and "Be Our Guest" and "Beauty and the Beast," with Stevens leading Corden, dressed in Belle's iconic yellow ball gown, in a beautiful waltz down the crosswalk.
"I...totally would," Evans said, as he checked the host out.