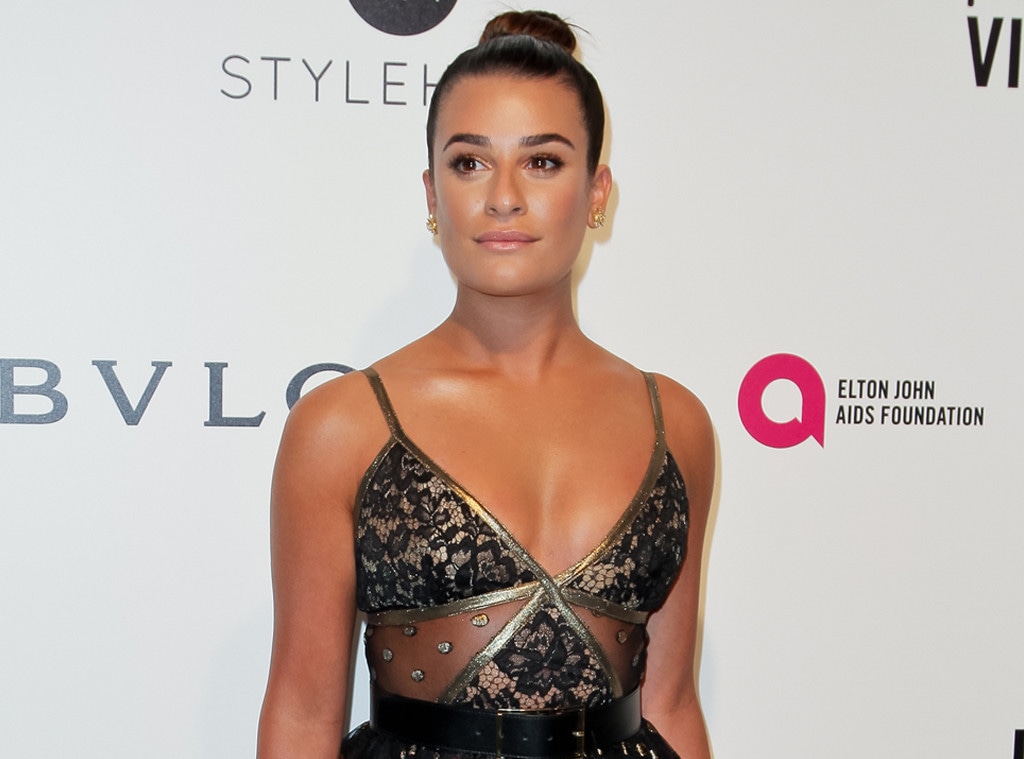 TIBRINA HOBSON/AFP/Getty Images
Today, she's a 30-year-old two-time Golden Globe nominee who's graced the screen and stage. But, for Lea Michele, rising to the top in Hollywood wasn't a seamless harmony. 
The Bronx native began her show business career on the East Coast where she made her Broadway debut at 8 years old in Les Misérables and steadily garnered more standout roles, including originating Wendla Bergmann in the 2006 debut of Spring Awakening. 
"I loved being on Broadway and that's what I did my whole life. I was so happy to be on Broadway, but I was always told I wasn't pretty enough for television or that there wasn't a space for me there," she told E! News exclusively.
Despite her doubters, Michele did make it to Tinseltown as Glee's Rachel Barry, a role that would garner her two Golden Globe nominations and one Emmy Award nomination. After the show's sixth and final season, a lead role struck again for Michele as she was cast in Fox's Scream Queens. 
"Hollywood was just this glamorous life and I never really thought I would leave New York and now, here I am and I wake up every day and I get to do what I love," she reflected. "I'm beyond amazed every day."
In between takes, the triple threat stepped back into the recording studio for her upcoming second studio album, Places, a tribute to both the journey and the destination. 
"I wanted something that really connected to my roots of either being from New York or from Broadway and I consulted with my best friend [and Spring Awakening co-star] Jonathan Groff. I said, 'Jonathan, what are some terms or some phrases, a street name or a restaurant, an apartment that really connects to our past in New York and how we grew up and who we are?' And we came up with the word 'places' because when you are on Broadway they go, 'Ladies and gentleman, it's your 30 minute call to the top of the show,' and you get your 15 minute call and your five minute call and then you get your places called and that means it's show time," Michele explained to E! News.
"Not only does that mean all the places that sort of lead the way to where I am today, but really it means it's showtime. It means let's f--king do this."
She did it her way. As Michele said, the new music is "different in a lot of ways."
"I really went back to my roots with this album and I really used the women that I grew up listening to, like Barbra Streisand and Celine Dion, as real lampposts for the basis of the power of this album," she said. "I just didn't try to sound like anyone other than myself. No one wanted me to change my voice. If it's theatrical, it's theatrical. If it's dramatic, it's dramatic. It's me." 
While she didn't get to consult with her powerhouse idols while making Places, she hopes to have Streisand and Dion's blessing. "Anytime that I've ever met either one of them, they've both been incredibly kind to me. The last time I saw Celine, I bumped into her outside of a hotel," the songstress recalled. "She didn't know who I was and she just was like, 'You look beautiful!' Like, out of nowhere, so I was like, 'Oh my God—my day is made.' Heaven." 
However, Grammy nominee Ellie Goulding did get to play a part in the new album by passing along one of her own songs for Michele to sing.
"I am obsessed with her and she was in the process of making her last record. This song I guess didn't make the mix and they thought it would be a good fit for me," she explained to E! News. "It was really important to me that I wrote most of these songs, or that these songs were personal to me, so we didn't take a lot—they came from personal stories of mine. But, when we heard this song, we were like, 'It's so perfect for the record.' It sounds like Ellie, but I feel like I've made it my own and I'm a huge fan of hers, so I can't wait for everybody to hear it."
Christopher Polk/Getty Images
She also can't wait to get in front of the camera and shoot some new music videos, including one for her track "Getaway Car," which will hopefully feature one of the perks of show business—a dreamy co-star. 
"I just want to find a cute boy and let's drive in a car together," she said with a laugh. "That's when you get to enjoy your job, when you get to be like, 'I get the [most handsome] man in the world and we get to make out the entire time. We just have to—it's for the story!"
She'll be hitting the road in real life for her Intimate Evening With Lea Michele promotional tour set across the country. "I have these incredible fans who've stood by me for so long, so this is an opportunity for me to meet them [and] thank them for being so supportive. I can't wait to go to places I've never been before."
It's also a chance to spread her album's core message—"anything's possible."
"If you would've told me when I was 15 that I'd be here in Los Angeles living my dream, I would've been like, 'You're crazy. I'm not pretty enough or I'm not cool enough,' whatever. And it happened! So, you have to believe." 
Places will be available on April 28. 
—Reporting by Alli Rosenbloom