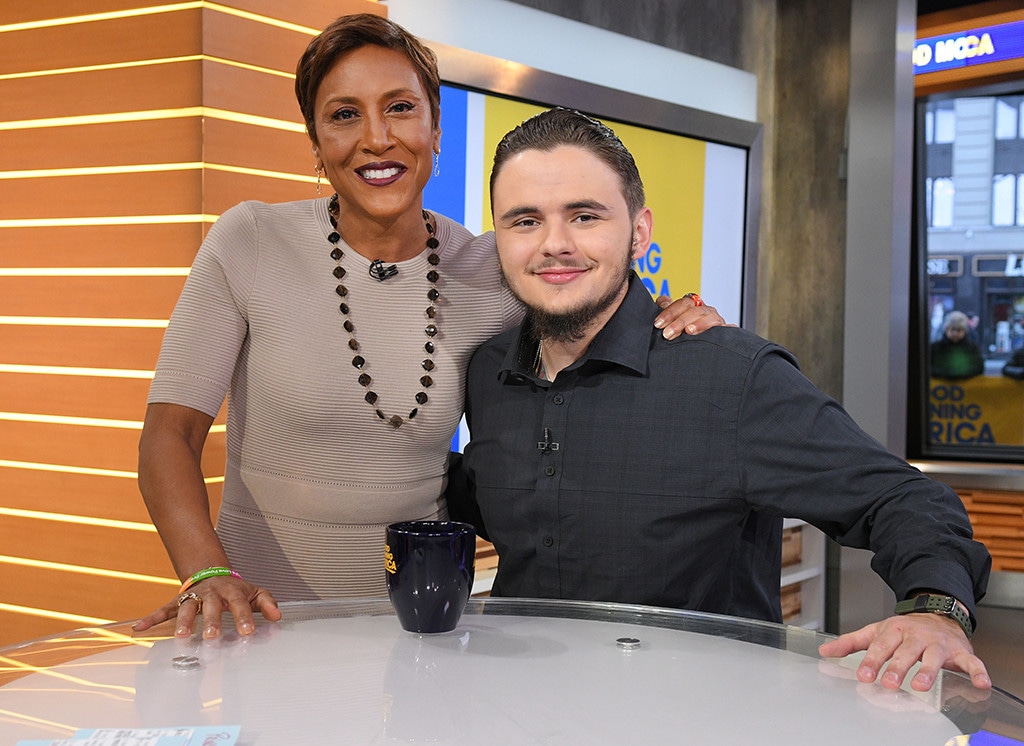 ABC/Lorenzo Bevilaqua
Prince Jackson inherited his father's spirit.
In a live interview with Good Morning America's Robin Roberts Monday, Prince explained how he's keeping his late father Michael Jackson's legacy alive while also making a name for himself. "I'm not a fan of having my private or personal life being out there," the 20-year-old said at the top of his interview with Robin, "but I understand the importance of showing what I do and hopefully trying to inspire others to continue spreading the good and helping the community."
Prince first discussed Heal L.A., an organization he and John Muto co-founded at Loyola Marymount University. "We primarily focus on child abuse, homelessness and hunger in [the] Los Angeles-area. Recently, we partnered with a charity called A Sense of Home, which supports foster kids who have aged out of the system in a sort of preempt against homelessness, because it's very hard to get on your feet once you got out of the system," Prince said. "People don't understand how the little things can add up and really make a big difference in someone's life."
Like his father, who died in 2009, Prince's interests are vast and varied. So, last summer, he created King's Son Productions. The name was an "obvious" choice, he said, "because my father was the King of Pop. King's Son Productions has this mantra where a title is earned but a name is given. I was born as Prince, and that was the name my dad had given to me, but my dad had earned the epithet 'King of Pop.' That's through hard work and years of training and everything that he worked so hard to get," Prince explained. "So, it's a form of motivation. My name is Prince, but for all intents and purposes, I'm the King's son. I am working to get my own epithet."
After producing Omer Bhatti's "Automatic" music video in 2016, Prince did some admittedly late research. He learned that one of his father's music videos, 1995's "Scream" with Janet Jackson, was one of the most expensive ever made—"adjusted for inflation, of course," he said.
"I take a lot of inspiration from that as well, with the long form of storytelling in music videos," he explained on Good Morning America. "Because music is an art, it's a story, it's something that should come from your heart, and having an accompanying visual really can tell the story."
Prince—whose favorite video of his father's is "Smooth Criminal"—admitted he doesn't see Michael the way many of the singer's fans did. "Even after we realized he was the King of Pop—even to this day—I don't think it holds the same weight to us that it does to other people," he explained, "because he was our father, our dad, our daddy—whatever you want to call him."
"I guess when we kind of realized was when we saw videos of him performing. We were out of the country at the time, and we were watching videos of his performances. I've been used to seeing most females pass out when they see their [favorite] artists; they get very emotional," Prince told Robin. "But what blew my mind was when I saw the big muscle-bound dudes fainting and having to be dragged out. I was like, 'OK, there's something else going on here!'"
What would Michael make of Prince and his sister Paris Jackson becoming public figures? "As we were growing up, my dad always said, 'I really don't care what you do in life as long as you're happy doing it and you're the best at what you do. If you want to be a janitor at a high school, you should be the best janitor that you can be,'" he said. "I think that he would always be the supporting figure to me and my siblings and support us in all the endeavors that we try."