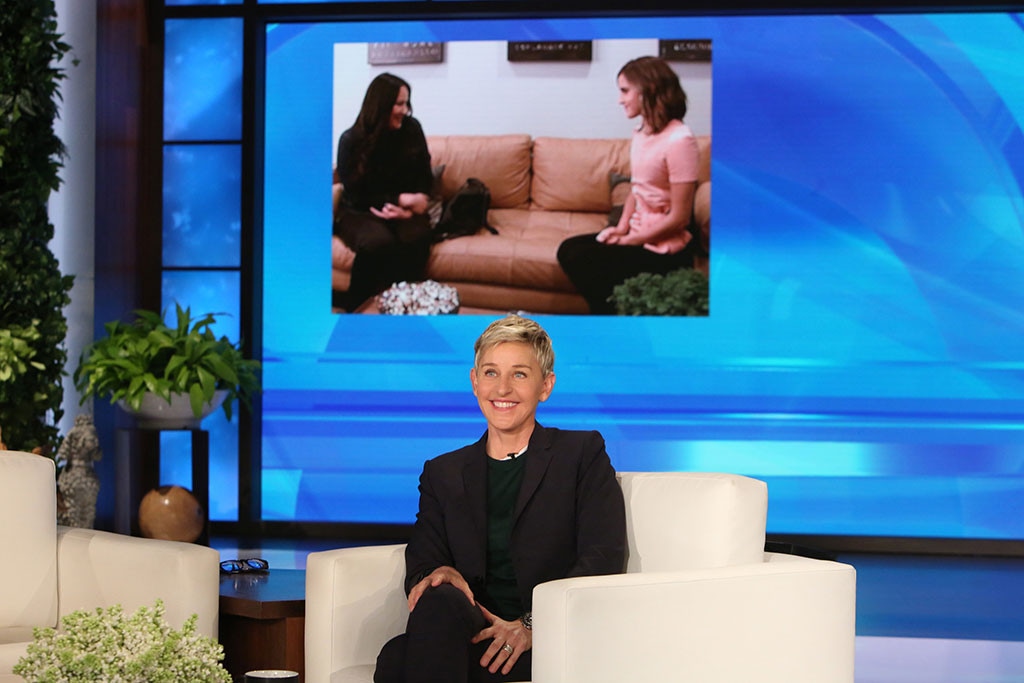 Michael Rozman/Warner Bros.
When Ellen DeGeneres tells you what to say, hijinks can ensue!
Over the years, celebs and others have played her delightful hidden camera prank on people, in which they wear a secret earpiece and recite bizarre things she tells them to say.
Here are seven of the best celebrity pranks, ranked:
1. Emma Watson: The star of the Harry Potter movies and the upcoming Beauty and the Beast reboot was a sport while talking part in one prank recently. Take a page from The Bachelor's Corinne Olympios, she was made to interview potential nannies...for herself!
Watson noted how Olympios inspired her, even using the word "vagine," and was also made to act like a ridiculous, childish narcissist.
"I like to potty alone. I don't need you help me potty. But I want us to be like family. And the family that laughs together, stays together," Watson said, pretending to laugh like a maniac.
2. Adele: In 2016, DeGeneres had a woman pretend to be the singer's assistant. She headed over to a Jamba Juice and told a worker that Adele is coming in and needs to be treated like a regular person. DeGeneres then had the singer walk in.
"Hello from the outside!" she exclaimed outside cheerfully.
She then entered the store and at DeGeneres' command.
"Money is no object," she said, as she began to order.
One of the worker rattled off some suggestions and she rejected them all, then seemingly automatically changes her mind and ordered all of them. She also asks if she can chop up some wheatgrass herself...and then began to eat it.
 "I feel like a deer in a forest," Adele said.
3. Adam Levine: After announcing the sex of his second child with Behati Prinsloo, the Maroon 5 frontman tested the stress limits of one food deliveryman as he lamented over a French onion soup and other typically very soft food items that were "too hard" for his liking. 
"I'm a huge tipper, so this is worth it for you. I promise," Levine told the man as he asked him which individual pasta noodle he should try next. 
The diva antics continued for a while, before he eventually admitted, "You know what's not soft? Blake Shelton's butt. He has soft lips though."
4. Sofia Vergara: In 2010, the Modern Family star was sent to a production supply store on the Warner Bros. lot, where The Ellen DeGeneres Show is filmed.
She talked to a worker about filming a movie and having to act sad and cry a lot and do a Texas accent. She then demonstrated hers.
"Howdy partner!" she said. "My agent thought this would be a perfect part for me."
"Somebody told me I have junk in my trunk," she later said. "Do you have junk in your trunk?"
She also demonstrated her crying, galloping and neighing skills.
5. Bruno Mars: In 2014, the singer was made to a be examined by a nurse at his home. Things got awkward fast.
"I'm Bruno," he said, echoing DeGeneres. "Well, actually, when I'm not on stage, my name is Ramon. You can call me Ramon."
"I haven't swallowed since the Super Bowl. It's like I have a chip in my mouth," he said. "Either Chex Mix or a Dorito or Frito or Pringle. It wasn't a Pringle actually."
He then went on a tangent about Pringles.  "This happened once before when I was in Canada. It's a funny story, actually," he said, bowing his head and pausing for several seconds. "Oh, I was just thinking it to myself. You had to be there."
"Did you see me on the Super Bowl by any chance?" he asked. "I nailed it. I was so good. So, so good."
6. Kris Jenner: This time around, Ellen sent the Keeping Up With the Kardashians matriarch to a 99 Cents Only Store, where she was forced to give one unsuspecting employee a pretty hard time in the checkout line. 
Kris was told to complain about the cost of various 99 cent items (LOL!), and even admitted she's "broke" and shaves her back.  "I look like a lunatic!" Jenner laughed out loud as she departed the store in a fuzzy white robe and a plastic tub for her upcoming birthday "kegger" in hand. Never change, KJ!
7. Steve Harvey: In 2013, Harvey hosted his own talk show while playing DeGeneres' hidden camera prank on his audience. At her command, he made a personal confession that she invented.
"My mustache is fake," he said. "It's made out of dryer lint."
(This story was originally published Sunday, March 5, 2017 at 3:10 p.m. PST)