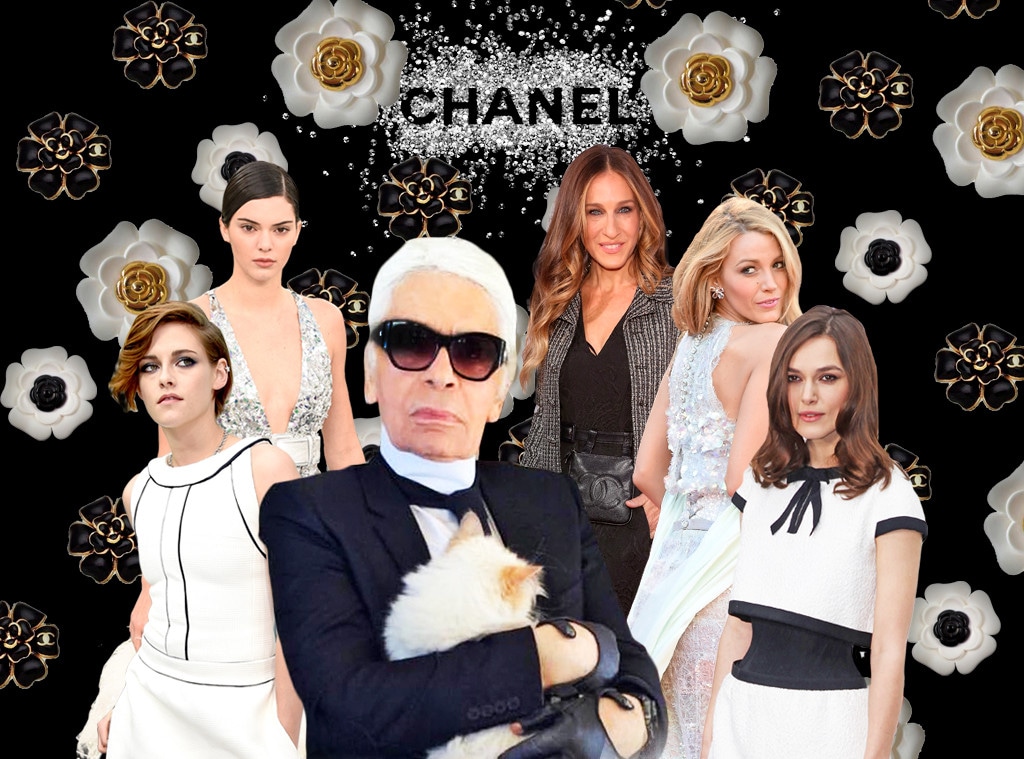 Getty Images; E! Illustration
When Karl Lagerfeld did not appear to take his customary bow at the end of Chanel's two shows during Paris Haute Couture Fashion Week in January, it was the end of an era.
It was also clearly a sign that something was amiss with one of the industry's most stalwart presences, who celebrated 50 years at Fendi in 2015 and once brusquely said, "Why should I stop working? If I do, I'll die and it'll all be finished."
He truly didn't stop working until he had no choice. Chanel confirmed Tuesday that Lagerfeld had died, triggering an outpouring of remembrances from the endless list of celebrities, fellow designers and influencers who called him a friend, frenemy or inspiration.
"One day it will be over and I don't care," Lagerfeld told T, The New York Times Style Magazine, in 2015. "As my mother used to say, 'There is one God for everybody and all the religions are shops.'"
In this piece from 2017, here's a look at how the designer who did it all exactly his way stayed in demand, and why, even if he didn't care, everyone else does:
For all of the acting superlatives deservedly bestowed on Meryl Streep over the years, she's never really been known for her fashion.
She's been showbiz royalty for so long, her red carpet presence is more breezily regal than anything else. The three-time Oscar winner may as well wear velvet robes.
But because it's not socially acceptable to drape one's self in velvet (or at least it didn't used to be), Streep dons gowns made by famous designers when the event calls for it, just like everybody else. And for the 2017 Oscars, which marked her 20th nomination, she chose a glittering blue Elie Saab creation.
Streep didn't, however, get dressed Sunday until after she had firmly eviscerated Karl Lagerfeld's claim that she had been planning to wear a custom Chanel dress—that is, until she found a designer who would pay her for the honor of wearing their dress at the Oscars.
The most surprising thing about the entire incident, meanwhile, was not that Lagerfeld made that claim about Streep, telling Women's Wear Daily, "We give them dresses, we make the dresses, but we don't pay. A genius actress, but cheapness also, no?"
The surprise was that he backed down afterward and admitted to getting the story wrong on his end.
ROBYN BECK/AFP/Getty Images
"Chanel engaged in conversations with Ms. Streep's stylist, on her request, to design a dress for her to wear to the Academy Awards," the creative director of Chanel and Fendi said in a statement. "After an informal conversation, I misunderstood that Ms. Streep may have chosen another designer due to remuneration, which Ms. Streep's team has confirmed is not the case. I regret this controversy and wish Ms. Streep well with her 20th Academy Award nomination."
He almost apologized!
This of course sends a loud and clear message about Streep's stature among celebrities: Namely, even Karl Lagerfeld doesn't want to be on her bad side. Moreover, people who take swipes at Meryl tend to...let's just say, they become the butt of lengthy jokes at the Oscars. 
But the fact that his formal reversal is such a rarity (normally, he claims to have been taken out of context—if he's questioned at all), also says something about Lagerfeld's stature, among designers and in the fashion world in general.
After more than 60 years in the fashion business, including half a century as one of the most preeminent names in couture, Lagerfeld is famous for many things. Being polite or mincing words isn't one of them.
He has made questionable comments about a range of seemingly unimpeachable pop culture figures, from Streep to Adele to Princess Diana; but though he's offended more than once, anyone who gives a fig about fashion clamors to wear his clothes, particularly the über-iconic Chanel label.
Madonna may have stuck up for Adele in 2012 when she called Lagerfeld's comments about the singer's body "horrible," but it's not as though she threw away her fingerless Chanel gloves afterward. (Lagerfeld, who had called Adele "a little too fat," later called himself the artist's "greatest admirer" and, sure enough, said his quote was taken out of context.)
"Maybe he wanted to be in the paper? Maybe he doesn't understand what I do?" Heidi Klum wondered after Lagerfeld had told German GQ in 2009 that he didn't know her and that she hadn't known in France. "It's bizarre to me that he says he doesn't know who I am because he's dressed me in the past. I've worn Karl Lagerfeld." She added, "You can't please everybody, and you can't live your life wanting to please everybody either."
Dave M. Benett/amfAR12/Getty Images for amfAR
In 2012, Klum and Lagerfeld looked perfectly friendly at amfAR's Cinema Against AIDS gala in Cannes—and to this day, Klum is a fan of Chanel accessories, particularly the iconic chain strap bag.
Now, some of his most caustic comments could be interpreted as the unhinged musings of an out-of-touch gentleman, one who hasn't gotten the memo that public commentary on a woman's looks is passé. But Lagerfeld's marbles are intact.
The at-times scathing candor that makes him sound off the rails at times stems from the same personality that makes him the fearless fashion genius that he is, one who at 83 is still a taste-maker and icon for women and men who are a quarter of his age. One who must pay attention to aesthetics, but is fully aware that looks are only a sliver of what makes a person.
Rindoff/Le Segretain/Getty Images
Asked his thoughts on psychoanalysis in 2015, he retorted to The New York Times T Magazine, "Analysis? What for? To get back to normality? I don't want to be normal."
"Karl has always, from the very beginning, made me feel like being myself was the right thing to do. And in [the fashion] world, that is a rarity," Kristen Stewart, a Lagerfeld muse and Chanel ambassadress for several years now, told V Magazine recently. "He's a compulsive and obsessive artist and it's contagious. And he's kind. He is who he is for a reason. I feel so lucky to be in his space so often."
Stewart, clad in a black leather quilted jacket and cashmere top from the Chanel Paris-Cosmopolite 2016/17 collection and a black silk and lace skirt from the Spring-Summer 2017 Ready-to-Wear collection, attended the Chanel and Charles Finch 9th annual Pre-Oscar Dinner at Madeo in West Hollywood the night before the Oscars.
THOMAS PETER/Reuters /Landov
Brand ambassador Pharrell Williams, who did wear Chanel to the Oscars (as did Sofia Boutella), was also in attendance, as were Hailey Steinfeld, Nicole Kidman, Naomi Watts, Stella Maxwell, Poppy Delevingne, Lily Collins, Adrien Brody, and Jamie Dornan and wife Amelia Warner.
In a world where the turnover at the top of the most storied design houses in the world is starting to rival the swapping of players among pro sports teams, Lagerfeld is as close as fashion has to an immovable force at the moment. He's a bridge to the past and the "old ways" who has also never stopped plowing relentlessly forward, knowing what the most immaculately dressed people in the world are going to aspire to wear at every turn.
"You wouldn't think it was couture. That's what I found groundbreaking," French actress and filmmaker Helène Fillières said after the Chanel Spring/Summer 2014 Couture show in January 2014, also attended by Tilda Swinton and Lily Allen and opened by Cara Delevingne. "It was perfectly adapted to women of today."
That being said, Lagerfeld knows no one is going to pay, in this day and age, for anything less than the entire white-glove experience—couture as a way of life, rather than just an outfit.
''Couture is about service, the salon, the vendeuse, the box and the way the clothes are wrapped and presented to the client,'' the German-born designer told The New York Times in 2003. ''It is a package deal.''
Keira Knightley got married in May 2013 a short, strapless Chanel party dress with a layered tulle skirt that was the stuff of our cotton-candy-fueled dreams—and then she recycled the look for a red carpet in London that December, black tights underneath giving it a grunge-chic look.
Calling the dress "very simple," Lagerfeld described Knightley's nuptials as "perfect" and "the least pretentious wedding ever."
The designer also praised Knightley's portrayal of Coco Chanel in his short film Once Upon a Time—a marked upgrade from Audrey Tautou's portrayal in the BAFTA- and César-nominated biopic Coco Before Chanel, in his opinion.
"Oh, the movie was bad. She played it like women's lib, like Simone de Beauvoir 30 years before The Second Sex. No, no, no, no. Chanel was a different kind of woman," he told The Telegraph. "Keira had it. She is a young woman in love, not a spinster."
Stewart also played a version of Coco in another Lagerfeld-directed, 11-minute film, Once and Forever, shown at Chanel's Métiers d'Art show in December 2015.
"Karl is supremely natural and thoughtful, which rubs off on an actor, always...that confidence," she told Vogue about the experience. "His interest in cinema is clear and working with him in that way was inspiring...to see him in yet another shade of light, thriving...'Once more—with feeling.'"
Bertrand Rindoff Petroff/Getty Images
Lagerfeld, despite what can be interpreted as his shocking comments about a woman's looks or style (needless to say he'd be an amazing judge on America's Next Top Model), is actually the epitome of someone who considers a woman's entire being before forming any opinion about her whatsoever. Meaning, the women who have inspired his creativity or piqued his intellect are more than just an assortment of parts on which to display his clothes.
"[We are] easily in a period of over-retouching," Lagerfeld observed in 2013 in a talk at Lincoln Center, per Fashionista. "[It makes] some models look as if they are coming out of a funeral parlor, all life taken out of the face, I hate that."
Jordan Strauss/Invision/AP
He told the Times in 2015 that Julianne Moore was his idea of the perfect woman.
"I don't know [why]," he said. "I just think she's great. Her whole life; the way she is in life. And Jessica Chastain—she's great, too. Of the younger generation, I love Kristen Stewart. She is gifted. She looks tough but in fact she's the nicest person in the world."
Moore wore Chanel to the 2015 Oscars, when she won Best Actress for Still Alice, and again to the 2016 Oscars to present.
Chastain, a longtime friend, actually conducted the aforementioned interview with Lagerfeld at Lincoln Center. Asked what he did for fun, he quipped, "I admire people who destroy themselves."
When the NY Times asked in 2015 what young designers he currently liked, he only named one—but it was a woman, Alexander McQueen creative director Sarah Burton. (And of course, his beloved cat Choupette, whom Lagerfeld has credited with making him a better person, is a girl.) 
But though he doesn't lavish praise on the next generation, Lagerfeld is hardly fusty or suspicious of youth, instead always interpreting the trends of tomorrow through a seasoned lens that has seen the entire arc of fashion since the 1950s and is not afraid of what's to come. Subsequently, Lagerfeld knows an It Girl when he sees her, Kendall Jenner, Gigi Hadid, Cara Delevingne, Lily-Rose Depp and Willow Smith being among Chanel's recent favorites.
Rindoff/Le Segretain/Getty Images
Diane Kruger, a beauty ambassador for the brand and a devotee for years, called the "Chanel woman" a "subtle woman, a cultivated woman, a free woman"—an aura developed by Coco Chanel and still firmly in place to this day under the guiding hand of Lagerfeld.
"More than anyone I know, he represents the soul of fashion: restless, forward-looking and voraciously attentive to our changing culture," Anna Wintour said when presenting Lagerfeld with the Outstanding Achievement Award at the 2015 British Fashion Awards, a year after she had received the honor. "It was Karl who realized, earlier than most, that ready-to-wear wasn't just couture-lite, but the vibrant center of the new, accomplished woman's lifestyle."
"His vision is so incredible, and the fact that he still references back to Coco Chanel's visions and traditions, the merging of the two, the fact that he's able to manage that is really remarkable," gushed Blake Lively at the 2010 opening of the Chanel boutique in SoHo during New York Fashion Week, an event crawling with his A-list fans, including Kruger, Rachel Bilson, Sarah Jessica Parker and Paula Patton.
"He's sort of in an incredible universe of his own," Parker said. "I just think he's been really smart about it and really interesting."
"I mean, he's iconic," Bilson added.
In a joint interview with Lagerfeld published last May in Harper's Bazaar, Kendall Jenner recalled meeting him for the first time.
"Before I met him, well, when you think of Karl Lagerfeld, someone that amazing, you sort of don't think they actually exist," the now 21-year-old model said. And she didn't mind that he wasn't aware of why she was initially famous.
"We don't have [Keeping Up With the Kardashians] here," Lagerfeld said. "I didn't even know she was in it. I saw it when it was only her sisters and she was, like, a baby."
"I love that, Kendall said. "That's so refreshing to me."
(Originally published March 2, 2017, at 12:57 p.m.)