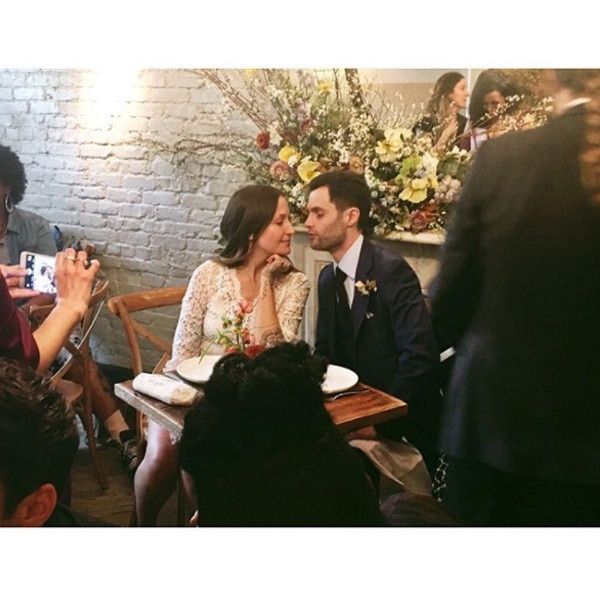 darthvadenz/Instagram
Lonely Boy, no more!
Yes, Gossip Girl fans, Penn Badgley's lonesome day are behind him as a source confirms to E! News he's a married man!
We're told the actor wed Domino Kirke—Jemima Kirke's sister—in a courthouse on Monday afternoon in Brooklyn. They said "I do" among several of their friends and family members who caught photos of the beaming couple, posting them to social media.
Badgley looked handsome in a navy suit with a black tie, while Kirke opted for a white, long-sleeved lace dress with a beautiful bouquet of pastel-colored flowers.
One friend shared this photo of the gorgeous couple, writing, "Congrats to a couple beautiful people."
Kirke's other sister, Lola Kirke, also shared a moment from the courthouse, writing a sweet message for the lovebirds.
"When someone gets married in a courthouse, it's really an open invitation to everyone but the beautiful bride to explore all that fashion has to offer," she wrote. "Here, I try a look simply called 'Pants,' as Cassius goes for 'That Dude from #incubus' and Jemima experiments with 'Off to Therapy!' Congratulations @dominokirke. We love you."
Jemima also took to Twitter to share her version of a congratulations with the couple.
"Congratulations ya shitheads! @PennBadgley and @DominoKirke it's all downhill from here. In a good way!" She tweeted, before adding, "to clarify they're married. domino badkirke. Penn kirkley."