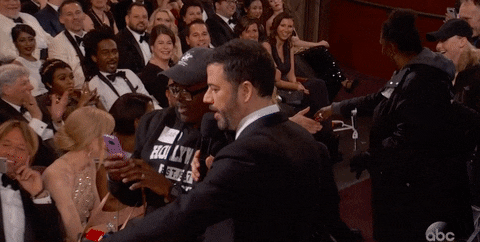 Giphy
Forget about seeing stars, these tourists are the stars!
During Sunday night's 2017 Oscars, host Jimmy Kimmel decided to deliver a huge surprise to a group of visitors riding along a Starline tour bus.
At first, these guests thought they were going to see a fancy exhibit inside the Dolby Theatre. In reality, they were going to crash the 89th Annual Academy Awards on live TV.
With the lights turned off, the audience counted down from three to one.  Soon after, the crowd yelled "Mahershala" as the cameras turned on the unsuspecting tourists.
Wearing street clothes with their iPhones out, the group was completely caught off guard. One guest, however, handled it like a true pro.
Gary from Chicago immediately introduced himself to Jimmy while carrying a handbag and iPhone.  He didn't hesitate to kiss Nicole Kidman on the hand before meeting Ryan Gosling.
In a surprise twist, Gary's fiancé Vicki introduced herself and pronounced she's getting married July 18. When she revealed Denzel Washington was her favorite actor, the Oscar nominee decided to make her dreams come true.
"I now pronounce you husband and wife," he joked with the couple before posing for a selfie. "You may kiss the bride."
Jennifer Aniston generously donated a gift from her purse as a wedding present before the live and unscripted segment ended. The item in question: Sama Eyewear del Mar Aviator frame covered in liquid 24K gold valued at $625. 
cost: $625.
Gary and Vicki: Will you please come back soon?
For complete Oscars coverage, tune in to E! News at 7 p.m. and Fashion Police at 8 p.m. on Monday, Feb. 27.