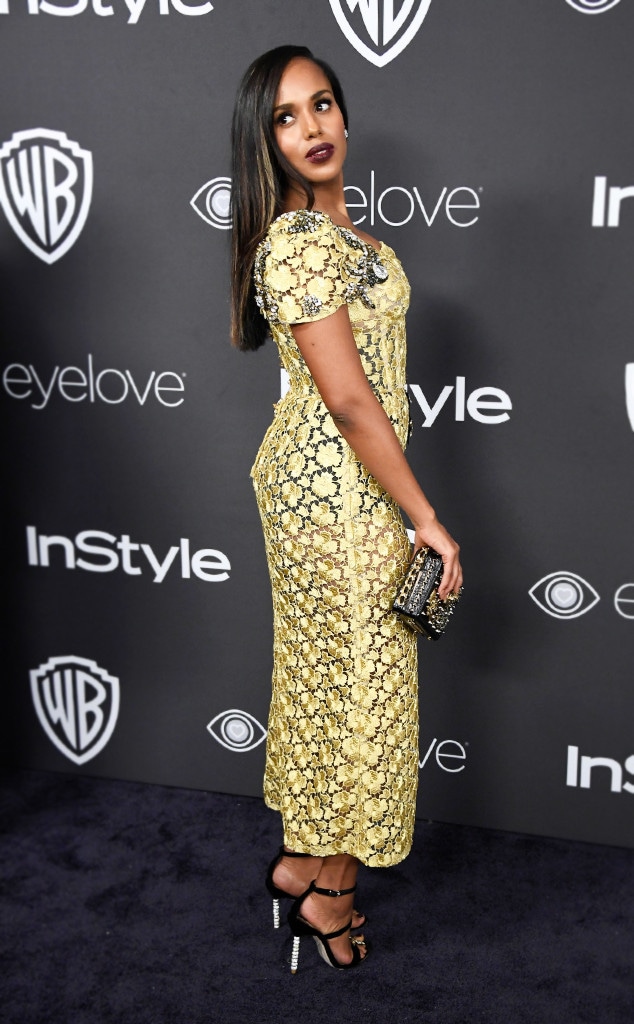 Frazer Harrison/Getty Images
What you don't see on the red carpet makes all the difference.
It's hard to imagine the pressure on the red carpet, with flashing lights capturing every angle of the body. Yet, ask any A-lister, E! host or stylist and they'll tell you that success on the carpet has everything to do with confidence.
Believe it on not, shapewear can play a key role in boosting self-confidence on the red carpet. Just ask fans like Kim Kardashian (who's admitted to wearing more than one piece at a time), Kaley Cuoco, Eva Longoria and countless others. Although they aren't the sexiest products (they look like your grandmother's bloomers), they help to flatter your figure, smoothing out bumps for a more tailored overall look.
Don't get us wrong: It can be uncomfortable, but being "in shape" doesn't have to correlate with attaining a certain weight or dress size. For those who don't mind the constriction, shapewear can help define your natural curves. But, with so many brands and products to choose from, how do you know what's going to give you the seamless red-carpet body you desire?
Eight brands and three weeks later, we have the answers. That's right, we tried all of the shapewear we could find, so you can have that red-carpet confidence in any dress. Check out our awards below!
Alberto E. Rodriguez/Getty Images
Best High-Waist Short
High-waist shorts are the most popular form of shapewear, due to the coverage it provides. Starting beneath the breasts and ending mid-thigh, this product instantly tones and firms the waist, buttocks and thighs, offering the highest amount of control. A form-fitting garment, such as Gina Rodriguez's beaded PatBo dress at the SAG Awards, works well with this shapewear iteration.
Tip: Try a short that isn't mostly nylon to avoid a "swishy" noise when your thighs rub together as you're walking.
Best Mid-Waist Short
If your dress has a waist cutout or plunging neckline (see: Blake Lively at the Golden Globes), a mid-waist short is the best option. The product starts at the smallest place in your waist, evening out the lower abdominal, buttocks and upper thighs. This form also works well under hip-hugging pants.
Best High-Waist Panty
Kerry Washington paired her lace Dolce & Gabbana dress with a black high-waist panty, and it was perfect. Although it's visible, the panty doesn't distract from the garment. This shapewear offers control in the core and rear, starting above the belly button and ending at the top of the thighs. The fabric also adds some comfort in embellished dresses. 
Rob Latour/REX/Shutterstock
Best Mid-Waist Panty
Mid-waist panties have become more popular recently, as sheer fabric on the red carpet has, too. Tracee Ellis Ross stunned at the Golden Globes in a Zuhair Murad embellished gown with a sheer bodice—perfect for a mid-waist panty. This type of shapewear doesn't offer the most control, but they have a smoothing effect between the waist and the rear that can make a large difference in a form-fitting garment. Read: No more "pooch" action.
Tip: These are perfect for women that have recently had a baby.
Frazer Harrison/Getty Images
Best Smoothing Thong
Would you rather opt for pants, like Naomie Harris? A smoothing thong is a staple you need for your wardrobe. This shapewear tones your core without panty lines. They aren't the most comfortable (as you can imagine), but promise to be a game changer for silk or linen pants. 
Best Shaping Tank
This is a game changer. Pantsuits, like Jill Scott's at the Grammys, call for a slimming top. Take our word and substitute your average black tank top for a shaping tank. The product instantly tones the core further into an hourglass shape, offering control throughout the day (although you may be excited to take it off by the evening). Everyone needs one of these.
Axelle/Bauer-Griffin/FilmMagic
Best Shaping Bodysuit
Bodysuits are all the rage right now (casually and on the red carpet). No one wants to stuff excess material into their pants or skirt. And, sheer gowns, such as Paulina Rubio's Grammys number, look great with a bodysuit. Shaping bodysuits offer support for the breasts and control in the midsection, and some of them are quite sexy.
Best Slip
With all of the form-fitting garments, slips aren't the must-have they once were. They don't offer any control, per se. But, they do keep a dress from clinging to less attractive parts of the body and add some comfort. For example, if you're wearing a T-shirt dress, a slip will conceal underwear lines. If you're wearing a dress similar to Tina Fey's gown at the Writers Guild Awards, the slip can keep the fabric from bunching together.
They may not the prettiest products or the cheapest, but once you put on a high-quality piece of shapewear, the added confidence is priceless.
Gone are the days of sucking it in.