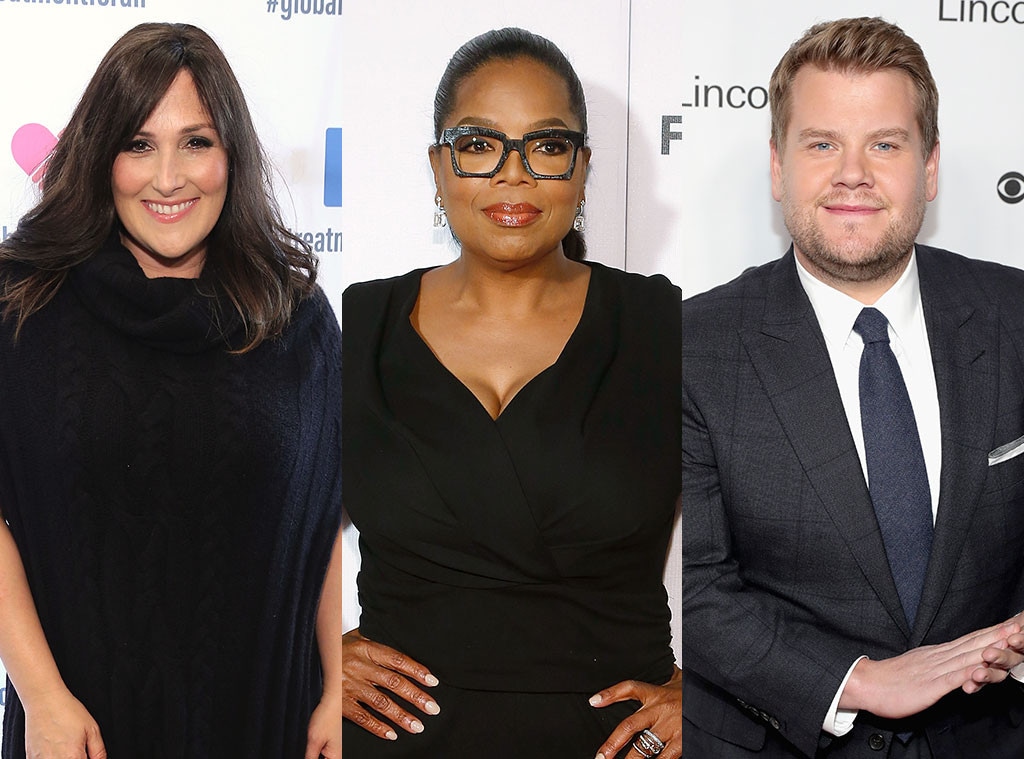 Getty Images
Oprah Winfrey is one of the most famous names in television, creating a successful career that stems from intelligence, kindness and a way of relating to others.
One thing she's been focused on lately is talking more openly about her struggle with weight—an issue that so many people can connect with her about.
In fact, in the latest issue of the U.K. edition of Good Housekeeping, the TV mogul opens up about the journey her body has taken over the years. 
"[My weight] has been the go-to comfort for me," she admitted to the publication. "You use it as your coat and your shield, and it keeps you from doing things. You don't have to go to that party because you don't have a dress to wear and nothing is going to fit you. But the wonderful thing for me is that I reached a point where I no longer wanted to hide. I know that sounds strange for somebody who is in the public eye, but it was my shield and my shame."
Oprah has openly admitted that she often turned to food for comfort. "I never liked the term food addict and I have in the past referred to myself as a food addict casually," she said in an interview in 2010. "But I realize I have been one and believe me, like so many of you, I have punished myself for that, but I know I am not alone and I know that the battle hasn't ended."
She added, "I've realized during this whole dieting process that I am an addict," she once shared. "All the fame, all the success doesn't mean anything if you can't fit into your clothes. If you can't fit into your clothes, that means the fat won. You didn't win."
But Oprah certainly isn't alone in her daily battle with food and weight.
Here are more TV hosts who have opened up about their stories and their personal struggles with their bodies, too:
James Corden: The Late Late Night host has been open about growing up as the "fat kid" in school and learning how to deal with it when he made it big in Hollywood. The key to both, he says, is his wit...but he's also trying to be a bit healthier.
"If you go to school and you're me, you go, 'Right, I'm just going to make myself a bigger target. My confidence, it will terrify them,'" he recalled to GQ of his childhood years and dealing with bullies. "That's how I felt in school. Inside, you're terrified," he confessed, "but if you're a bit funny, if you're quicker than them, they won't circle back on you again."
Though he's grown up and found massive success both in the U.K. and Hollywood, he admitted there are still things that bother him when it comes to weight.
"I could never understand when I watch romantic comedies the notion that for some reason unattractive or heavy people don't fall in love. If they do, it's in some odd, kooky, roundabout way—and it's not. It's exactly the same," he told the magazine. "I met my wife; she barely owned a television and worked for Save the Children. We sat down one night and we fell in love and that was it."
Even though he accepts himself and his body and has learned to deal with public perception about it, he is dedicated to making healthier decisions.
In fact, he dropped about 85 pounds recently. "I've cut out sugar and bread, and eat only at mealtimes now," he told The Daily Mirror. "I didn't realize before that it wasn't OK to constantly graze all day, that this wasn't a thing and that it was frowned upon."
Neilson Barnard/Getty Images for #TREATMENTFORALL
Ricki Lake: When the television personality landed the role as the "pleasantly plump" Tracy Turnblad in Hairspray while she was still in college, she immediately became known for her weight. 
"I became famous for being a certain size, and I was a role model for so many young women," she told The Huffington Post.
However, she eventually went on to experiment with dieting and her fluctuating weight made headlines. She struggled with the public perception of that. "I loved when I lost weight and felt good about my body," she told the publication. "I loved telling the world! At the same time, I felt like I was perpetuating this obsession that we have with weight."
Essentially, her mind fluctuates with the idea of weight loss just as much as her body does: "You're damned if you do, you're damned if you don't."
Still, she made a dramatic transformation when she appeared on season 13 of Dancing With the Stars in 2011, losing 12 inches around her body.
Jamie McCarthy/Getty Images
Rosie O'Donnell: Similar to Lake, O'Donnell said her weight gain happened when she shot to fame in 1996.
"For me, I started to get heavy right when my show came on, in 1996," she said on The View in 2015, referring to her former daytime talk series, The Rosie O'Donnell Show. "I became sort of instantly famous, even though I had been in movies and standup...I made some armor."
However, a year after she suffered from a heart attack in 2012, she decided to undergo Vertical Gastric Sleeve, a procedure that removes part of the stomach, in July 2013. 
She ended up losing 50 pounds by 2014, but it still didn't stop her from feeling uncomfortable in her own skin.
In fact, when she decided to wear a dress while co-hosting The View in 2015, it resulted in a two-hour therapy session. O'Donnell admitted that rather than feeling sexy (she looked great!), she felt "vulnerable."
Still, she powered through that moment and continues to support and empower women in their battle against weight loss. 
"I did what many woman do, and I did not take care of myself," Rosie said during the Go Red for Women luncheon in 2014. "And that's why I'm here, to try to get women to know you're worth it, take care of yourself and know the symptoms."
Tyra Banks: The former supermodel saw some horrible criticism in 2007 when unflattering photos surfaced of her wearing a bathing suit at the beach. 
She took a moment out of her talk show shortly after to address the headlines. "If I had lower self esteem, I would probably be starving myself right now. But, that's exactly what is happening to other women all over this country," she said. "So, I have something to say to all of you that have something nasty to say about me or other women who are built like me...women whose names you know, women whose names you don't, women who've been picked on, women whose husbands put them down, women at work or girls in school—I have one thing to say to you: kiss my fat ass."
In fact, she felt comfortable enough to admit she put on 30 pounds since her catwalk-strutting days, revealing her 5-foot, 10-inch frame weighs in at about 161 pounds.
"I still feel hot, but every day is different," Banks said at the time. "It's when I put on the jeans that used to fit a year ago and don't fit now and give me the muffin top, that's when I say, 'Damn!'"
However, the model has also told Good Morning America that even in her slimmer days, her curvy body carried about 20 to 30 more pounds than most supermodels.
"That's a positive thing," she said. "And I think it's so bad that people are saying that's bad."