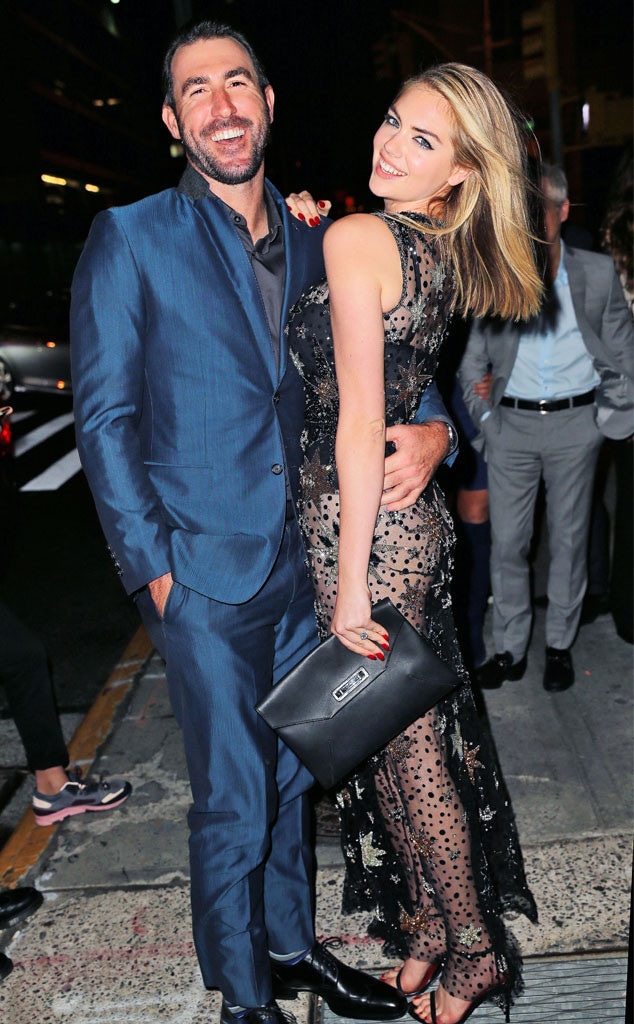 Jackson Lee/Splash
Justin Verlander may play baseball, but he doesn't like to play around after his games. 
While spilling the tea to Andy Cohen Wednesday night, the athlete's fiancée and this year's Sports Illustrated Swimsuit cover girl Kate Upton suddenly was talking sex thanks to a curious caller. 
A fan rang the show to ask when the the Detroit Tigers pitcher prefers to get between the sheets—before or after his games. Spoiler alert: neither. 
'There's no sex before a game—absolutely none," Upton began. "What I've just found out is, if he plays too well, there's no sex after, either."
Of course, fans can't help but wonder: WHY!?
"He's exhausted," she said. "It's kind of a buzzkill for me."
Ricky Martin, who was also on the show with Upton, offered up some advice. "Just kill him a little bit further," he joked. 
While the couple's sexy time doesn't revolve around games, Upton has her future husband's back through and through. In November, the 24-year-old didn't bite her tongue as she took to Twitter to defend her man after he lost the 2016 American League Cy Young Award. 
"Hey @MLB I thought I was the only person allowed to f--k @JustinVerlander ?!" she wrote to her millions of Twitter followers. "What 2 writers didn't have him on their ballot?"
"He had the majority of 1st place votes and 2 writers didn't have him on their ballots?!!" she continued. "Can you pick more out of touch people to vote? @MLB. Sorry Rick but you didn't get any 1st place votes? You didn't win. #ByeFelicia @MLB Keep up with the times and fire those writers."
As the story goes, Boston Red Sox pitcher Rick Porcello was granted the accolade by the Baseball Writers Association of America, which honors the best pitchers in Major League Baseball.
However, Upton was fired up because Justin received more first-place votes than Porcello, but the Red Sox player received more second-place votes. "How many 2nd place votes? huh? He lost to Justin in 1st place votes," Kate shared while responding to a fan. "If Tampa bay writers weren't paid off..."
Fortunately, Verlander wasn't bothered by the social media drama. 
"I had to write it so fast because he wasn't even off TV yet. I was like, 'Oh I have to write it before he edits me,'" she recalled to Cohen. "I think his first reaction was a little bit surprised that I had already sent [the tweets], but overall he loved it. I just think that the MLB should really plan ahead—maybe prepare their writers."
(E! and Bravo are both part of the NBCUniversal family.)