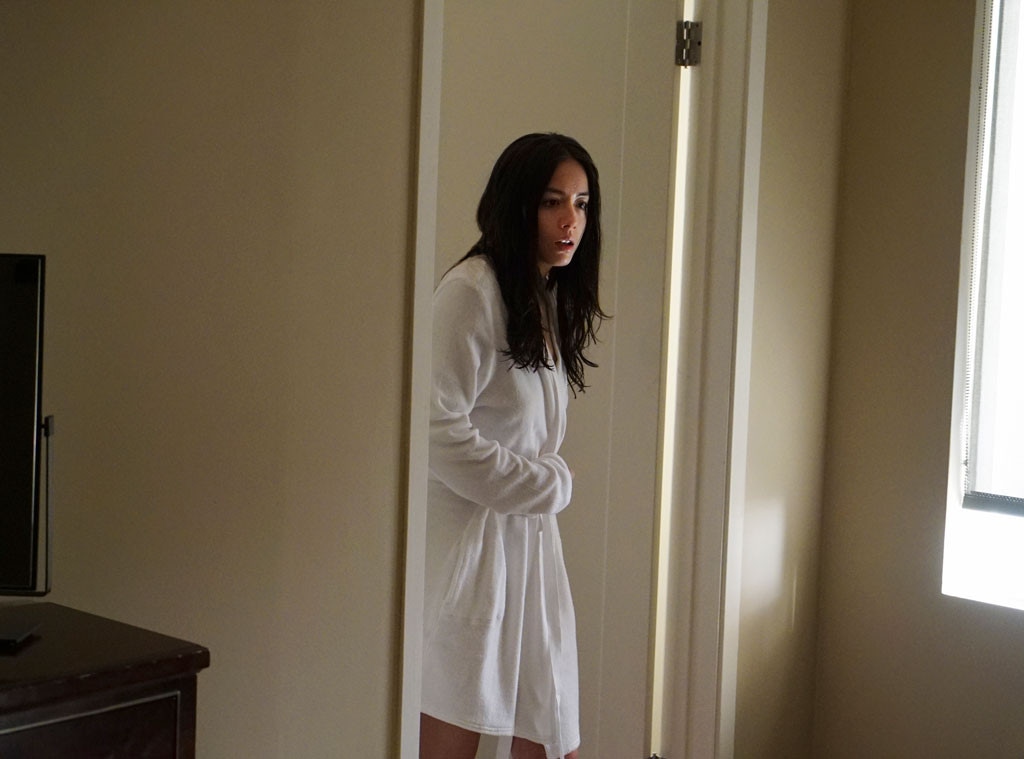 ABC
Ward's back. Hydra's in power. Jemma's dead.
Whatever sort of paradise Radcliffe and Aida thought they were building when they created the Framework was proven to be nothing we'd ever have expected when Agents of S.H.I.E.L.D.  finally ventured into the virtual alternate reality at the end of last night's shocking episode. With Daisy (Chloe Bennet) and Jemma (Elizabeth Henstridge) embarking on their craziest mission yet to rescue Coulson (Clark Gregg), May (Ming-Na Wen), Mack (Henry Simmons) and Fitz (Iain De Caestecker)—and with original cast member Brett Dalton back on the scene as Daisy's virtual BF—we've got a month to ponder what the heck is coming next.
To ease that wait just a bit, we got executive producer Jed Whedon (who also wrote and directed the big episode) on the phone to break everything down. What follows is our full Q&A. You're welcome.
Obviously, what everyone is talking about this morning is the return of Ward in the Framework.
Who? [Laughs.]
How long was it in the works to bring Brett back? How long had you been planning on this?
Well, we knew that at the start of the third pod as we're calling them, we were going to get into the Framework, so there were a lot of options of things to do there, but that was always sort of at the top of the list. We love him and the fans love him and so we didn't want to undercut the stories we've told with him, but this felt like a way to bring him back in a thrilling fashion that didn't negate what we'd done earlier with him.
Was there talk at the end of last season when he was written out that this was an option, or was this something that came about later?
His end was his end, but this is Marvel and our show is built upon the foundation of a man who was brought back from the dead. And we had actually done that with Ward. So, it's always an option that someone can find a way to appear back on our show and I think that this next pod will prove that out.
How would you tease what this Framework version of Ward? Because he's wholly an Aida creation, it would seem.
The Darkhold has given them this amazing ability to sort of recreate reality, but we know that some small changes were made, repairing regrets for everybody they've put in there, so that seems to have had some sort of ripple effect. Who Grant Ward is in this world, we'll have to wait and see, but they set out to recreate our world in every way and recreate everyone in it and everything in it, so there will be some familiarity to the man when you get to know him right off the bat in the next episode.
Another big surprise was learning that Jemma isn't alive in the Framework. Are we going to cut to poor Simmons waking up in a coffin when she enters the Framework? How will this work for her?
We'll have to see, but she didn't wake up in a warm tub, that's for sure. We'll have to wait and see how that plays out, but the two of them are going in and how she comes to be we'll have to see. I have a feeling that she's not gone from the series. That's not how we would end Elizabeth's run. [Laughs.] That's a wait and see, as I have a feeling a lot of these questions will be…But that's the fun part about the Framework. It's a what-if world and we don't really know what to expect.
Talk to me a little bit about the decision to have Hydra in control in the Framework. What is this Hydra going to be like and what was the thought process behind going in that direction?
Well, you know, Hydra is sort of the opposite of S.H.I.E.L.D. and the simplest version of the anti-S.H.I.E.L.D. And we've told a lot of Hydra stories, but this story is more about our characters and sort of dealing with questions of identity and the nature of reality and whether or not you have a true nature or whether or not you're made up of your experiences. If you're made up of your regrets. Is there a true you or are you just an assembly of your experiences?
That's sort of the stuff that we're going to be exploring, and Hydra more represents some of those decisions being changed or some of those experiences being changed as the opposite ideal of S.H.I.E.L.D. So, we've told a lot of Hydra stories, but here it's more representing sort of a character arc for our people and representing a world where things have gone a little bit amiss.
With the mission to wake the team up in the Framework and bring them back...how hard is it going to be for Daisy and Jemma to even convince them they should want to come back? They've been given things they maybe don't want to leave so easily, so what's that struggle going to be like for them?
Really, it's just going to be one scene. They're going to go in, come right out, it'll be great. It's going to be super easy. We like to make things really easy on our characters! [Laughs.] No, I think that's sort of the fun of what we're going to play with. Clearly, they were trying to create a utopia and created something else, but that doesn't mean that people don't see it that way and that for some of them it could be the ideal world that Radcliffe thought he was building.
Fitz gets out of that vehicle and reaches for a woman's hand. Is that going to be a woman we've seen before? What can you tease about the person in the car with Fitz?
I can't tease much, but all I can say is it is not Jemma. It's also a reflection of how steeped into this world he is that he doesn't seem to be troubled by the fact that she's in a grave, which was sort of the point of that moment. He looks like he's on top of the world.
Earlier in the episode, during that wrenching scene between Fitz and Simmons as they dance around which of them is an LMD, the LMD Fitz mentions that they're cursed. Are they? Every season we get this really tragic thing that happens between these two!
Well, I think that FitzSimmons is dear in our hearts, as they are in the hearts of our fans. We think of them as—their love is a forever love, to use a phrase that we use sometimes. I don't think anything will come between them, but that's why we constantly put things between them, because the longing for them to be together is sort of the feeling that we're addicted to as writers and hopefully the audience is addicted, too.
What drives story is conflict and what you want is resolution, but if you have resolution, then you have no more story. I want them to be together, everybody wants them to be together, but that's sort of the reason that we keep putting barriers between them because that need, that desire for them to be a couple will always be there and will always live in our hearts and the audience's hearts, so it keeps driving you forward. It's the greatest representation of the price of being a spy is the things that our torn away from you, and there's no better relationship to represent that than them.
Agents of S.H.I.E.L.D. returns on Tuesday, April 4 at 10 p.m. on ABC.