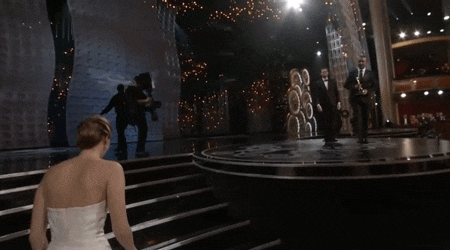 ABC
Even the best fall down sometimes.
But if you're Jennifer Lawrence, a stumble on live television during one of the biggest events of the year (cough cough the Oscars) can actually boost your star power. Who could forget when the inherently lovable and ultra-talented actress descended the 2013 Academy Awards stage to accept the Best Actress honor for Silver Linings Playbook, and nearly fell flat on her face? 
It's impossible not to! Sure, J. Law had just made history as the second-youngest Best Actress recipient in Oscar history. Yes, she looked breathtakingly stunning in her Dior Haute Couture ball gown. But. That. Fall. Though. 
Jennifer made light of the snafu in stride, joking in her acceptance speech, "You guys are just standing up because you feel bad that I fell. That's really embarrassing."
Kevin Winter/Getty Images
After the curtains closed one a most memorable evening, Jennifer discussed the fall during a post-win press conference. She admitted to taking a shot shortly before meeting the Academy, but—like most of us watching at home—didn't know what to make of the hilarious moment. 
"What do you mean, what happened? Look at my dress. I tried to walk up stairs in this dress. That's what happened. I think I just stepped on the fabric and they waxed the stairs." she deadpanned. 
When asked what went through her mind as she landed on her knees and placed a worried hand on her forehead, Lawrence responded, "A bad word… It starts with F."
As all J. Law fans know, her inaugural fall at the Oscars set into a motion a series of trips, tumbles and spills on the red carpet for years to come. Will someone follow in Jennifer's footsteps (no pun intended) at the 2017 Oscars? We can't wait to find out. 
For complete Oscars coverage, tune in to E! News at 7 p.m. and Fashion Police at 8 p.m. on Monday, Feb. 27.