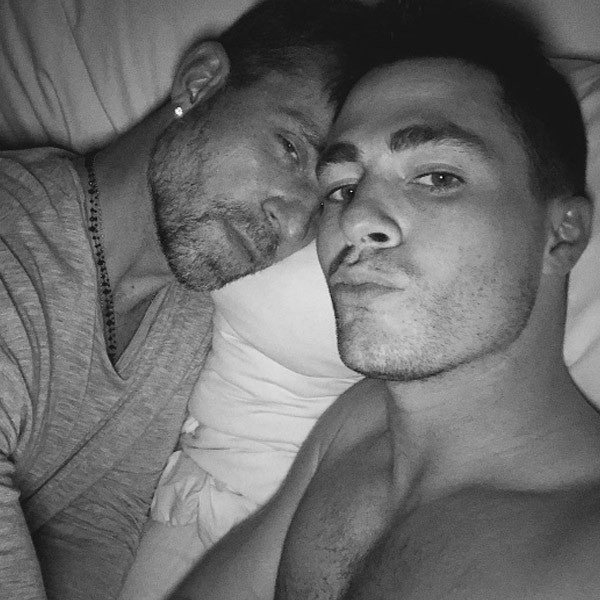 Instagram
Colton Haynes just made things officially official with his boyfriend Jeff Leatham...he shared their first selfie together!
The Scream Queens star—who came out as gay in May 2016—took to Instagram to post the sweet, black and white pic from bed with his famous florist beau, sharing an adorable caption that gave us all the feels. 
"It's not every day that someone comes into your life & makes you want to be a better man," Haynes wrote. "I feel so blessed to be by your side @jeffleatham #WhatMoviesAreMadeOf."
It certainly does appear they're living out the rom-com of our dreams, sharing precious, picture-perfect moments together over the last few months.
Let's take a look inside their romance...
They Rang in Valentine's Day With This View: Standing on what appears to be a helicopter landing pad, the couple embrace as the sun sets, standing in the middle of a heart of roses with candles burning around them. Gorgeous!
"The most special day of my life. Thank you @jeffleatham," Haynes captioned the photo. "We were actually in the clouds...speechless. Happy Valentine's Day to all of you. #LoveWins."
And This View: Leatham took to Instagram to share this romantic photo of a room filled with balloons, candles, roses and a fireplace.
He captioned the post, "Valentine's - Real Life - Love ," and added, "Celebrate love," with a bunch of emoji hearts.
They Support One Another: After the 2017 Grammy Awards, Haynes re-posted a photo of Lady Gaga and Adele posing with one of Leatham's floral arrangements during the big show.
"No big deal...just @Adele & @ladygaga posing with my mans flowers," he wrote, shouting out to his beau's business. "So proud of you @jeffleatham !!! Hope y'all r goin to his pop up flower shop for Valentine's Day Tmrw & on Vday at the Four Seasons in Bev Hills!"
Now that is a good boyfriend!
They're Not Afraid to Get Mushy-Gushy: Because we all need the over-the-top cuteness sometimes! Haynes shared this touching message and tagged Leatham in it.
"I love my eyes when you look into them. I love my name when you say it," the post reads. "I love my heart when you touch it. I love my life when you are in it."
And Give Each Other Sweet Surprises: A couple weeks ago, Haynes couldn't help but smile from ear-to-ear upon receiving a gorgeous bouquet of flowers from his boo.
He took a selfie with them and only needed a couple emojis to perfectly caption the pic.
We're so happy for the new couple and can't wait to see more of the adorable moments!