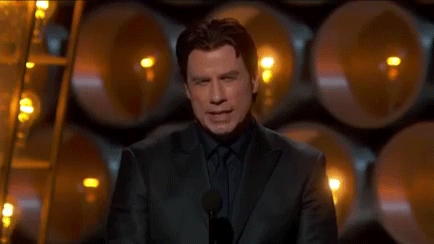 In 2014, a star was born on the Oscar stage. Her name was Adele Dazeem. 
Of course, we're really talking about the Tony Award-winning Idina Menzel, whose voice is behind the iconic Disney tune, "Let It Go." It was three years ago that the Broadway star was about to perform the year's child-friendly hit at the Academy Awards, but first, she needed an introduction. Who better than John Travolta, a fellow triple threat and the star of movie musicals like Grease and Hairspray?
Except, not even theater-style improvisation would be able to save the actor from his impending flub. 
"Please welcome the wickedly talented, one and only Adele Dazeem," he said at the microphone. All together now: What did he just say?
Kevin Winter/Getty Images
As the song suggested, Menzel let the mistake go as she launched into a powerful live rendition of the hit. As fans would later learn, the blunder still stunned the singer—but just for a few seconds. 
"For eight seconds, I felt very sorry for myself and then I said...get my shit together. This is your chance. Who cares, you know, and sing the damn song," she later told Andy Cohen. "But, it did bother me for like eight seconds. It just threw me a little bit."
Travolta was equally thrown by the moment, later explaining to Jimmy Kimmel that he expected to have more time before his presentation than he actually ended up having. As he was being rushed to his on-deck position, he ran into Goldie Hawn and was admittedly starstruck. While everything was in a frenzy backstage, an assistant told him that the spelling of the actress' name had been changed right before he was about to go on. 
"It was this phonetic spelling, but I didn't rehearse it that way," he recalled. Just like that, Adele Dazeem came to be. 
Fortunately, the actress got some lighthearted revenge a year later when she returned to the Oscar stage to introduce her "very dear friend, Glom Gazingo."
"I deserve that, but you, you, my darling, my beautiful, my wickedly talented Idina Menzel—is that right?" he quipped. 
While he may have finally gotten her name right, the moment went viral yet again when the star repeatedly cupped the actress' chin. Menzel kept her cool, continued smiling and proceeded to announce the winners for Best Original Song.
Like Adele Dazeem knows, the show must always go on. 
For complete Oscars coverage, tune in to E! News at 7 p.m. and Fashion Police at 8 p.m. on Monday, Feb. 27.