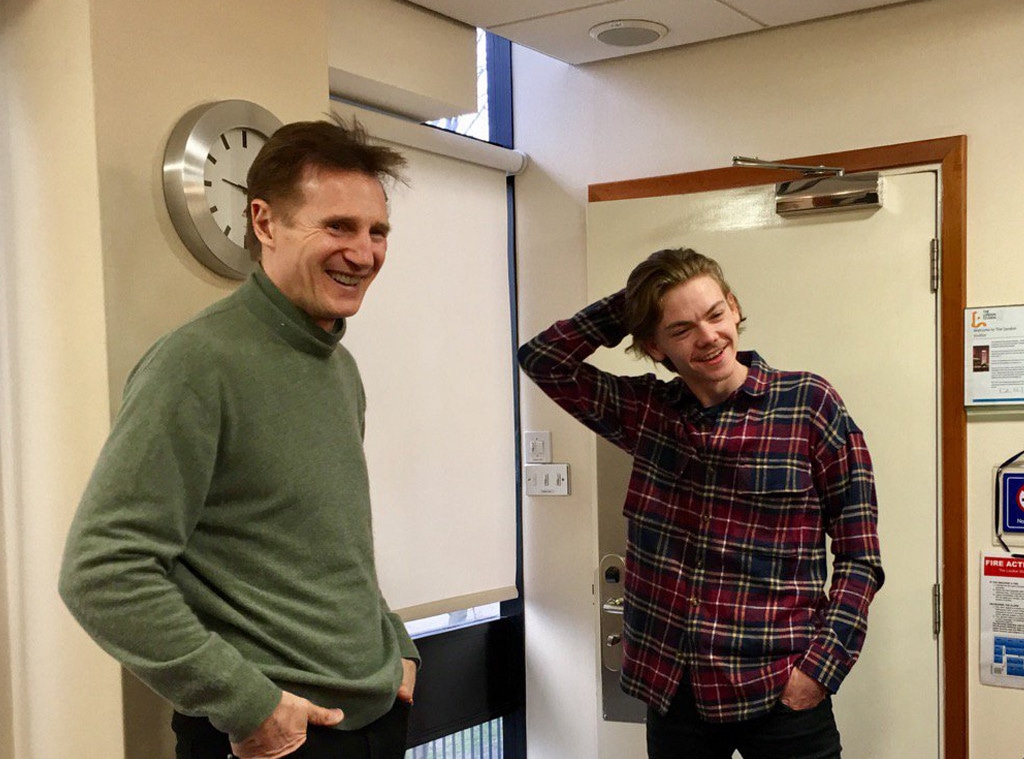 Twitter
What better way to celebrate #ThrowbackThursday than with a reunion of the stars from one of our favorite Christmas flicks?!
That's right! The cast of Love Actually reunited this week as they began filming their Red Nose Day mini-movie.
In case you missed it, the film's director Richard Curtis is bringing them together to create a film in promotion of the special day, which takes place in late March and seeks to raise awareness about children living in poverty and injustice.
So far, Liam Neeson, Thomas Brodie-Sangster and Olivia Olson have started shooting for the film. As you may recall, Neeson played Brodie-Sangster's step-father in the film, while Olson played his elementary school love interest, Joanna (you know, the one who sang "All I Want for Christmas Is You"). 
Brodie-Sangster was 13-years-old when Love Actually debuted in 2003, and now he's a grown-up 26-year-old! Olson, on the other hand, was 11, and now she's 24. 
The group was photographed filming in London on Thursday in what appeared to be a reunion-type scenario. Brodie-Sangster was photographed hugging Neeson who had been waiting on a park bench. He then nuzzled close to Olson, who looked chic in a pink jacket with a white beanie that was accented by a multicolored pompom. Brodie-Sangster wore a green coat with a maroon scarf, and Liam was in all-black with a gray scarf. The photos show them chatting by a river.
Meanwhile, British broadcaster Emma Freud first announced the reunion news on Wednesday, taking to Twitter and writing, "30 minutes til we announce a new and unexpected and really gorgeous new thing for this year's @rednoseday campaign... worth the wait..."
She kept fans on their toes for 30 minutes before finally sharing the "big announcement" with the world: That she would be "reconvening the cast" for this year's Comic Relief special, and it will be called Red Nose Day Actually. "The cast are standing by," she said. "Filming starts tomorrow."
She confirmed that along with Neeson, Brodie-Sangster and Olson, Rowan Atkinson, Marcus Brigstocke, Colin Firth, Hugh Grant, Keira Knightley, Andrew Lincoln, Martine McCutcheon, Lúcia Moniz and Bill Nighy will all reprise their roles from the 2003 movie for the charity telethon.
Red Nose Day raises money and awareness to help children living in poverty around the world. The special will premiere on BBC 1 in the U.K. on March 24 and on NBC in the U.S. on May 25.