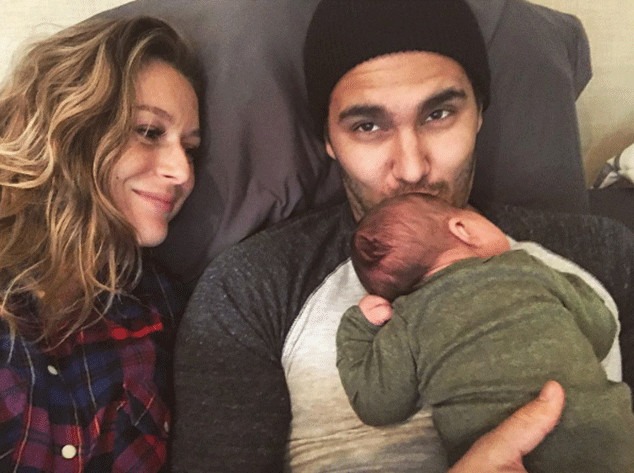 Instagram
When it comes to the PenaVega family, there's a whole lot of big time love to go around.
As Alexa PenaVega and husband Carlos PenaVega continue enjoying their new titles as mom and dad to baby Ocean, the couple is the first to admit that their son has only deepened their love.
"It's so cliché but you see this little thing that two people created and being able to see pieces of Carlos in Ocean…Ocean is so much like his daddy," Alexa shared with E! News exclusively at 102.7 KIISFM's Pick Your Purse Party. "I fall in love with this baby and then it just makes my love for my husband even stronger."
She continued, "I don't know how women or men do it alone with a newborn. Just having him has given me the extra push I've needed and I know it's the same for him. For him, he's pretty cute. Sometimes he can be a butthead, but I love him."
As most parents know, life with a newborn consists of sleepless nights, random bursts of tears and other obstacles.
But thanks to their strong faith, the couple has been able to handle any curve balls that have come their way as new parents.
"That's what helps us get through the hard times. Being a new parent is so exciting but you don't know all the answers," Alexa admitted while sitting next to her man at The Bungalow Huntington Beach. "Having our foundation in our faith has helped our marriage and parent and I hope that we can raise such a loving child and we can give them everything he needs."
In between parenting duties, the couple has collaborated with brothers Kevin Schmidt and Kendall Schmidt to launch HAPBEE Company, a natural and organic lifestyle brand available online.
As the groups continue building out the company that includes skin care, those closest to Alexa and Carlos can't help but notice their special bond.
"I've known Alexa for a long time and Carlos for a minute now and to see two friends come together and not only fall in love with each other but to have a beautiful baby boy together, it's special," Kevin shared with E! News. "They are doing it right with Ocean."