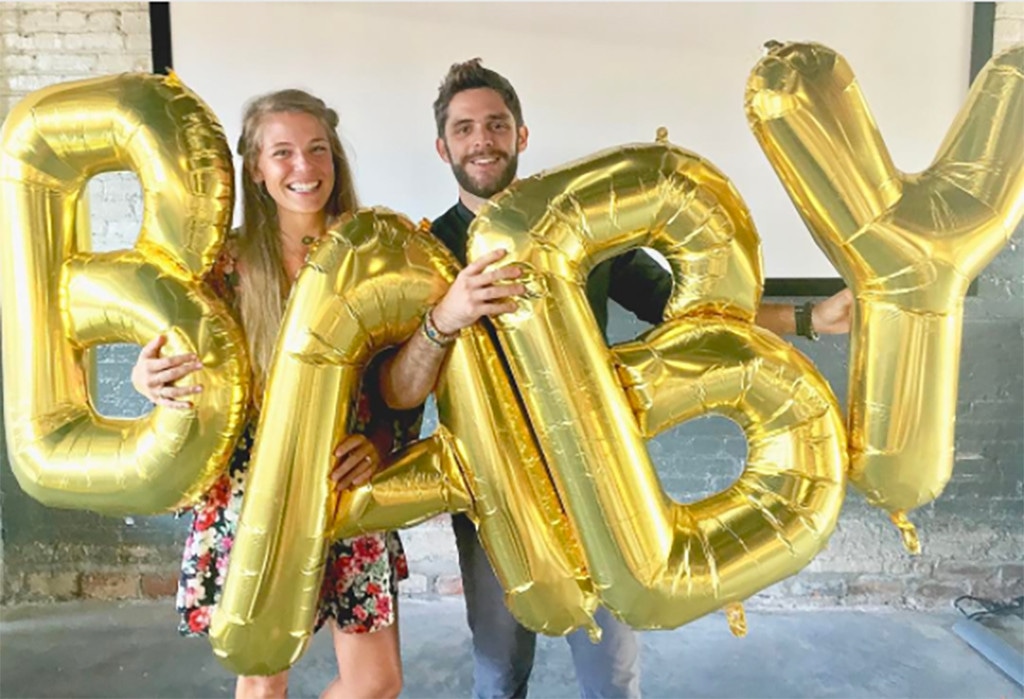 Instagram
This could be the pregnancy announcement to end all pregnancy announcements!
Thomas Rhett and his wife Lauren Akins announced on Instagram Wednesday morning that they're adopting a baby from Africa. But the news gets even more exciting! They also announced that Lauren is pregnant with their first child!
"OH BABY! actually...BABIES! Our hearts are exploding with happiness for y'all to meet our new baby who we are bringing home from Africa soon who is also going to have a little brother or sister because, SURPRISE! there's a sweet baby in my belly too #adopting&pregnant #cominginhot2017," Lauren captioned her picture, which showed her and her musician husband holding onto gold balloons that spelled "baby".
Watch:
Thomas Rhett - 2017 Grammys E! Glambot
Based on the size of their smiles, it's clear this family couldn't be more excited about their double baby news. The "I Feel Good" crooner shared the same photo and added, "We are so happy to announce that we are pregnant and we are in the process of adopting a child from Africa! Safe to say life is about to get crazy!" 
The couple adorably met as kindergarteners and celebrated their four-year anniversary in October. Akins realized she was pregnant while on safari in Africa after she and her husband had temporarily stopped trying on their own. After struggling to conceive, they decided to adopt, she told People magazine.
"When we began the adoption process, we said, 'Let's wait, let's give this adopted child his or her time with us and then we'll continue our family'," Lauren said. "So I was convinced it was food poisoning."
"We tried to get pregnant for a little bit before," added Akins, 27. "It was a good chunk of time and our family is extremely fertile, so I was expecting it to happen easily. I was like, 'Maybe this is the Lord's way of telling me adoption is what he wants me to do.' And I was okay with that."