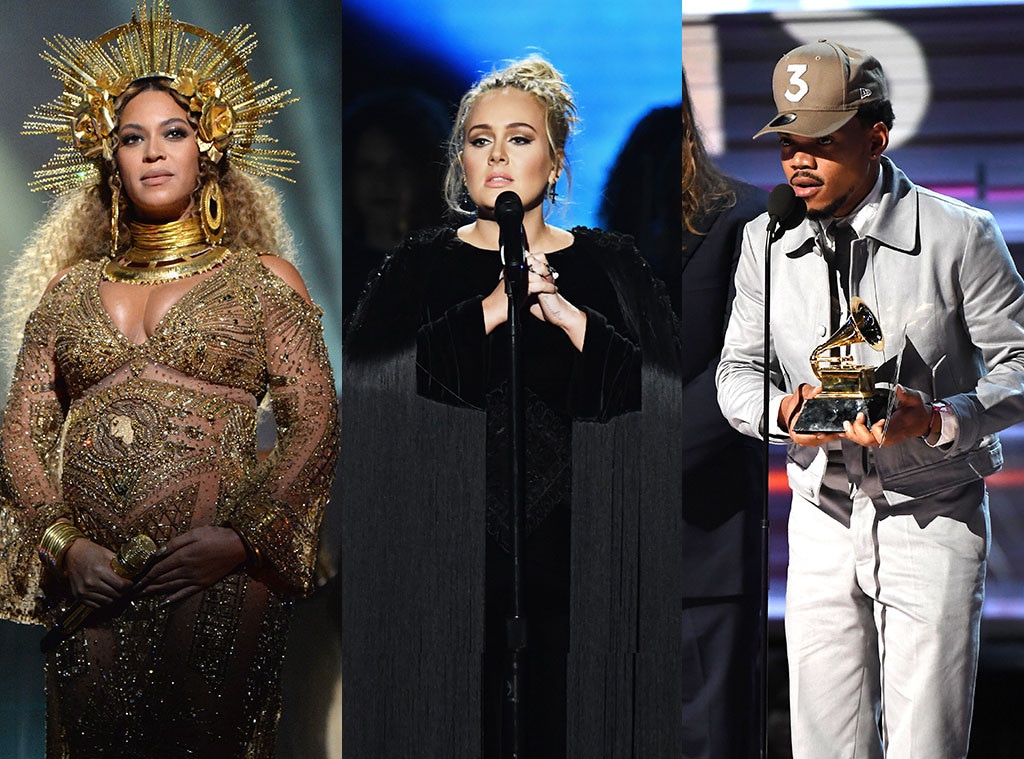 Getty Images
Nope, #GrammysSoWhite is not a thing, according to Neil Portnow, president of the Recording Academy, which votes on the winners of the Grammy Awards.
Many people took to social media after the 2017 Grammys Sunday to accuse the group of racism after Adele beat Beyoncé to win the top awards, including Album of the Year. The latter star's sister Solange also voiced her criticism. Herbie Hancock is the most recent black artist to win the honor and had received it in 2008.
When asked if the thinks the Grammys show has a race problem, Portnow told Pitchfork in comments posted Tuesday, "No, I don't think there's a race problem at all." 
IM NOT WATCHING THE GRAMMYS ANYMORE. RIHANNA WAS SNUBBED AND BEYONCÉ WAS ROBBED. RACISM HAS TO END #GRAMMYSOWHITE

— Miranda Killgallen (@GisellesEgo) February 13, 2017
"Remember, this is a peer-voted award," he continued. "So when we say the Grammys, it's not a corporate entity—it's the 14,000 members of the Academy. They have to qualify in order to be members, which means they have to have recorded and released music, and so they are sort of the experts and the highest level of professionals in the industry."
Voting members of the Recording Academy are artists, writers and other music professionals who have released several recordings to recognized retailers or were just nominated for a Grammy within the past five years.
"It's always hard to create objectivity out of something that's inherently subjective, which is what art and music is about," Portnow said. "We do the best we can. We have 84 categories where we recognize all kinds of music, from across all spectrums. We don't, as musicians, in my humble opinion, listen to music based on gender or race or ethnicity." 
"When you go to vote on a piece of music—at least the way that I approach it—is you almost put a blindfold on and you listen," he added. "It's a matter of what you react to and what in your mind as a professional really rises to the highest level of excellence in any given year. And that is going to be very subjective. That's what we ask our members to do, even in the ballots. We ask that they not pay attention to sales and marketing and popularity and charts. You have to listen to the music."
Portnow said Grammy winners are chosen via a "democratic vote by majority."
"So somebody could either receive or not receive a Grammy based on one vote," he said. "It could be that tight."
Last year, the Academy of Motion Pictures Arts and Sciences came under fire when it was revealed that all of the acting nominees for its annual Oscars ceremony were white—for the second year in a row. The group later appointed three new governors, including a black man and a woman born in South Korea, to the Academy's 51-seat board.
Portnow told Pitchfork the Recording Academy is "always working on increase diversity in membership, whether it's ethnicity, gender, genre, or age."
"You don't get Chance the Rapper as the Best New Artist of the year if you have a membership that isn't diverse and isn't open-minded and isn't really listening to the music, and not really considering other elements beyond how great the music is," he said.