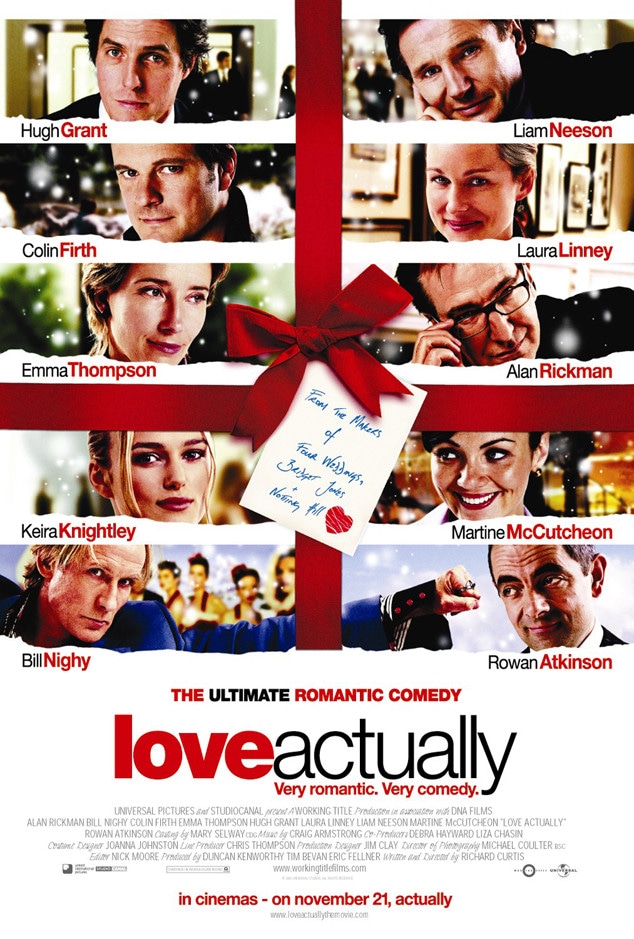 Universal Pictures
Need further proof that love actually is all around us?
British broadcaster Emma Freud announced Wednesday that Love Actually director Richard Curtis is reuniting the film's cast for Red Nose Day in the U.K. late next month. Addressing her 167,000 Twitter followers, Freud wrote, "30 minutes til we announce a new and unexpected and really gorgeous new thing for this year's @rednoseday campaign... worth the wait..."
After keeping fans on their toes for half an hour, Freud shared the "big announcement" with the world. Curtis "is reconvening the cast" for this year's Comic Relief special, and it will be called Red Nose Day Actually. "The cast are standing by," she said. "Filming starts tomorrow."
Freud added that the script is "still being written."
"Any story developments you'd like to see?" she asked. "Ideas welcome."
Well, maybe not all ideas. One user suggested that "after *all* this time, Rowan Atkinson's character deserves to find some love of his own at the till." Freud replied, "Not gonna happen."
Atkinson, Marcus Brigstocke, Thomas Brodie-Sangster, Colin Firth, Hugh Grant, Keira Knightley, Andrew Lincoln, Martine McCutcheon, Lúcia Moniz, Liam Neeson, Bill Nighy and Olivia Olson will reprise their roles from the 2003 movie for the charity telethon, which raises money and awareness to help children living in poverty around the world. The special will premiere on BBC 1 in the U.K. on March 24 and before it re-airs on NBC in the U.S. on May 25.
"Over the years I've enjoyed doing Red Nose Day specials of TV things I've worked on—Blackadder, The Vicar of Dibley and Mr. Bean. It seemed like a fun idea this year to do a special sketch based one of my films, since Red Nose Day is now in both the U.K. and America," Curtis said in a statement. "I would never have dreamt of writing a sequel to Love Actually, but I thought it might be fun to do 10 minutes to see what everyone is now up to. Who has aged best?—I guess that's the big question…or is it so obviously Liam? We've been delighted and grateful that so many of the cast are around and able to take part—and it'll certainly be a nostalgic moment getting back together and recreating their characters 14 years later."
Curtis predicted fans will be delighted to see their characters back together, saying, "We hope to make something that'll be fun—very much in the spirit of the original film and of Red Nose Day—and which we hope will help bring lots of viewers and cash to the Red Nose Day shows."
Given the sizable cast, not everyone could participate. Still, fans are already campaigning to see surprise cameos from the likes of Elisha Cuthbert, Shannon Elizabeth, Chiwetel Ejiofor, Gregor Fisher, Martin Freeman, January Jones, Laura Linney, Kris Marshall, Heike Makatsch, Joanna Page, Denise Richards, Abdul Salis, Thomas Sangster, Rodrigo Santoro, Claudia Schiffer, Emma Thompson, Billy Bob Thornton and other cast members.
(Sadly, Alan Rickman passed away in 2016.)
American viewers can wear Red Noses (sold exclusively at Walgreens and Duane Reade) as they raise money and awareness to help children living in poverty in America and around the world. Red Nose Day has raised more than $60 million since it started in the U.S. two years ago.