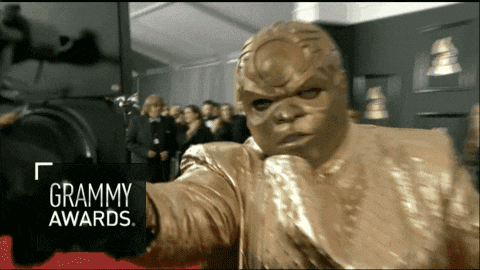 E! News
CeeLo Green is back and he's....gold!
On Sunday, he made a surprise appearance on the red carpet at the 2017 Grammys while decked in gold from head to toe—he sported a golden full-length tunic and a golden mask.
He arrived on a motorcycle with a group bikers. He walked the red carpet, posed for photos and mugged the E! News camera for a bit before speeding off in a yes, a Batmobile. But not before flipping the bird. Twice.
Naturally, the Internet was full of jokes.
Some people pondered whether he came dressed like an actual Grammy—even though the trophy is a gramophone, not a statuette—while others wondered if he thought that going gold was his way of trying to win one.
Frazer Harrison/Getty Images
Others made some interesting comparisons.
ceelo looks like he saw katy perry's outfit and refused to be one-upped.

— Jackson Langford (@jacksonlangford) February 13, 2017
Ceelo looks like a power rangers villain

— Puff Zaddy (@DevonstaMonsta) February 13, 2017
Actually, CeeLo just debuted a new alter-ego.
The Gnarls Barkley singer and former The Voice coach has stayed away from the spotlight over the past few years amid legal issues and controversial tweets. 
He made headlines again two months ago over a viral video showing a phone exploding in his face. He later said he was okay and explained it was a clip for a new project called Gnarly Davidson, adding, "It's supposed to set up and introduce the new character identity."
And on Sunday, he did just that, even promoting a new Twitter account for him.
CeeLo had given a sneak peek of his alter-ego while dressed in a similar black outfit at the Primary Wave 11th Annual Pre-2017 Grammys party at The London hotel in West Hollywood Saturday.
Tune in to E! News at 7 p.m. and Fashion Police at 8 p.m. on Monday, Feb. 13 for complete coverage of the 2017 Grammys.