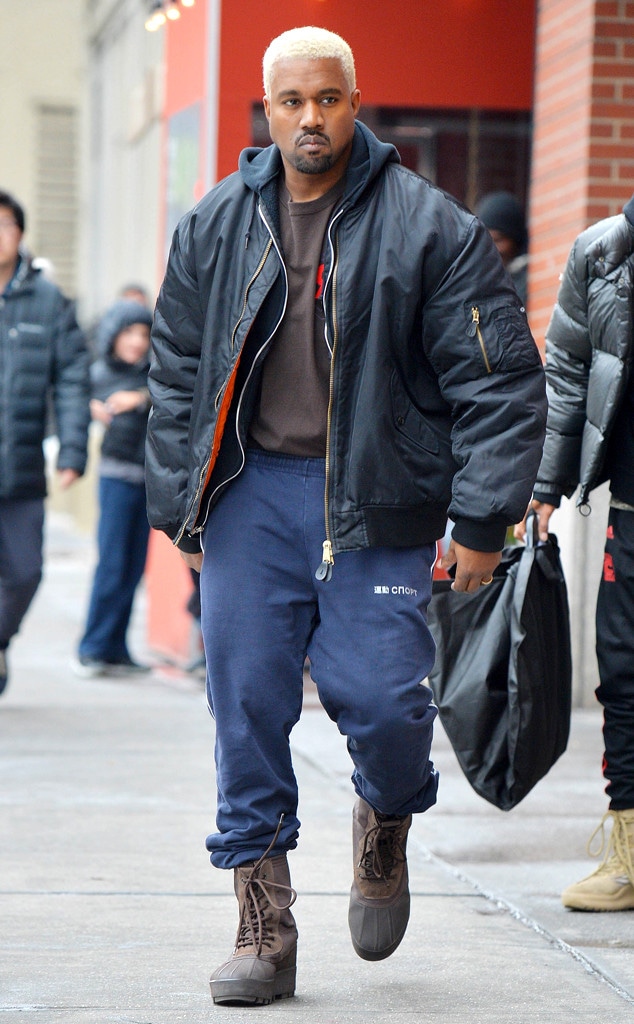 JosiahW / AKM-GSI
This is the new Kanye, the super blond Kanye...
Kanye West stepped out in New York City Friday sporting a new look: Hair dyed white platinum blonde, marking the lightest color he's ever had.
The rapper had had his hair dyed a darker shade of blond in December, after he left a Los Angeles hospital, where he was treated for exhaustion for over a week. He then added colorful streaks to his 'do and his dark hair later grew back.
Kanye is set to debut designs from his new Yeezy season 5 line during New York Fashion Week on Wednesday.
A source told E! News exclusively Friday that the rapper's wife Kim Kardashian will soon join him in the city. They are "doing pretty good," the source added. The couple had been the target of split rumors late last year amid his recovery and following Kim's experience being robbed at gunpoint in Paris.
"They are working on getting stronger and more solid as a married couple," the source told E! News. "This is an exciting time for Kanye and he is really looking forward to this presentation. The Kardashians will be there to support him, including his leading lady Kim. Kylie and Kendall will also be there."
Sisters Kylie Jenner and Kendall Jenner were also spotted in New York City Friday. Kylie attended Jeremy Scott's fall 2017 fashion show Friday and then was spotted out with boyfriend Tyga.
Kim has herself had her hair dyed blond several times, most recently in 2015. She went platinum blond for Paris Fashion Week and then had her locks lightened to a white blond shade, similar to Frozen's Queen Elsa. She kept the look for several weeks before reverting back to her signature brunette hair.
Keeping Up With the Kardashians returns for a new season on March 5!