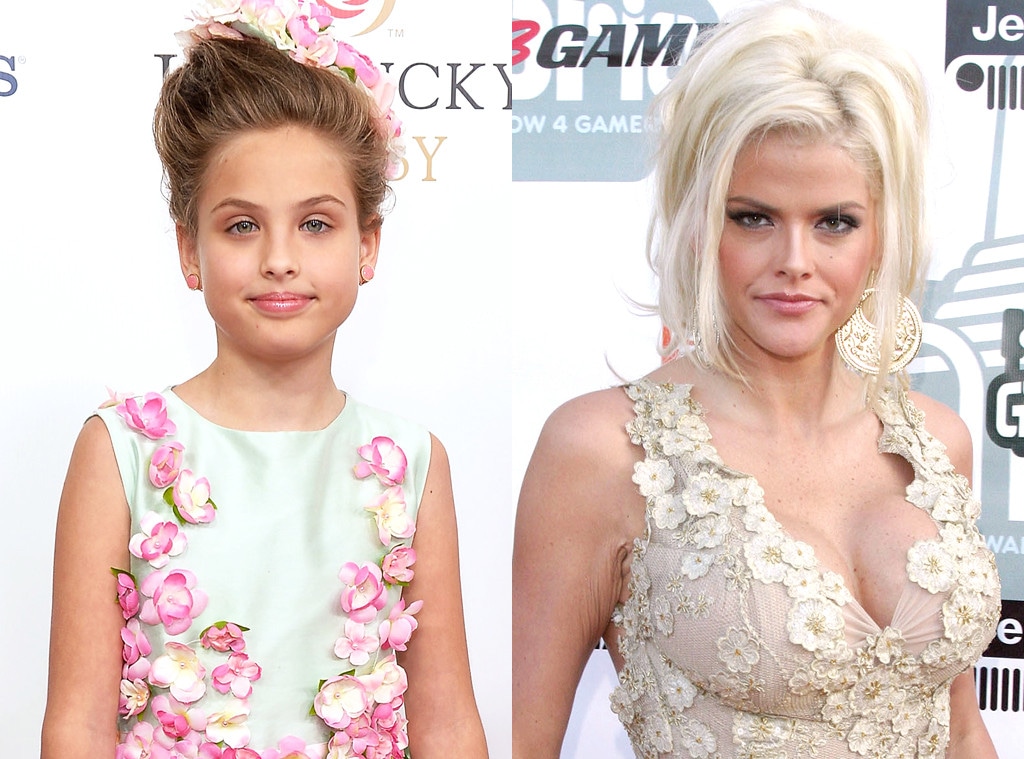 Gustavo Caballero/Getty Images for Churchill Downs, Ning Chiu/ZUMApress.com
Ten years ago today, Dannielynn Birkhead lost her mother at just 5-months-old. 
The daughter of Anna Nicole Smith, whose larger-than-life persona is unmatched by any other pop culture phenom to this day, has lived the vast majority of her life without a maternal figure, leaning on Larry Birkhead to take on the role of both parents at once.
Now 10 years of age, the similarities between Dannielynn and Anna Nicole are undoubtedly striking, but instead of capitalizing on public fascination with the late Playboy's model explosive rise and even more sudden fall, Larry has dedicated his own life to ensuring his little girl lives a normal one. 
In honor of Anna Nicole and the legacy she left behind, let's look back at how quickly Dannielynn has grown up right before our eyes. 
On September 7, 2006 Smith gave birth to her only daughter in the Bahamas, who she named after her first son, Daniel Wayne Smith. Three days later, the 20-year-old died from a drug overdose while visiting Anna Nicole and his newborn half-sister in the hospital. 
In an interview with Entertainment Tonight shortly after Daniel's death, she compared learning the tragic news to being "Punk'd" and called it her "lowest point in life." 
Weeks later, Smith and Howard K. Stern, the attorney originally named on Dannielynn's birth certificate, exchanged vows in a commitment ceremony held on 41-foot catamaran off the coast of the Bahamas. Anna Nicole's attorney told People at the time the family "needed a little adrenaline boost because things have been so hectic and devastating in their life recently."
Five months later, on February 8, 2007, Anna Nicole was found dead in a Hollywood, Fla. hotel room from an accidental overdose. 
During her final TV interview with Entertainment Tonight, filmed days before her passing, it was revealed Anna Nicole and Howard flew to Florida to pick up a new boat to "take Dannielynn out on the ocean and enjoy."
In the wake of Smith's funeral, held in the Bahamas three weeks after her death, a highly-publicized paternity battle over Dannielynn captivated the media for weeks in early 2007. 
DNA testing proved Birkhead to be Dannielynn's biological father, and in an April 2007 press conference, Larry told reporters excitedly, "I hate to be the one to say this but, I told you so." The father-daughter duo left the Bahamas for Louisville, Kentucky, where Anna Nicole's daughter would ultimately be raised for the next decade. 
"It just feels good to be home," Birkhead shared with the media, adding that he couldn't wait to "relax and horse around" with Dannielynn and their extended family. 
That same month, Dannielynn and Larry appeared on a joint cover of OK! magazine, the 7-month-old's very first photo shoot. 
Come Birkhead's first Father's Day in 2007, he and Dannielynn returned to OK! for another photo spread and accompanying interview. 
As for how Birkhead was already introducing Anna Nicole's legacy into her life, he shared, "I show her pictures of Anna all the time, and she grabs them! I show her photos of Anna on my BlackBerry, and she kisses the phone and tries to put it in her mouth."
"She doesn't do that with other photos, so it's really sweet," he explained. "I don't know if it's something she recognizes, but I tell her about her mommy all the time and we go out and look up in the clouds."
Larry could already see Anna Nicole in her daughter, sharing with the magazine, "She has long legs and chubby little toes exactly like Anna's; it's like a mirror image. It's really incredible. And I think her lips are her mom's lips; especially when she pouts, she has her mom's lips. She also gets what she wants exactly like her mom always did as soon as she'd pout."
Larry and Dannielynn were also preparing to move into Anna Nicole's Louisville home, and he revealed the conscious steps he was taking to make sure Anna Nicole would have a presence.
"I've been working so many nights trying to get it ready and perfect for Dannielynn. I want to get it so there's a piece of Anna but also a piece of me so that I'm not constantly seeing her shadow. I'm getting Dannielynn's nursery ready. She's going to be the first baby with a plasma TV," he gushed.
"I've got her a little music system and all the little toys that were in her mom's hope chest."
Mike Coppola/Getty Images, Getty Images
Three years later, Dannielynn and Larry attended their first-ever Kentucky Derby together, an ongoing tradition meant to honor the annual event where Birkhead and Smith initially met.
From 2010 to 2012, we saw the Birkheads dress in head-to-toe in matching outfits, and year after year, Dannielynn proved even more stunning and remarkably just like any other kid her age. (Given the circumstances, of course.)
Elliston Lutz/Paul Marciano/Guess
At 6-years-old, Dannielynn began following in her mother's footsteps more than ever before, making her modeling debut as a Guess girl, the same denim campaign that made Anna Nicole a household name back in the 90s. 
Birkhead fiercely defended his daughter from critics who felt the move was exploitative, telling Good Morning America in 2012, "Dannielynn has always looked up to her mom's image and...I think that this is kind of Dannielynn's way of paying tribute to her mom in her own special way."
"To see her mom's picture next to hers as a Guess girl and say, 'Hey, I was a Guess Kids girl, my mommy was a Guess girl,' that might be her only connection with her mom," he said.
Neilson Barnard/Getty Images
During an E! News interview at the 2015 Kentucky Derby, Birkhead called Dannielynn his "good luck charm," and that same year, he shed light on how much his daughter knows about Anna Nicole's life. 
"We go back all the time and we go to [Anna Nicole's] grave. We visit and I tell Dannielynn stories about her mom," Larry explained to Entertainment Tonight. "I don't sugar coat it. I say there are some things that your mom did and you know I try to make her learn from it." 
He also spoke candidly about protecting Dannielynn from the internet, and praised the then 9-year-old for her maturity.
"I think [about] how far she's come, and all the craziness that swirled around her and that she was just, really none the wiser. Just a little kid doing her thing like she's supposed to be," Larry said. "That's the one thing that I'm most proud of that I've done—trying to keep everything as normal as I can, in just a really crazy, crazy situation."
Frazer Harrison/Getty Images for Churchill Downs
Birkhead doubled down on his commitment to Dannielynn's privacy, telling the Today Show in Sept. 2016 she has no desire to pursue a career in Hollywood at the moment. 
"I made a conscious decision a long time ago to move to Kentucky,'' he said. "I do that on purpose because it takes away the chase, it takes away the curiosity, it takes away the false stories."
"People call me all the time and say can she be in a movie, can she model?" Birkhead revealed. "I didn't care about it, so I'd say no she's not interested. She's just a regular kid. She's into technology now and she's into games and these YouTube videos."
As Dannielynn and Larry approach the tenth anniversary of Anna Nicole's death, the two now live in a 10,000-square-foot home outside Louisville, and on a wall in Dannielynn's Peter Pan-themed bedroom is a self portrait painted by her mother while pregnant. 
"To my baby who is in my belly right now," a message on the painting reads. "Seven-and-a-half months. I love you. July 31, 2006."
"I think here in Kentucky is as normal as you can get. She loves school. She loves her friends," he told most recently told Inside Edition. "I just hope that she dreams big and accomplishes a lot."