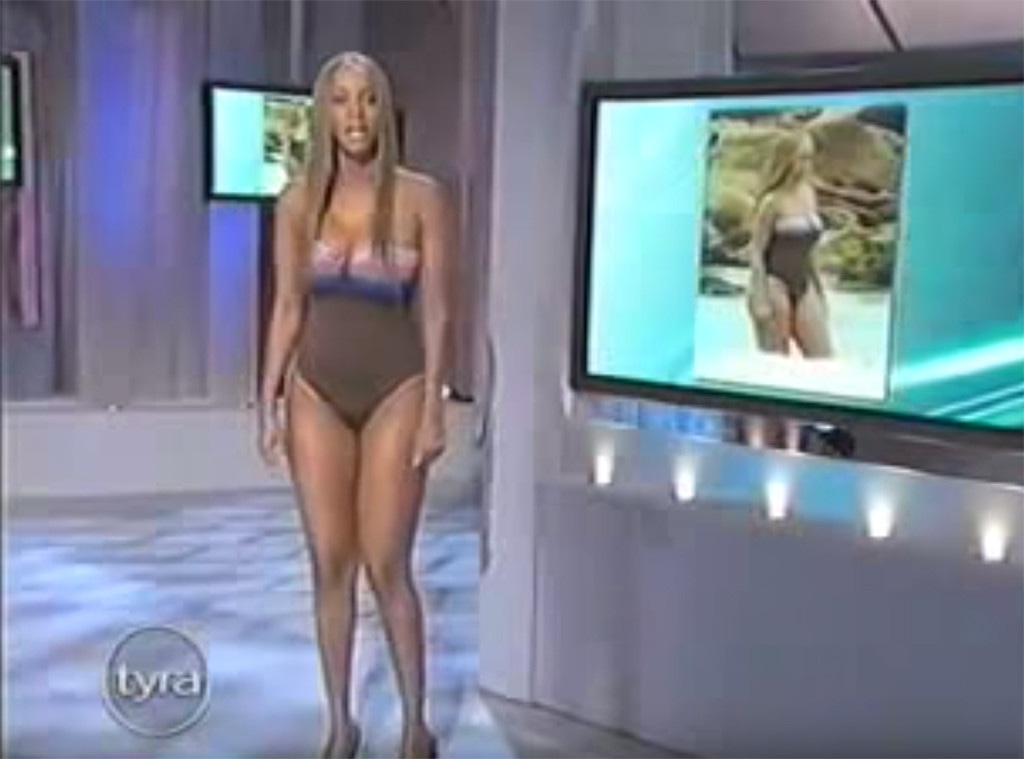 Youtube
Today marks an iconic moment in American history—the day Tyra Banks told everyone to kiss it. 
Ten years ago on Feb. 1, the supermodel walked into a taping of her eponymous talk show focused on addressing photographs that had surfaced of her on the beach.
In the paparazzi shots, the star was standing on the shore in a one-piece suit unaware that her hourglass figure would soon get splattered across the covers of tabloids under headlines like "Thigh-ra Banks," "America's Next Top Waddle" and "Tyra Porkchops."
Amid the weight scrutiny, Banks sported the same bathing suit on the set of her show as she looked into the camera and delivered a now-famous and fiercely empowering teary-eyed monologue. 
"I love my mama. She has helped me to be a strong woman so I can overcome these kind of attacks, but if I had lower self esteem, I would probably be starving myself right now. But, that's exactly what is happening to other women all over this country. So, I have something to say to all of you that have something nasty to say about me or other women who are built like me...women whose names you know, women whose names you don't, women who've been picked on, women whose husbands put them down, women at work or girls in school—I have one thing to say to you: kiss my fat ass."
The audience cheered, fans at home applauded and the statement soon became one of the greatest moments in daytime talk show history. 
"I've made millions of dollars with the body I have, so where's the pain in that? If I was in pain, I would have dieted," she told People as the magazine's cover girl that year. "The pain is not there—the pain is someone printing a picture of me and saying those [horrible] things."
Banks' life has changed considerably over the last decade, including stepping down as host of America's Next Top Model, launching a beauty brand and becoming a mom for the first time. In January 2016, the star announced she and boyfriend Erik Asla had welcomed son York Banks Asla with help from a surrogate. 
"The best present we worked and prayed so hard for is finally here," she shared on Instagram. "He's got my fingers and big eyes and his daddy Erik's mouth and chin. As we thank the angel of a woman that carried our miracle baby boy for us, we pray for everyone who struggles to reach this joyous milestone."
Now Banks has the chance to be the same uplifting mother to her son that she thanked her own mom for being all those years ago.