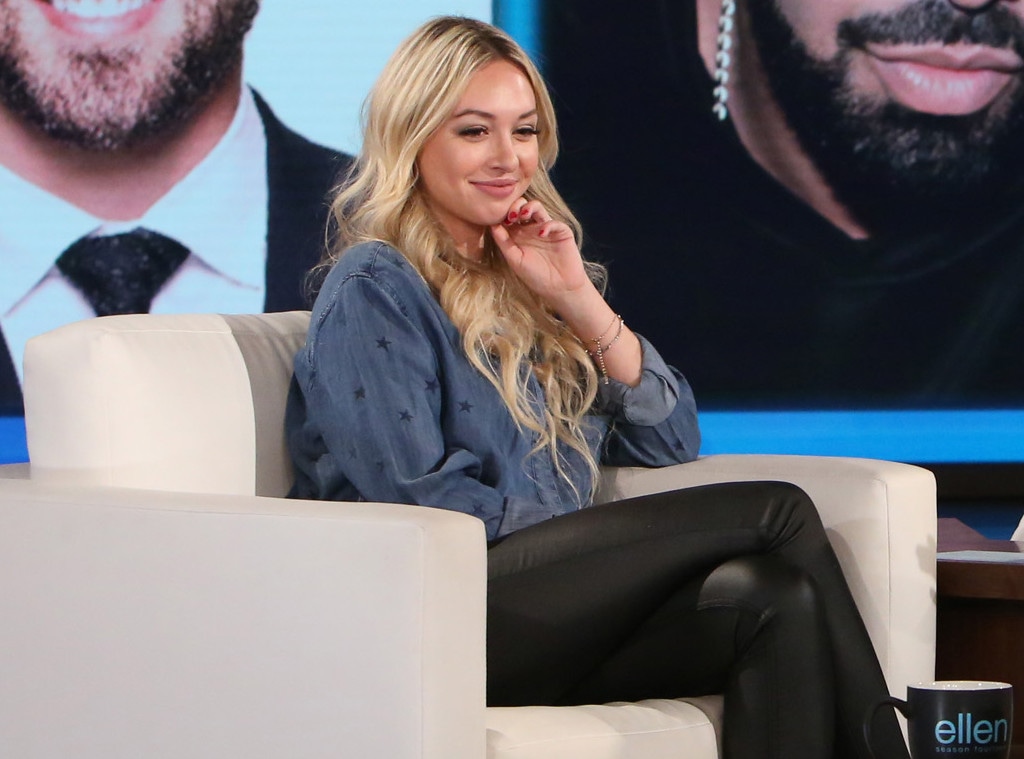 Michael Rozman/Warner Bros.
 Every season has a villain and man, did The Bachelor find one in Corinne Olympios.
In fact, the contestant currently competing in Nick Viall's season of the ABC reality hit has caused such a social media stir that Ellen DeGeneres had the 24-year-old business owner on her talk show on Wednesday, and asked the question on every fan's mind: Why does she have a nanny, that slices her cucumbers, makes her bed and makes the best "cheese pasta" in the world?!
She works with my family," Corinne said of Raquel, her nanny, during her first-ever talk show appearance. "She's been with us for 18 years. She moved with us to Florida from New Jersey. She's kind of, like, my everything. She raised my sister. She helped my mom through cancer. She's just great. She's part of our family. She's not like my nanny, like my babysitter."
So, um, then why does she use the word nanny to describe Raquel, who was only seen in the premiere episode but has since inspired a fan to start a GoFundMe campaign to "free" her?
"Nanny is kind of like a word that I use for her… have a lot of respect for her, and she's kind of like a mother figure, so I don't really like to say cleaning lady or housekeeper," Corinne said, admitting she could have "explained" it better on the show. "Nanny to me is a more 'respectful' word for her, because I really do love her and she's a very big part of my life."
Still, Nanny-gate aside, Corinne said she has no regrets about her time on The Bachelor, and what viewers are seeing is genuine. 
"That is the real me. That is definitely a real side of me, but there are many other sides to me," Corinne said, going on to list those other sides: "Well, I am older sister. I run a business. I am an athlete, I work out every day. I have a trainer."
And Corinne admitted that finds herself to be "funny" when she watched the episodes, telling Ellen, "I think I'm funny. I actually really laugh very hard at myself. I'm like, 'Wow, I didn't even know I was that funny!'"
But she did go on to say, "I was a little bit more promiscuous than I thought I would look." (Do we think she referring to the naked-under-a-trench-coat moment or straddling Nick in a bounce house, much to the other ladies' chagrin?) 
Always asking the questions on fans' minds, Ellen wondered if Corinne was drunk during any on those more "promiscuous" moments, as the alcohol tends to flow during filming. 
"There is alcoholic beverages, but I did know my limit," Corinne assured. " never took it too far where I would black out or anything like that."
The Bachelor airs Mondays at 8 p.m. on ABC.