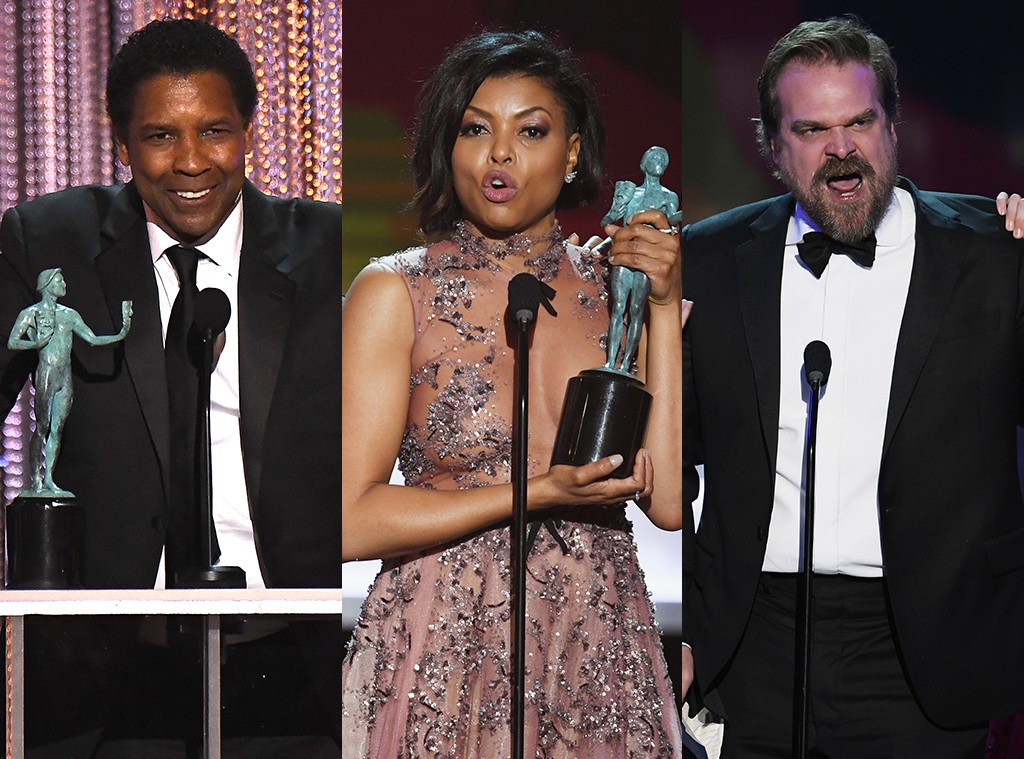 Getty Images
What happens when actors stop being nice—and start being really, really, unconditionally, unbelievably nice? And supportive, too?!
You get the Screen Actors Guild Awards.
Without a host to at least attempt to hold it all together, the SAG Awards rely solely on the charisma of presenters and recipients to get by—and luckily, as the first presenter of the evening, Ashton Kutcher, noted, here were gathered a group of people who love being the center of attention.
Whether that's actually the case or not, the actors in the room all love their jobs and love being recognized by their peers, so there's a unique sense of self-congratulatory camaraderie in the room that the other major award shows (i.e. the ones the stars get super dolled up to parade down a red carpet for) don't always have.
And with that, there's a certain comfort level that allows for the actors to let it all hang out. Which in turn, is good for us.
Here are five memorable moments from the 2017 SAG Awards:
1. A Shameless Moment: Of course William H. Macy was a worthy winner for his role as Frank Gallagher, the perennial-screw-up patriarch of a dysfunctional family, but Jeffrey Tambor's jaw actually dropped when Macy's name was called for Outstanding Performance by a Male Actor in a Comedy Series. Of course the Transparent star in actuality looked quite pleased for his pal, but Macy was still able to have a little fun with last year's winner.
"Well, I'm shocked," the actor, who also won a SAG Award in 2003 for the TV movie Door to Door, said. "I'm probably not as shocked as Jeffrey, but I'm pretty shocked."
2. Case Dismissed: Sarah Paulson of course won Outstanding Performance by a Female Actor in a TV Movie or Limited Series for playing The People v. O.J. Simpson prosecutor Marcia Clarke—the real McCoy was her date at the Emmys and was once again last night—because Paulson's performance was an unstoppable force to be reckoned with. But because the SAG Awards don't have as many categories as the Emmys, Sterling K. Brown, an Emmy winner for playing assistant prosecutor Chris Darden and Courtney B. Vance, likewise for playing defense attorney Johnnie Cochran, were competing against each other—and both were toppled by Bryan Cranston for his portrayal of President Lyndon B. Johnson in HBO's All the Way.
On paper, Cranston as LBJ—a role he'd already won a Tony for—was a no-brainer for all the honors, but the lingering relevance of the Simpson murder trial 20-plus years ago, anchored by Vance's uncanny performance as the head of O.J.'s Dream Team and Paulson's multi-faceted turn as Clarke, proved a formidable opponent. The Golden Globes went with the more old-fashioned, continental pleasures of John le Carré's The Night Manager in denying Vance and Sterling, but SAG went with another still-poignant, true-life story about civil rights and the history of race relations in America that was in the mix.
As evidenced by Cranston's reception, everyone nominated in the category, including The Night Of co-stars Riz Ahmed and John Turturro, is a class act.
3. The Heir Apparent: Another theme that has emerged over the years: the members of SAG love the British members of their union especially a lot, a lot. And last night, it appeared that a successor was being groomed to assume three-time best ensemble Downton Abbey's throne, especially after Claire "Queen Elizabeth II" Foy and John "Winston Churchill" Lithgow won for female actor and male actor in a drama series for Netflix's The Crown. (Pardon us, dowager countess, for forgetting Downton was actually still in the running this year—wasn't the finale ages ago?)
But instead, it was the 16-member ensemble of arguably the most talked- and theorized-about Netflix drama yet, Stranger Things, that took home the big win. Winona Ryder's facial expressions alone, from the initial moment of shock to whatever it was she was doing during co-star David Harbour's fiery acceptance speech, made the moment worth it. Add to that the unfiltered glee of the show's stars who were born in the 21st century, and the fact that Barb is every bit the SAG winner that Nancy is, and you had the most exhilarating moment of the night.
#WinonaForever.
4. The Elephant in the Room: We would have bet no money whatsoever on the odds of no one mentioning politics or world events during the SAG Awards, given the timing. But nor could we have assumed that the theme of the night would run like a relay race, with one actor after another passing the baton. From Ashton Kutcher's heated opening welcome (which judging by what he later tweeted was spur of the moment) to John Lithgow thanking Meryl Streep for her Golden Globes speech, that stick didn't hit the ground once.
5. The Game Is On: Welcome to the Upside Down! It's a whole new ballgame today after the SAG Awards for male and female actor in a movie and the best ensemble prize all deviated from the Globes and most critics associations and went in a different direction.
The night started off with two deserving non-surprises: Moonlight's Mahershala Ali and Fences' Viola Davis won for their supporting roles—and we cannot wait to hear their Oscar acceptance speeches.
But then, instead of Natalie Portman shoring up her Oscar chances for Jackie, with Elle's Isabelle Huppert not even nominated last night, Emma Stone swooped in and won for La La Land—making the chances of her winning her first Oscar all the greater, despite Huppert's Globes win and Oscar nod. Yet that wasn't so shocking, since Stone won the Globe for actress in a musical or comedy. However, then Denzel Washington topped seeming front-runner (and Globe-and-everything-else winner) Casey Affleck to win his first-ever SAG Award for Fences. (Pause for surprise that the two-time Oscar winner had never won the SAG.)
And then, at the end of the night, with La La Land not nominated and Moonlight seemingly poised to repeat its Globes win, the cast of Hidden Figures won! A perfectly grand choice, to be sure, but that really does change everything. Because for all the talk about La La Land being the kind of movie that Academy voters love—sweeping, ambitious, charming and an homage to the movie-making of yore—Hidden Figures may be even more so: A big studio picture about a real-life epic point in American history, politically significant, both dramatic and feel-good, and starring an across-the-board likable cast in which the villains are obviously on the wrong side of progress and the heroes couldn't be more worthy of our adoration.
Kevin Winter/Getty Images
The map won't become any clearer in the coming weeks before the Oscars, either. 
La La Land has the big win from the Producers Guild of America, often a precursor to Oscar, but it was praised so heartily right out of the gate that there's been nowhere for it to go besides think pieces about how it really isn't that great. Moonlight will still most likely win Best Feature and Affleck will almost certainly still win Best Actor for Manchester by the Sea at the Independent Spirit Awards, a ceremony that La La Land and Hidden Figures are too big-budget to compete at. But La La Land could run off with a number of the 11 BAFTAs it's nominated for, including Best Picture, while Hidden Figures has a sole BAFTA nomination, for adapted screenplay.
Finally, we of course all know that La La Land is nominated for a record-tying 14 Oscars, upping the odds of a titanic night for the fantastical musical, while Hidden Figures is only up for three. But one of them is Best Motion Picture, and just like the unbelievable women at the core of the film, it would be unwise to count that movie out.
For complete SAG Awards coverage, watch E! News Monday, Jan. 30, at 7 p.m. and 11 p.m. And don't miss the Fashion Police 2017 SAG Awards special Monday, Jan. 30 at 8 p.m., only on E!