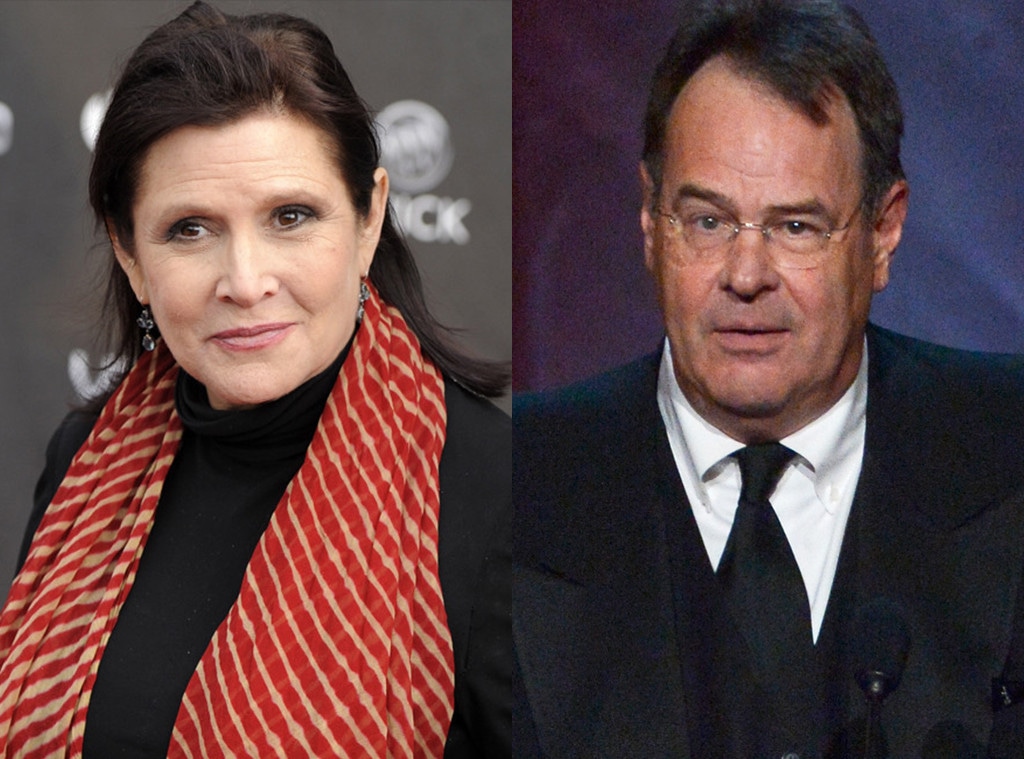 Chris Pizzello/AP/REX/Shutterstock, Lester Cohen/WireImage
Dan Aykroyd is looking back on his life with former fiancée Carrie Fisher.
The comedian penned a candid but heartfelt essay as part of Empire's 24-page farewell to the late Star Wars actress, and in it he opens up about the ups and downs of their relationship. Aykroyd first met the iconic actress on the set of Saturday Night Live, but they didn't become close until they filmed Blues Brothers.
"I grew up as a simple Catholic kid from a government family in Hull, Quebec, so you can imagine how much of a privilege and honor it was for me to have known this one-off, broke-the-mould woman as a great friend," he begins his essay. The couple fell in love on set and they ended up moving in together. 
Al Levine/NBC/NBCU Photo Bank via Getty Images
Growing seriously quickly, Aykroyd reveals they even received blood tests to rate their compatibility; the idea of lifelong commitment was on the brain.
"Contemplating marriage, I gave Carrie a sapphire ring and subsequently in the romance she gave me a Donald Roller Wilson oil painting of a monkey in a blue dress next to a tiny floating pencil, which I kept for years until it began to frighten my children," he writes.
Aykroyd calls Fisher "one of the most brilliant and hilarious minds of our eon," and says she always made him laugh even when she was giving him a hard time. Aykroyd's love for Fisher continued to grow, and he grew very close with her mother, Debbie Reynolds, and brother Todd Fisher.
Watch:
Carrie Fisher Talks Princess Leia at 2016 White House Event
While their relationship was "soaring on laugh-filled exhilaration and a vibrant, wholly satisfying physical intimacy," Aykroyd and Fisher went on a private getaway to Bill Harrah's "legendary" Lake Tahoe estate where they took hallucinogenic drugs.
"Having obtained some original Owsley [LSD] from our friend Tom Davis, we flew up to Reno, rented a wagon and checked in for three days of full-on weeping to Christmas classics," Aykroyd reveals. "Certainly one of the planet's greatest occasions where LSD was a factor."
But as many love stories go, their relationship came to an end. Fisher called it quits with Aykroyd after he and Fisher took a trip to Martha's Vineyard with John Belushi and Judy Belushi. The latter had purchased a home for Aykroyd, and he wanted to check it out with his fiancée. 
"It was a fixer-upper, mid-century oil-guzzler, albeit designed by Hideo Sasaki. Carrie said, 'It looks like it was abandoned by Fred and Wilma Flintstone.' The next morning she asked me to drive her to the airport and she flew to New York," he recalls. "Architectural reservations notwithstanding, Carrie wasn't shallow, we had a great time." 
Aykroyd knew the truth.
"She was also in love with Paul Simon," he admits. "She married him but I hope she kept my ring."