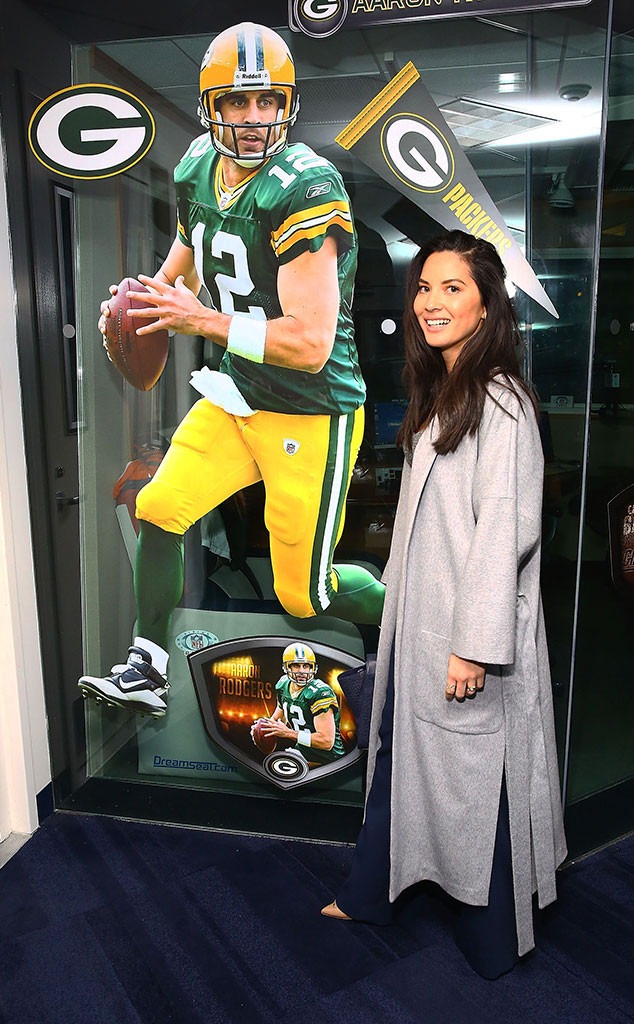 Astrid Stawiarz/Getty Images
Olivia Munn has a few kind words for those supporting Aaron Rodgers and his NFL team. 
Shortly after the Green Bay Packers lost their chance to play in the 2017 Super Bowl to the Atlanta Falcons at the NFC Championship Game, the actress penned a handwritten note to fans of the famous quarterback.
"So proud of this team," the post, shared to Instagram on Sunday night, reads. "They faced a lot of adversity on and off the field, but battled to get this far."
Munn continues, "Thank you to those of you who encouraged and supported them by choosing to put out only positive energy. It helped them get this far." The X Men starlet signed the note with green and yellow hearts. 
It didn't take long for fans of the longtime couple to begin speculating what exactly adversity Munn is referencing in the post, and all signs point to Aaron's severed relationship with his family.
The Rodgers' personal drama first played out publicly on JoJo Fletcher's season of The Bachelorette, when Aaron's little brother, Jordan Rodgers, competed on the ABC series, ultimately winning the 12th season. He opened up to his now-fiancé about their family's estrangement from Aaron, which reportedly began when the athlete began dating Munn in 2014. 
In a recent interview with The New York Times, their father Ed Rodgers said of his family's personal business making headlines, "One in the news is enough for us. Fame can change things."
Rodgers also didn't dispute a Bleacher Report story from November that claimed Christmas presents Rodgers' parents sent him and Munn were returned unopened, that family members weren't welcome in Green Bay at games and that Aaron didn't attend his grandfather's funeral.
Both Aaron and Olivia have remained tight-lipped on the matter. "I just don't think it's appropriate talking about family stuff publicly," Rodgers recently told reporters at the Packers' practice facility. 
As for Munn, she too was caught off guard when asked about her boyfriend's thoughts regarding Jordan finding reality TV fame. 
"Aaron doesn't really...I don't think he's really talked with his brother," she told Entertainment Tonight. "So, I actually don't know. It's complicated—I'll say that."