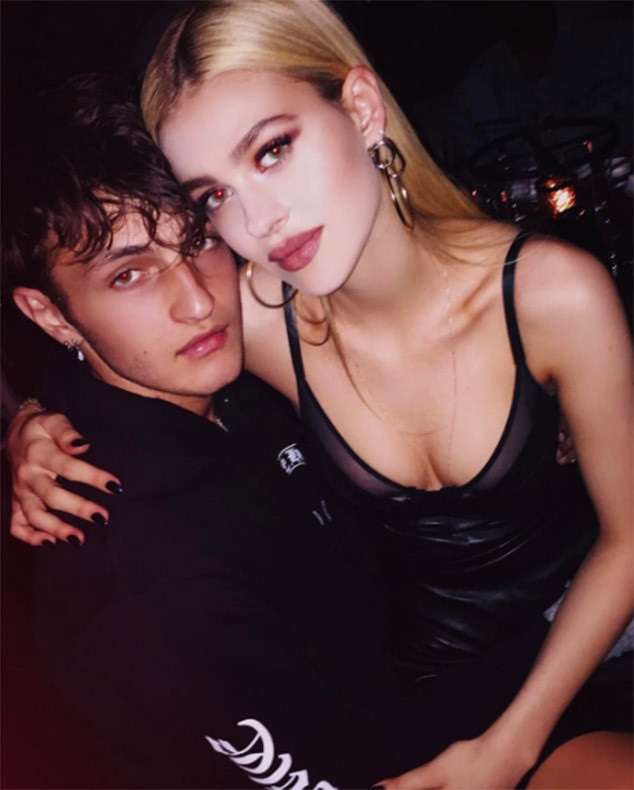 Instagram
Hot new couple alert!
E! News can confirm Anwar Hadid—yes, the 17-year-old little brother of Gigi Hadid and Bella Hadid—is dating Transformers actress, 22-year-old Nicola Peltz.
They were photographed walking hand-in-hand in Beverly Hills this week, and now a source tells us, "They are dating. It's a fairly new relationship, but they are really good friends and part of the same group of friends."
In fact, they've snapped several photos together with famous pals like Sofia Richie and Nicola's brother Will Peltz in the past, but only recently have they been sparking romance rumors.
For example, earlier this month, they had people talking after Nicola shared a photo sitting on Anwar's lap. "taken by the queen @ellenvonunwerth," she coyly captioned the pic.
Videos from Nicola's birthday dinner have also surfaced that seem to show the pair holding hands while sitting next to each other at the table, providing even more evidence of their romance.
Not only that, but a few fan accounts captured screenshots from Snapchat of what appears to be the couple's New Year's kiss.
So how did they go from friendship to romance?
Well, first and foremost, the best way to forge a relationship is to start out as friends, getting to know each other on a platonic level before moving on to the next step—and for these two young, attractive, successful people, the reasonable next step is to give romance a shot.
They have similar creative interests, too, which could have sparked even greater attraction. Anwar has focused his career toward modeling (like his older sisters and his mama Yolanda Hadid), and Nicola is an actress—with roles in films like Transformers as well as TV series like Bates Motel—who has also dabbled in the modeling world. Not to mention, they're both insanely fashionable. You know what they say, a couple who dresses well together...
They've also faced their fair share of time in the spotlight already and are pretty accustomed in how to handle it. Anwar's mother was on the Real Housewives of Beverly Hills series and his sisters have garnered their own fame in the modeling industry. Nicola, on the other hand, has made a name for herself outside of acting through her famous group of friends as well as romantic connections to people like Justin Bieber. 
Thus, they wouldn't be too taken back by their relationship hitting headlines. And, let's face it, when you put two beautiful and well-known people together like this, it's bound to make waves.
We can't wait to see where these lovebirds go from here!