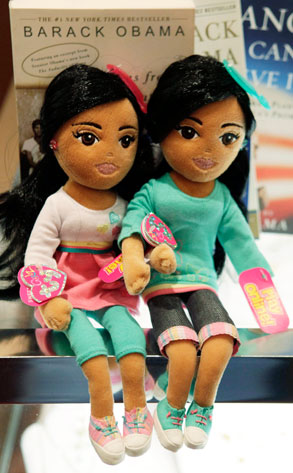 AP Photo/Charles Rex Arbogast
After only two weeks, the new White House regime has already inspired change.
Toy company Ty Inc. has changed the names of its Sweet Sasha and Marvelous Malia dolls from its TyGirlz Collection.
Although the Beanie Babies maker claimed the opposite, the dark-skinned dolls were undoubtedly inspired by President Barack Obama's daughters, Sasha, 7, and Malia, 10. The first family was none too pleased.
"We believe it is inappropriate to use young, private citizens for marketing purposes," the first lady's spokeswoman, Katie McCormick Lelyveld, said in a statement.
The toymaker now has placed "Retired" banners over the two dolls on its website and reportedly plans to rename the $9.95 figurines Sweet Sydney and Marvelous Mariah.
The White House clearly supports this change. McCormick Lelyveld told the New York Times, "We appreciate the company's response to this matter."
And so does eBay, where the dolls are already going for more than $100 each.