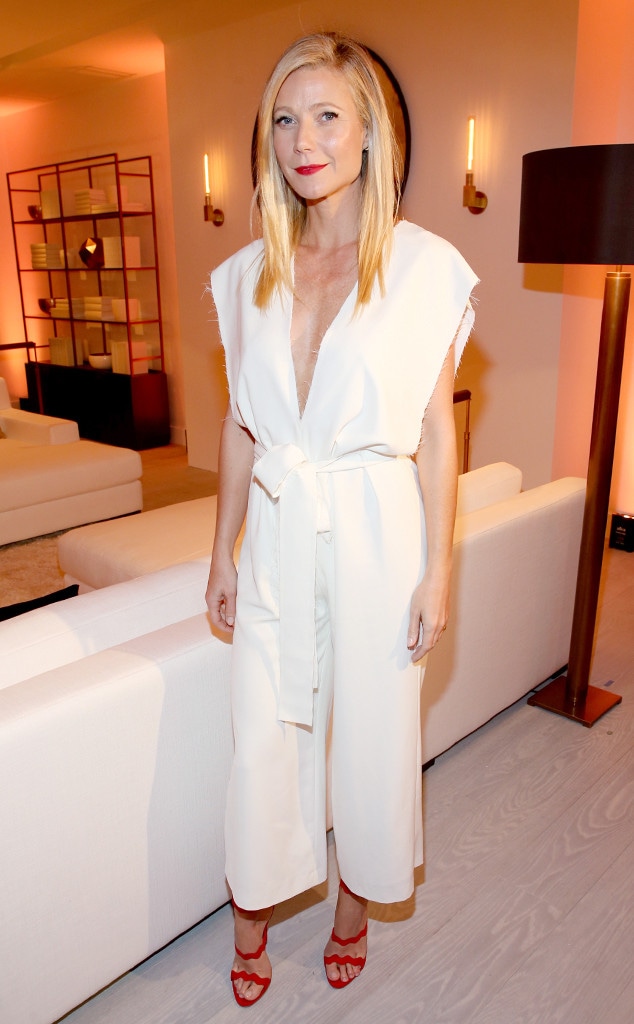 Jonathan Leibson/Getty Images
Whether you're aware of it or not, you have a favorite body part. And you like to flaunt it.
Of course, we all have those I-have-nothing-to-wear-because-I-feel-gross-and-bloated days, but there's nothing showing a little shoulder can't do. OK, OK. Maybe, for you, it's not the shoulders—maybe it's your décolletage or in order to feel your best, most sexy self you have to be in shorts. Whatever that favorite area or body part might be, it's time to recognize it, capitalize on it and cater your wardrobe around it. Because looking and feeling confident starts there!
So if you're interested in learning how to play up your best asset, take it from your E! Style team and their celeb fashion counterparts.
Diana Nguyen, Supervising Editor
Favorite Body Part: "I recently realized I love showing my décolletage—specifically my shoulders and collar bones."
How to Show It Off: "I usually dress pretty conservatively—always in an oversized sweater or shift dress—but wearing something with a plunging neckline makes me feel sexy and glamorous. I have a petite chest area, so I don't feel too exposed."
Take after Diana and pull a Gwyneth Paltrow the next time you hit the town if that speaks to you!
Raleigh Wilde Burgan, Style Editor
Favorite Body Part: "Showing a little ankle makes a big difference."
How to Show It Off: "Even when I'm having one of those nothing-looks-good-on-me days, I can find sexiness and confidence in showing a little ankle. Almost all of my jeans are cropped, and just about every pair of pant I have is tailored to hit me right above my ankle (including my gym leggings). Pair a great ankle moment with a killer pair of heels and that's a winning combination. Always."
If that's also true for you, VS Angel Josephine Skriver's ankle-baring outfit is right up your alley.
Taylor Stephan, Beauty & Branded Content Editor
Favorite Body Part: "I love showing off my waistline. I'm curvy, but my midriff is tiny so I love highlighting it."
How to Show It Off: "Anything that cinches my midsection! I'm really into high-waisted denim. I wear it with a blouse tucked in for a work vibe or paired with a crop top for a flirtier feel."
If that's you, too, Jessica Alba's in the same boat.
BG005/Bauer-Griffin/GC Images
Jacqueline Lee, Creative Editor
Favorite Body Part: "I pretty much like all of my body evenly!"
How to Show It Off: "Clothing that really, truly fits properly is always the best confidence boost for me. A perfectly-fitted, cinched-at-the-waist dress with a flared skirt is my absolute favorite silhouette. Throw that on with a tee underneath, and I can be confident to run around getting my work done, but still feel put-together in a pretty-ish kind of a way."

If you relate to Jacqueline, it's time you invested in the perfect fit and flare—just like Emma Roberts!
NorthWoodsPix / Splash News
Alanah Joseph, Associate Style & Beauty Editor
Favorite Body Part: "I love my curves! My hips, booty and thighs make me feel incredibly feminine and sexy."
How to Show It Off: "I like form-fitting, mid-length skirts that enhance my waist-to-hip ratio. For date night, I'll wear a midi with a thigh slit."
Cue this amazing skirt moment from Selena Gomez.
Robert O'neil/Splash News
Kailey Harless, Social Media Manager
Favorite Body Part: "My legs!"
How to Show It Off: "I wear slim jeans and pants for work (because it's a tundra), but I feel most confident in shorts, skirts and dresses so these gams are free to move."
If you're tall like Kendall Jenner, take Kailey's advice and let those limbs out!
Amy Webber, Digital Producer
Favorite Body Part: I like my shoulders and arms. They're strong but still feminine and are really long, which I love.
How to Show It Off: I wear a lot of sleeveless tops and dresses. My shoulders also fill out blazers and jackets well—that's an easy way to look polished for work when I'm running around on set.
If your arms are your best asset, go sleeveless like Victoria Beckham and Amy!
Start dressing for your best, most confident self!