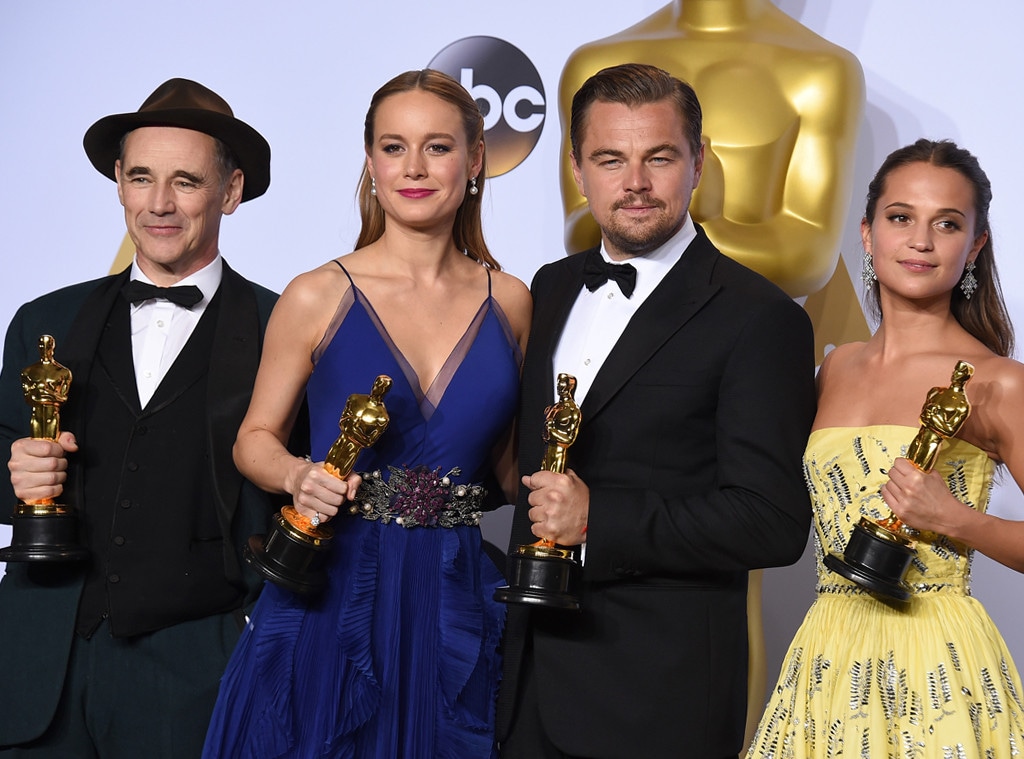 Jordan Strauss/Invision/AP
Four first-time Oscar winners shared one dream: to make great movies.
It's been 10 months since Leonardo DiCaprio, Brie Larson, Mark Rylance and Alicia Vikander added three words before their names: Academy Award winner. For DiCaprio and Rylance, the recognition was long overdue—and for Larson and Vikander, it put them in a new stratosphere.
So, how did the spend the rest of 2016? E! News looks back at their post-Oscar projects:
Leonardo DiCaprio, Best Actor in a Leading Role (The Revenant)
DiCaprio hinted at his next undertaking during his acceptance speech. "Making The Revenant was about man's relationship to the natural world—a world that we collectively felt in 2015 as the hottest year in recorded history," he said. "Our production needed to move to the southern tip of this planet just to be able to find snow. Climate change is real—it is happening right now."
Calling climate change "the most urgent threat facing our entire species," DiCaprio implored people around the world "to work collectively together and stop procrastinating." The actor continued, "We need to support leaders around the world who do not speak for the big polluters, but who speak for all of humanity, for the indigenous people of the world, for the billions and billions of underprivileged people out there who would be most affected by this."
At the time, DiCaprio was finishing up his National Geographic documentary, Before the Flood. A three-year labor of love, it followed the U.N. Messenger of Peace as he interviewed people in both developing and developed nations who provided emotional and pragmatic views on what must be done today—and in the future—to prevent the catastrophic destruction of the planet.
Before the Flood premiered in theaters in L.A. and New York City on Oct. 21 and aired globally on the National Geographic Channel on Oct. 30, in 171 countries and 45 languages. For a time, the documentary was available to stream on the National Geographic Channel's YouTube page.
DiCaprio, who put his acting career on hold to promote the documentary, told reporters his goal was to "make a modern-day film about climate change." The interview subjects included Pope Francis, SpaceX CEO Elon Musk and United States President Barack Obama.
In addition to producing Before the Flood, DiCaprio's Appian Way Productions co-produced Warner Bros.' Live by Night; Ben Affleck wrote, directed, produced and starred in the drama. Later this year, DiCaprio is expected to shoot The Ballad of Richard Jewell alongside Jonah Hill.
Chuck Zlotnick/Warner Bros.
Brie Larson, Best Actress in a Leading Role (Room)
Larson has worked steadily since 2001, often stealing the spotlight with supporting roles in films like 2012's 21 Jump Street and 2013's The Spectacular Now. Her starring role in 2013's Short Term 12 earned her favor with the Critics' Choice and Independent Spirit Awards, but it wasn't until Room's release that Larson entered the Academy Awards race.
The actress had already completed Basmati Blues and Free Fire, both of which were set for release after her win. In the midst of award season, Larson filmed Warner Bros.' Kong: Skull Island alongside John Goodman, Tom Hiddleston and Samuel L. Jackson. In May, she began filming Lionsgate's The Glass Castle alongside Max Greenfield, Woody Harrelson and Naomi Watts. Larson joined the Marvel Cinematic Universe in July when the studio cast her as Captain Marvel, giving her the first female-led film in the franchise (set for release in 2019).
Larson was back on set in November to direct and star in Unicorn Store. The indie comedy's cast includes Joan Cusack, Jackson, Hamish Linklater, Karan Soni and Bradley Whitford.
As Larson told E! News' Marc Malkin in September, she was looking for lighter material after shooting heavy dramas and suspenseful action movies. "I'm thinking I want to develop a film that takes place at a tropical [location]—maybe the Hawaiian Four Seasons. Maybe all the Four Seasons!" she joked. "And I'd just go to different Four Seasons and taste all their piña coladas."
Mark Rylance, Best Actor in a Supporting Role (Bridge of Spies)
Steven Spielberg's The BFG hit theaters on July 1, 2016, with Rylance starring as the titular big friendly giant. The Tony and BAFTA -winning star had completed production 13 months earlier, and Rylance spent the spring and summer months promoting the Disney film around the world.
Around that time, Rylance began filming Christopher Nolan's WWII drama Dunkirk for Warner Bros. The movie—starring Kenneth Branagh, James D'Arcy, Tom Hardy, Cillian Murphy and Harry Styles—hits theaters July 21. As Rylance and Spielberg both supported The BFG in July, they began filming Warner Bros.' Ready Player One, starring Olivia Cooke, Ben Mendelsohn, T. J. Miller, Simon Pegg and Tye Sheridan. The sci-fi flick debuts March 30, 2018.
Rylance remained active onstage through the year, too.
After a two-month run at St. Ann's Warehouse in Brooklyn, Rylance reprised his role as Ron in Nice Fish in November at London's Harold Pinter Theatre. The show is schedule to end Feb. 11.
Davi Russo/DreamWorks II Distribution Co., LLC.
Alicia Vikander, Best Actress in a Supporting Role (The Danish Girl)
Vikander was filming Universal Pictures' Jason Bourne with Matt Damon when she walked away with Oscar gold. Released July 29, the blockbuster earned $415 million worldwide. A month before her global press tour with Damon began, Vikander scored one of the most coveted roles in Hollywood: Lara Croft; MGM's Tomb Raider film is slated for a 2018 release.
In April, Vikander and James McAvoy began filming the romantic thriller Submergence. She followed up the indie in May by launching her own production banner, Vikarious Productions, with her London-based agent Charles Collier. Their first project, Euphoria, stars Vikander and Eva Green as estranged sisters traveling through Europe towards a mystery destination. Their company plans to produce two more movies at a similar budget within the next two years.
Audiences didn't have to wait long to see more of Vikander after Jason Bourne.
Disney's The Light Between Oceans premiered Sept. 2, nearly two years after filming wrapped. Based on the novel of the same name, the film co-stars Michael Fassbender and Rachel Weisz. Vikander's performance received positive reviews in spite of the film's mixed reception overall.
Vikander will next be seen in The Weinstein Company's Tulip Fever, in theaters Feb. 24.