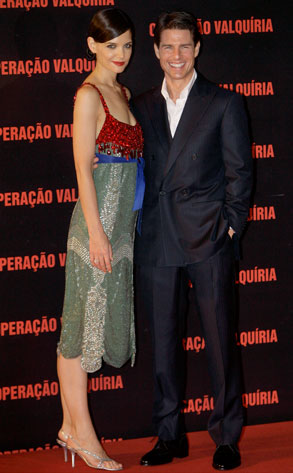 AP Photo/ Ricardo Moraes
Tom Cruise and Katie Holmes are surely in need of a little vacay.
Yes, they've been spotted briefly playing in the sand and sunning it up in Rio de Janeiro with daughter Suri, but that's really nothing considering how on-the-go they've been the past few months.
Right after her stint on Broadway came to an end, Katie joined her hubby on several stops around the globe to promote his World War II flick, Valkyrie, with the final premiere taking place Tuesday in Brazil.
And while Tom looked his usual dapper self, we kinda have mixed feelings about Katie's vintage Christian Lacroix dress—namely, its droopy torso and that blue belt.
Is this an elegant throwback to Old Hollywood glamour, or, given the color scheme, does Katie look like she's trying to channel some sort of superhero-like alter ego?