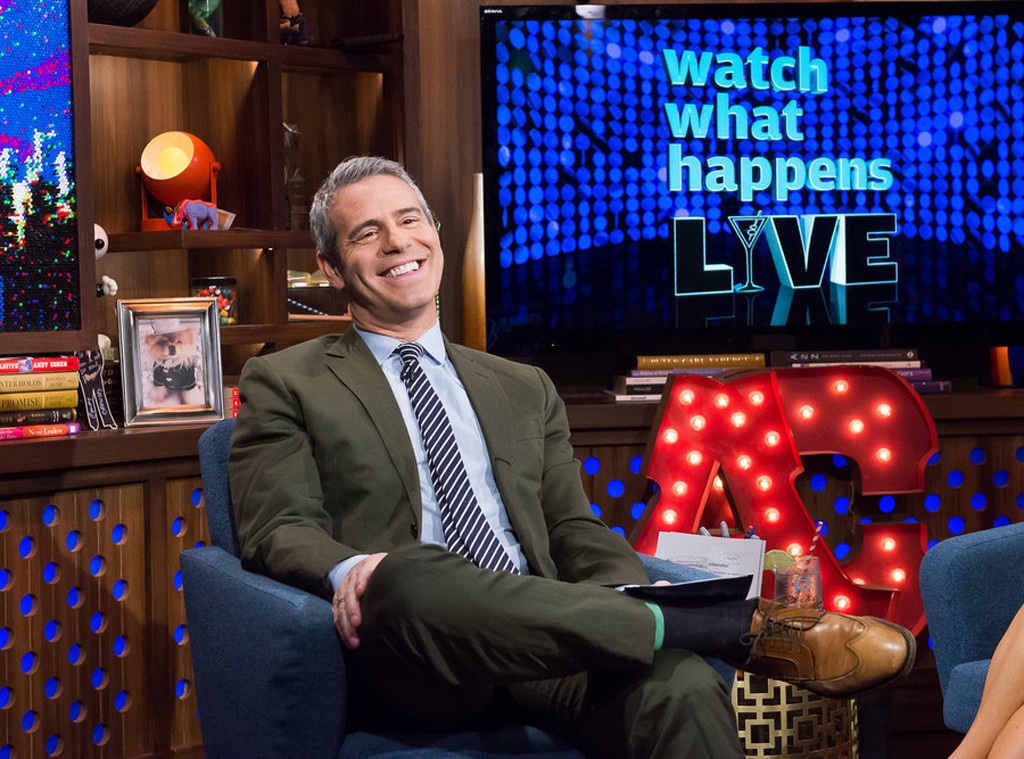 Bravo
Andy Cohen doesn't expect the celebrity guests on Watch What Happens Live to hold anything back when they sit down for an interview on the Bravo late-night chatfest, and, in turn, he's not holding anything back when it comes to them.
The host faced down a Plead the Fifth rapid-fire line of questioning of his own during his show's panel at the 2017 Winter TCA Press Tour, and he was more than willing to spill the tea about the stars he's sat down with. 
Which question did he ask that made him the most uncomfortable? "There was some moment with Selena Gomez where I really felt like I had to bring up Justin Bieber," he said, explaining that if the show wanted to appear in tune with the conversation surrounding the on again, off again couple, he couldn't avoid it. "I don't know that she loved it, so maybe that."
Which celebs have taken the fullest advantage of the Clubhouse's open bar? "Oh my God, how much time do we have? Wow," he said, laughing. "Rosie Perez, Ricki Lake…Oh yeah, Jussie Smollett and Gabby Sidibe happened recently. Just lit up like a Christmas tree!"
And finally, which celeb guest pairings had the best or worst chemistry he could recall? "John Mayer and Dan Rather was a really good pairing a few years ago, that I loved. We also try to put two unlikely people together…We try to go high-low sometimes. It usually works and sometimes it doesn't," Cohen admitted. "It's fascinating when it doesn't. We've had guests who wound up hating each other. Joan Rivers, on her last appearance on the show…came on with Maksim [Chmerkovskiy] from Dancing With the Stars. Before the show, he had said something that set her off and she turned to me and made it clear that this was going to be not fun for him. Somehow, he turned it around and it was incredible. But I will tell you, I was schvitzing."
But nothing's rattled the affable host as much as the time he dared ask Oprah Winfrey if she'd ever taken a dip in the "lady pond." "It was a moment where I was a little scared," he admitted of the way the tension lingered for moments after she'd good-naturedly replied.
Watch What Happens Live with Andy Cohen airs Sundays through Thursdays at 11 p.m. on Bravo.
(E! and Bravo are both part of the NBCUniversal family.)