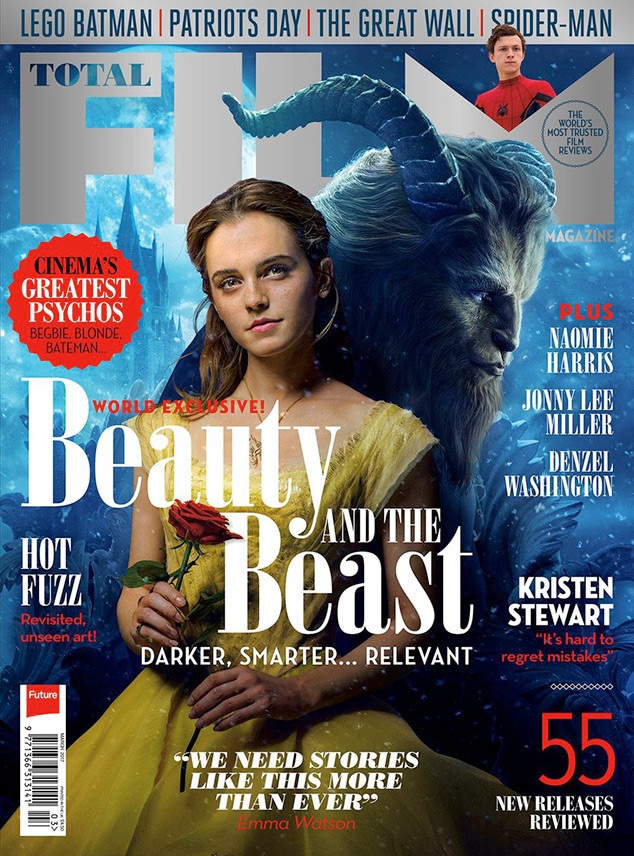 Total Film
It should come as no surprise that Emma Watson prefers Belle to Cinderella.
After all, the actress, 26, passed on the titular role in director Kenneth Branagh's 2015 live-action remake of the Disney animated classic. Lily James, 27, eventually stepped into the princess' glass slippers, with Cate Blanchett and Richard Madden rounding out the film's cast.
Why did Watson turn down such a high-profile part? "I didn't know they were going to make Beauty and the Beast at the time I turned down Cinderella," she tells Total Film. "But when they offered me Belle, I just felt the character resonated with me so much more than Cinderella did."
Watson argues Belle is a much better "role model" than Cinderella. "She remains curious, compassionate and open-minded. And that's the kind of woman I would want to embody as a role model, given the choice," she explains. "There's this kind of outsider quality that Belle had, and the fact she had this really empowering defiance of what was expected of her. In a strange way, she challenges the status quo of the place she lives in, and I found that really inspiring. She manages to keep her integrity and have a completely independent point of view. She's not easily swayed by other people's perspective—not swayed by fear-mongering or scapegoating."
Beauty and the Beast is one of the most anticipated movies of the year, but Watson admits she had "concerns" about the original script. In fact, she only agreed to star in the film after being reassured it would be a "collaborative" process with director Bill Condon. They turned Belle into an inventor, like her father, as she'd wondered what the animated princess did "all day."
Additional elements, including Belle's wardrobe, were modified accordingly.
Other characters, meanwhile, became larger than life.
"We didn't tone him down," says Luke Evans, who plays Gaston. "I think we did the opposite. Everything he does, he does extreme. There was no point trying to find a way to tone it down."
The film also stars Josh Gad as Le Fou, Kevin Kline as Maurice, Nathan Mack as Chip, Gugu Mbatha-Raw as Plumette, Audra McDonald as Madame de Garderobe, Ewan McGregor as Lumière, Ian McKellen as Cogsworth, Dan Stevens as Beast, Emma Thompson as Mrs. Potts and Stanley Tucci as Cadenza. Ariana Grande and John Legend perform the movie's title track.
Like Watson, Stevens is excited to tell a tale as old as time. "The animated movie came out when I was a kid. It was really great. I think every generation has its own telling of this," the actor, 34, tells Total Film. "It captures a lot of imaginations at once. It certainly captured mine."
Beauty and the Beast is out March 17 in standard, RealD 3D and IMAX 3D formats.