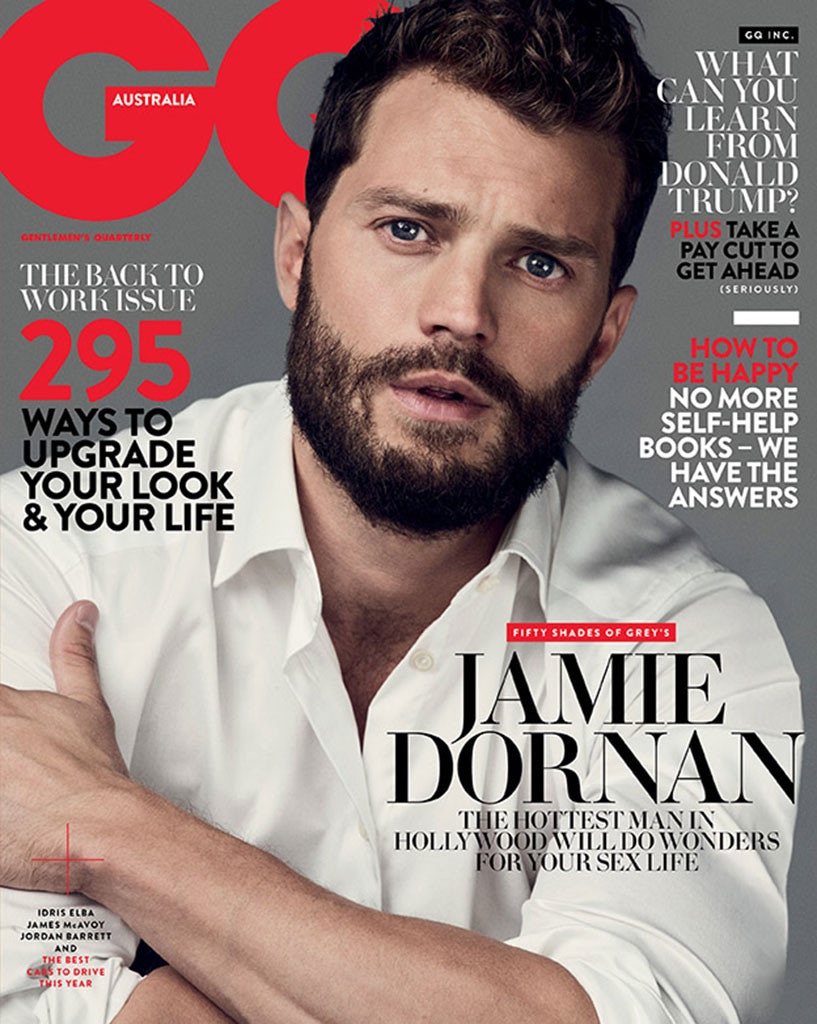 Nino Munoz
Jamie Dornan wants to make one thing clear: He is not Christian Grey. 
The Fifty Shades Darker star smolders on the cover of GQ Australia's February 2017 issue, in it setting the record straight on his own preferences inside the bedroom. 
"It was like nothing I'd experienced before," Dornan admitted when asked about visiting an S&M dungeon in preparation for the role. "I'd never seen any form of S&M before this, I had no interest in that world."
He explained, "It doesn't float my boat," before adding, "I've always been open-minded and liberal—I'd never judge anyone's sexual preference. Whatever gets people off is entirely up to them and there's a million different ways to please yourself, sexually."
Universal Pictures and Focus Features
As for playing the franchise's sex-obsessed protagonist opposite Dakota Johnson, he's not particularly fond of the character.
"[Christian Grey's] not the sort of bloke I'd get along with," Jamie revealed. "All my mates are easy going and quick to laugh—I wouldn't imagine myself sat in a pub with him. I don't think he would be my type, when it comes to choosing mates."
But when it comes to Fifty Shades box office success, no one is more surprised than the 34-year-old Irish actor. He told the mag he doesn't let himself think about his level of fame since "it drives you mad because there's so much scrutiny and f---king craziness surrounding this series of films."
He went on, "But I always had a strong belief that it would be a success and make a lot of money. You don't have to be a scientist to work out that 100 million readers of the book will translate into bums on seats in the cinema. But I didn't expect it to be this big, to be honest."
As for the project's haters (and yes, there are plenty), Jamie doesn't fault them for not jumping onboard the Fifty Shades bandwagon. 
"You go in knowing it's a divisive project and you just accept that—it doesn't stand alone in that realm," he recalled. "But I don't blame people. I've got plenty of opinions about things I don't know a lot about, or that I don't give a chance—it's just the nature of the beast. I'm not going to lose any sleep over it."
He credits his level-headedness to a strong support system of family and friends. 
"I've had the same group of mates since I was a child and my wife and my kids and all that stuff doesn't change," he explained. "And none of those people will let me change, unless they're not very good people."
Jamie added, "But you see plenty of that in this industry—the people around you f--king lose the plot and you become a prick. I think I have great people around me."
The latest issue of GQ Australia is on newsstands now.