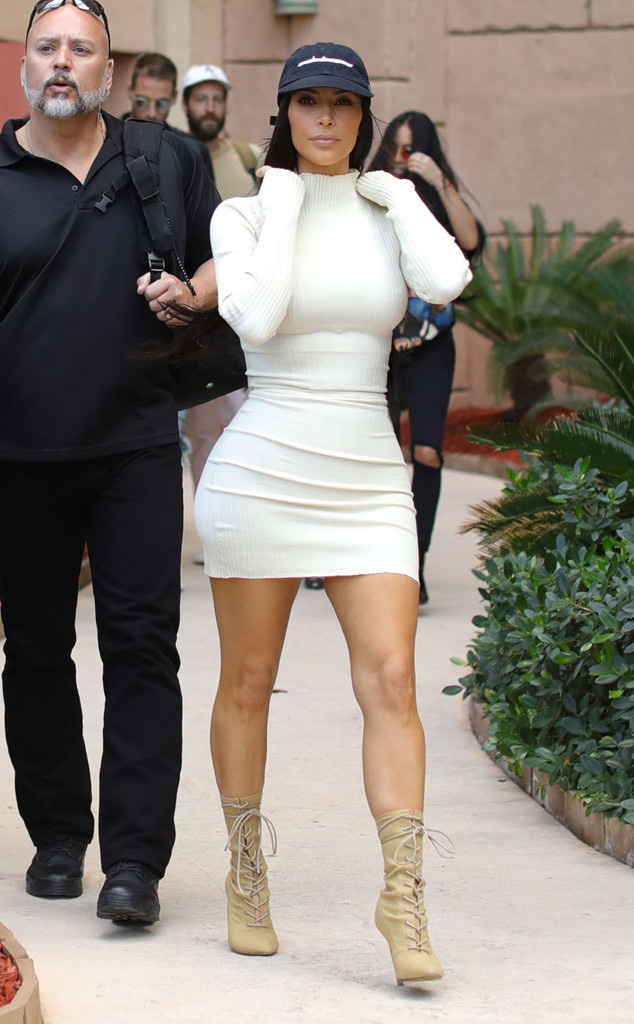 Brian Prahl / Splash News
More details are emerging from Kim Kardashian's horrific Paris robbery from last year.
The French newspaper Le Journal du Dimanche published Sunday what it says is a transcript of the Keeping Up With the Kardashians star's verbal statement to French police about the October event, during which she was robbed of almost $10 million worth of jewelry at gunpoint inside her hotel room.
NBC News confirms that the police report is accurate as published, although local police have yet to release the report themselves. Kim has not commented.
She had been in Paris for Fashion Week. According to the report, Kim told the authorities the robbery took place at 4:30 a.m. while she was wearing nothing but a bathrobe.
She said that while her sister Kourtney Kardashian and her assistant changed clothes, she went to her computer upstairs and worked. She said she then heard noises at the door, "like footsteps," and asked who was there. No one answered and she called her bodyguard just before 3 a.m. She then saw through the sliding door two people, including "a man of the reception who was strapped [or tied up]."
She said the robbers were two hooded men wearing jackets that read "Police" and that one of them wore a ski mask. She said he spoke to her in French, took her Blackberry and asked where was her ring, which cost $4 million. She told him she did not know but then pointed at the piece of jewelry, which was lying on a bedside table, after he withdrew and pointed a weapon at her.
Kim told police he took the ring and asked her where he could find more jewelry and cash. 
Kim tells Kourtney and Khloe Kardashian in the upcoming season of Keeping Up With the Kardashians, which returns to E! in March, that she feared the robbers would shoot her in the back.
"There's no way out," she told the women. "It makes me so upset to think about it." 
According to the report, Kim told police the robbers pushed her onto a bed and emptied her purse, which was lying next to a jewelry box that contained two diamond Cartier bracelets, a Lorraine Schwartz diamond necklace and diamond earrings, gold Jacob necklaces, a gold Rolex watch, a diamond necklace that read "Saint"—the name of her and Kanye West's son, and other pieces.
They tied her up with plastic cables and taped her mouth shut and used tape to bind her legs. They then carried her into the bathroom and put her in the tub.
It was previously reported that one of the rings that was an "upgraded" 20-carat Lorraine Schwartz diamond engagement ring Kanye had given to her in September. 
Kim also told police the robbers did not take her cash but did make off with her iPhone 6 and Blackberry.
She said after they left, running, she removed most of her constraints and ran to her friend's room, from which she called Kourtney. 
She said she was not injured and would like to file a complaint. When asked if she had anything else to add, Kim reported said she would like to leave and return to her children in the United States, adding that she had a private plane waiting for her.
Kim largely stepped out of the spotlight and avoided social media for almost three months after the robbery.
She has since been seen out and about more and recently began a trip to Dubai with Scott Disick and friends. The group went four-wheeling in the desert over the weekend and also spent time shopping.