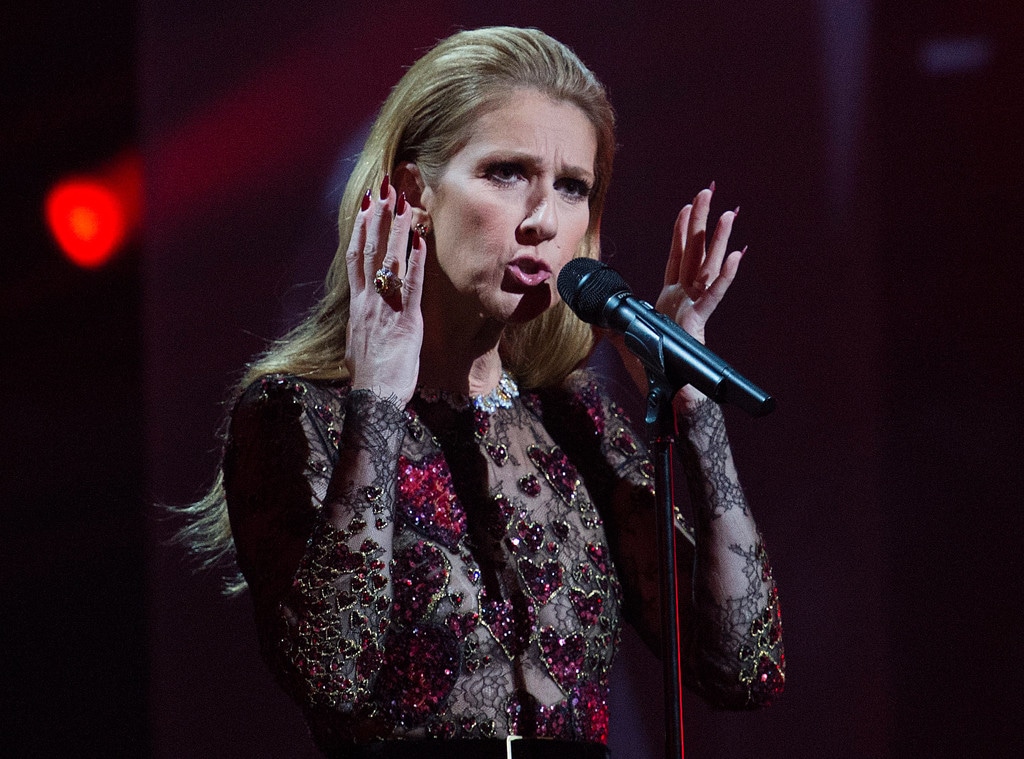 Graham Hughes/The Canadian Press via AP
Throughout the past year, Céline Dion has been the very picture of indomitable strength.
Losing her husband of 21 years, René Angélil, to cancer on Jan. 14, 2016, didn't come as a surprise, as he had been ill for some time; but as the Grammy-winning artist herself said: Her family lived with hope even when there was no hope.
Dion took a leave from her Las Vegas show in August 2014 to devote herself to caring for Angélil, who in addition to being the father of her three children had also been her manager for the entirety of her storied career. And understandably, though it was valuable time spent together, watching his condition deteriorate was also a very painful experience.
"It's been a tough journey," she told E! News last July. "Like I say, many times, many people go through this, and you see your husband suffer for three years, and it's not what you want to see. So now I know he is well, and we live with him in a different way. And I see him through the eyes of my children every single day."
About his final months, she told People in May, "We were living in hope, knowing that there's no hope. There were times when I was very, very scared and he'd write me 'The end is near, I feel it.' I would go back and say, 'How can you say that? Are you in more pain?' Now I know it's possible for someone dying to feel when it comes."
She also recounted to Good Morning America how she lay down in bed with Angélil, put his robe around him and was there when he died.
The French-Canadian singer said that she explained what happened to her young twins by referencing the Disney-Pixar tearjerker Up.
PONOMAREFF/PONOPRESSE/Gamma-Rapho via Getty Images
"Before I told them that their dad was not there, I talked about when we, everybody, gets sick. Then I said, 'Do you remember the movie Up?' It's one of our favorites. 'Oh,' they said, 'Yes, Ellie went up.' You know, she with the balloons. And I said, 'Well, yeah… You know, today Papa went up.'"
"The only thing I wanted is for them to say 'up,'" Dion recalled. "Up is a good thing. Up is uplifting."
It's that tireless spirit that seems to have seen Dion through her darkest days of grief and allowed her to turn what could have been an interminable mourning period into an opportunity to celebrate life—both Angélil's and those of the loved ones still around her, as well as her own.
Denise Truscello/Caesars Palace via Getty Images
On Feb. 4, 2016, Dion held such a ceremony for Angélil at The Colosseum at Caesar's Palace, home of her record-setting Las Vegas residency which will celebrate its 15th anniversary this year.
"I feel his love in this room," she said from the stage. "I feel his strength and his warmth being reflected in all of you. René always surrounded me with the best people who believed in us and always worked so hard on our behalf."
Dion returned to her show on Feb. 23, knowing that it's singing that has sustained her through the toughest of times and her adoring audiences were there to help lift her up. And she would continue to keep Angélil with her while she was performing.
"I understood that my career was in a way his masterpiece, his song, his symphony," a written message appeared in the theater before her first show back. "The idea of leaving it unfinished would have hurt him terribly. I realized that if he ever left us, I would have to continue without him, for him."
A source told E! News that Dion had a gold-covered cast of her husband's hand made, so that she could continue with her nightly tradition of placing her hand in his before every show.
Her family's ongoing support has also been key. Her son René-Charles Dion Angélil, who will turn 16 later this month, entered the public spotlight for the first time in May when he turned up to present her with the Icon Award at the Billboard Music Awards—which Céline was not expecting.
Kevin Winter/Getty Images
"I'm sorry for crying," she said, already emotional from the applause following her first live TV performance—of a new recording, a cover of Queen's "The Show Must Go On"—since her husband's death. "I want to be so strong for my family and my kids. And I didn't expect that. I'm so sorry." Turning to René-Charles, she added, "I don't want to cry in front of you. You make me so happy. Thank you."
Dion told E! News last year that she was proud of son's strength in the wake of his father's passing.
"For a 15-year-old boy to lose his dad is really hard," she said. "But," she added, smiling, "he's doing well. He's doing really well in school, he's home-schooled, and I feel like we have a stronger bond."
Dion released the French-language album Encore un soir ("One More Night") in August, her first album since 2013's Loved Me Back to Life and first French LP since 2012's Sans attendre ("Without Waiting"). She also hit the road for the first time in several years last summer, a 28-date mini-tour around Europe and Canada.
Back in the States, October was a momentous month for Dion. On the 8th, she performed her record-breaking 1,000th show at Caesars in front of a packed house of 4,200—and she mentioned Angélil multiple times as the one who first envisioned her holding court in Las Vegas as she had for 14 years. She closed the show with the one-two punch of "My Heart Will Go On" and "The Show Must Go On."
Showing their appreciation for Céline, Caesars Entertainment and AEG donated $100,000 to the Azar/Angelil Oncology Research Fund that was set up after Dion's husband and brother died within days of each other from cancer.
Her twin sons, Nelson and Eddy—labors of love, the both of them, born after she got pregnant following her sixth round of IVF—turned 6 on Oct. 23. The family celebrated at Disneyland.
And at the end of October, Dion performed and accepted a Félix trophy in Angélil's honor at the ADISQ Gala in Montreal, celebrating the work of artists, producers and business people in the recording industry.
"He's not physically present, but I'm sure he's here tonight. I don't think he missed any of this, and I'm sure he's very proud," she told reporters backstage.
Just yesterday Dion shared a "holiday memories" photo of herself with René-Charles, Nelson and Eddy in front of their Christmas tree. She had told Page Six beforehand that she planned to take the family skiing in Montana for what was going to be a "bittersweet" holiday, no matter how much they were able to enjoy the moment.
"I feel thankful that [Rene] doesn't suffer and he doesn't have to worry, because we got him," she said. "He got us and the spirit of the holidays will get us together again...We're going to ski again all together and he will be there with us."
Dion told Las Vegas Review-Journal columnist Robin Leach last fall that she's working on a new English-language album—"Recovering," which Pink wrote after Angelil's death, was the first song of the many being offered to her—but otherwise she's not entirely sure of her next step. Then again, she has some time to think about it, as her contract extends through 2019.
"I don't know what the future holds for me, but I am the leader with my team and with my family for the rest of my life, and I still want to do that even more than ever before, because I don't need to prove myself anymore," she said. "I'm doing it for fun. I'm doing this for love. I have a great time. I'll do it tomorrow and all the tomorrows after that."
Right now—and every day—the focus is on her three boys, the center of her world. It's through them—as well as through the wildly career that her late husband envisioned for her and helped build—that Angélil's memory will live on, a legacy for the ages.
"I feel very, very strong," Dion told Leach, "but I have to tell you that the grieving of Rene is going to be for the rest of my life. But the strength and the dealing with it is at the right place. I don't have ups and downs, which is great because my kids don't have ups and downs. They feel me so centered and well balanced that the boat is not shaking. The Titanic is not sinking, honey."