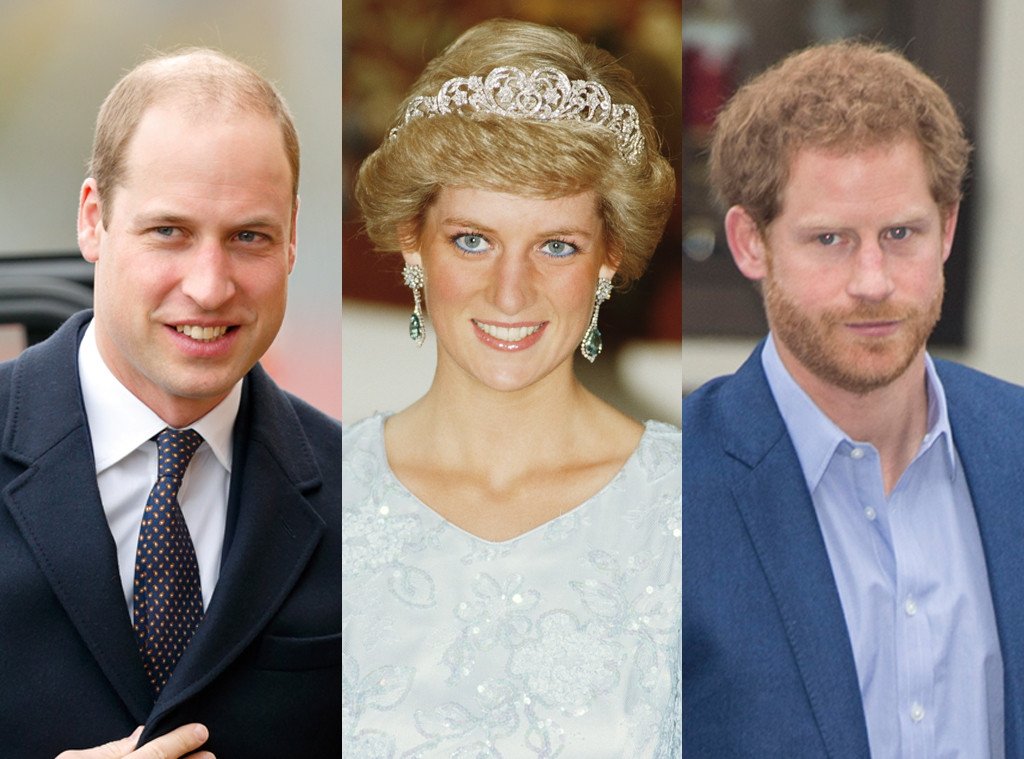 Max Mumby/Indigo/Jayne Fincher/Princess Diana Archive/Mark Cuthbert/UK Press via Getty Images
There isn't a day that passes during which Prince William and Prince Harry do not think about their late mom, Princess Diana. As Harry once said, "She was quite simply the best mother in the world."
It was 20 years ago when Princess Diana was tragically killed in a car accident in Paris. William was just 15 years old at the time, his brother only 12.
The shocking events of August 31, 1997, made William and Harry the human faces of an international tragedy. While millions cried openly in the street at their mother's funeral, the boys remained dry-eyed and stoic as they paid tribute in the most public of circumstances by walking behind her coffin as it made its way slowly down The Mall.
The world was heartbroken, a nation was in mourning, but the young princes were the epitome of strength. The loss had left a gaping hole in their lives. They had shared a unique bond with their mother; she was not just a parent, but also a guardian and friend, someone intent on teaching them normalcy despite the pomp and circumstance that surrounded them. Their fate as future heir and spare was unavoidable, but she was determined to fill their lives with as much love and laughter as possible, elements her own failed marriage to Prince Charles had so desperately lacked.
Royal life seemed to go back to normal in the years that followed. Attention focused on how to protect the boys from becoming prey for the press, like their mother. From the small snippets of their life that we did get to witness, it was clear their world was very different from the one they inhabited before. Their relationship with their father grew closer and their days were filled with boarding school, friends, family skiing trips to the Alps, university and, of course, William eventually fell in love with a commoner called Kate Middleton.
LEON NEAL/AFP/Getty Images
As the memories of their mother started to fade, the young royals seemed steadfast in prepping for their role as public servants.
It wasn't until the 10th anniversary of her death that a then 22-year-old Harry finally broke his silence about the loss.
"William and I can separate life into two parts," he explained at a memorial for Diana. "There were those years when we were blessed with the physical presence beside us of both our mother and father. And then there are the 10 years since our mother's death. When she was alive we completely took for granted her unrivaled love of life, laughter, fun and folly."
His heartfelt dedication was beautiful but an anomaly. Soon after, William and Harry put a lid back on their heartbreak, reluctant to mention her name publicly again.
Some speculated their silence was rooted in a fear of upsetting their father and grandmother. It was no secret that Diana and Queen Elizabeth II's relationship was strained. The rift only magnified in the days following the fatal Paris accident, when the Queen decided not to leave her estate in Scotland to mourn with her subjects. In the end, the monarch did travel to London but the damage had been done. Public grief had turned to anger and it left many asking if her seemingly heartless response meant she was out of touch with her people. After that the mere mention of Diana's name was a sensitive subject in royal households.
But things are very different now. What was once a secret sorrow has now become something the two brothers are increasingly open about. Just this week, William and Kate visited a child bereavement center in London and William admitted he was "very angry" after his mother's death. When consoling a child at the center he revealed he had found it very difficult to deal with the loss of his mom and encouraged the little boy to talk about his pain, as it would help him heal.
Last month, Harry admitted he had also repressed his feelings. In the documentary Prince Harry in Africa, he said, "I'd never really dealt with what had actually happened, so there was a lot of buried emotion and, for a huge part of my life, I just didn't even want to think about it.
Chris Jackson/Getty Images
"I now view life differently from what it used to be. I used to bury my head in the sand, and let everything around you tear you to pieces. I was fighting the system, going, 'I don't want to be this person.' My mother died when I was very, very young and I don't want to be in the position. Now I'm so energized, fired up, to be lucky enough to be in a position to make a difference."
With that maturity and confidence has come a renewed determination from the brothers to remind people of their mother's impact on the world.
Samir Hussein/Samir Hussein/WireImage
Today, Diana's influence is as strong as ever, permeating every nook and cranny in the royal family. Whether it's in the charity work her children have chosen to do in her memory or the kind of life William and Harry are trying to lead, you can see her spirit everywhere. It's evident in William and Kate's close marriage, in the way the Duke and Duchess are trying to give Prince George and Princess Charlotte (whose middle name is Diana) a very normal upbringing and in Harry's tenderness when he is working with children.
William and Harry are resolute in their aim to make their mother proud. Ten years ago, at a memorial in her honor, Harry gave us a glimpse of the two brothers' hope for their mother's legacy and what they dream theirs may be as well. "She kissed us last thing at night. Her beaming smile greeted us from school. She laughed hysterically and uncontrollably when sharing something silly she might have said or done that day," he said. "She encouraged us when we were nervous or unsure.
"…Put simply, she made us, and so many other people, happy. May this be the way that she is remembered."