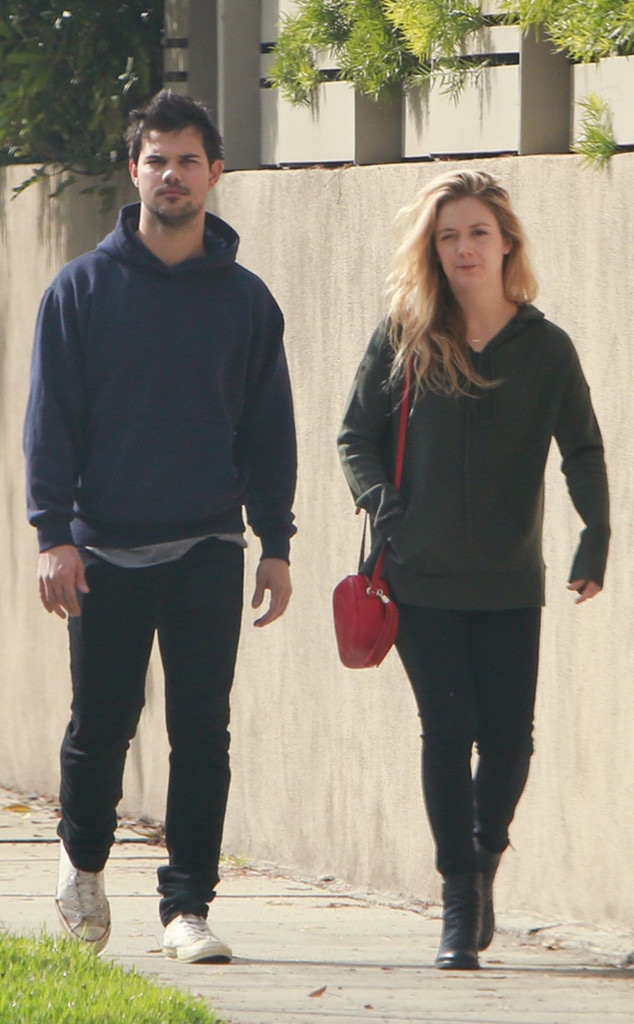 PacificCoastNews
Billie Lourd is seeking solace in Taylor Lautner.
Nearly two weeks after losing her mother Carrie Fisher and grandmother Debbie Reynolds, the Scream Queens actress was spotted walking with her co-star and rumored beau in Los Angeles on Monday. The stars were dressed down for their stroll, sporting comfy sweatshirts and jeans. 
The appearance falls just a fews days after the late mother and daughter were memorialized at Fisher's home a day before a joint private funeral. "Billie wanted the people her mother loved to gather in that living room one last time," a family source told People.
Among the 125 celebrities who attended the memorial, Lautner was there to comfort the 24-year-old. Lourd entertained the crowd with a performance of her mother's favorite song, "Happy Days Are Here Again," with fellow attendee Meryl Streep. 
In early December, co-star Keke Palmer snapped the pair in a lip-lock, fueling speculation that they had turned their on-screen romance into a budding real-life relationship. While they have yet to confirm their status officially, Palmer alluded to some kind of coupling. 
"Billie and Taylor, they're pretty adorable," she told E! News in December. "I'll let them explain who and what they are, whatever they are. But they are absolutely adorable."
While Lautner can console the actress during this deeply difficult time, Lourd's aunt, Joely Fisher, has vowed to help keep her "whole" amid such loss. 
"In time she will be," she said of her niece in a tribute she penned to Fisher for The Hollywood Reporter. "She is smart and soulful and magic."
The endless shower of support from family, friends and fans has not gone unnoticed by Lourd.
"Receiving all of your prayers and kind words over the past week has given me strength during a time I thought strength could not exist," she wrote on Instagram. "There are no words to express how much I will miss my Abadaba and my one and only Momby. Your love and support means the world to me."
On Monday, Reynolds' death certificate confirmed the icon died from an intracerebral hemorrhage caused by high blood pressure. Fisher's cause of death has not yet been revealed.