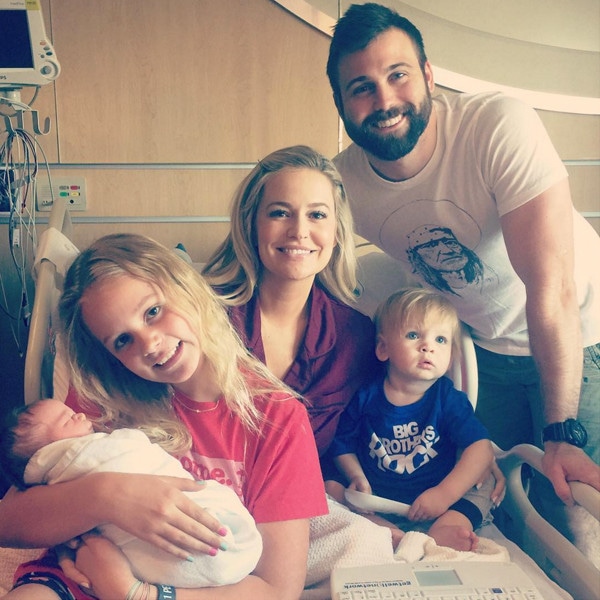 Instagram
Emily Maynard rose to fame as a contestant on The Bachelor, where she tried to find love after losing her fiancé in a plane crash, but years later the former reality star has a wonderful family—and advice for current bachelor Nick Viall.
Maynard, who also starred on The Bachelorette, was engaged twice as a result of her appearances on the reality shows, but both engagements didn't make it down the aisle. Eventually, Maynard found love at church, where she met and married current husband Tyler Johnson.
"I met him at church before I did The Bachelorette, he really wanted nothing to do with me," Maynard said on Good Morning America Tuesday. "I told my girlfriend I met this guy and he could like not be less attracted to me, he was in the friends zone."
They tied the knot in 2014 and now have two children together, Jennings, 1, and Gibson, 3 months. She also has a daughter, Ricki, 11, with her late fiancé. "It is crazy at our house all the time," Maynard said, "but it's a lot of fun."
Maynard credits Johnson's parenting skills for helping them get through life with three kids. "He is like the best dad ever," Maynard said of Johnson. "Jennings is obsessed with him and I'm sure Gibson will be, too."
Despite their great tag team, Maynard confessed having two kids in under two years proved to be incredibly difficult—but she wouldn't change a thing. "With Jennings, my older boy, I was on Cloud 9, like everything was perfect, I couldn't wait to have another one. 
"Then I got pregnant when Jennings was 6 months old," Maynard continued. "I was like I don't have this thing figured out at all, I thought I did, and now it's like too late, we're already in this with a third kid."
Considering herself blessed, Maynard chalks her good fortune up to God's plans. "I just think God knew I could not handle a lot so he gave me three super easy babies and three super easy kids," she added.
Even though her children are well behaved, Maynard's pregnancies were anything but easy. "I was sick from the time I woke up until the time I went to bed, and I finally got put on this medicine called Diclegis and it like changed my life," she said, noting she's a paid spokeswoman for it.
Maynard's Bachelor life might be behind her, but she's still an avid watcher. She was skeptical to dole out advice to current contestants but did say everyone should "just have fun."