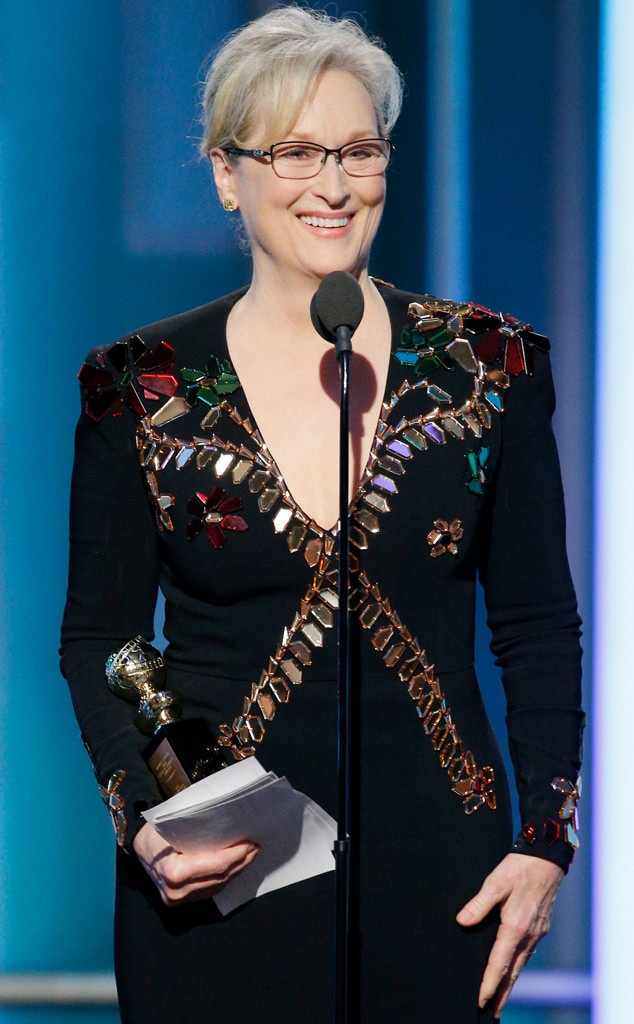 Paul Drinkwater/NBC
Beloved Meryl Streep somehow made Hollywood fall even more in love with her at the 2017 Golden Globes.
Streep, who was honored with the Cecil B. DeMille award, accepted her trophy and gave a politically charged speech about President-elect Donald Trump and his tendency to target foreigners. Streep defended the press, Hollywood and immigrants, and called upon the late Carrie Fisher to help her close out her speech. "As my friend, the dear, departed Princess Leia, said to me, 'Take your broken heart, make it into art,'" she said.
The Florence Foster Jenkins star never mentioned Trump by name.
Golden Globes cameras panned across the audience to show various members tearing up and looking at Streep with awe.
Additionally, stars both in attendance and elsewhere turned to social media to praise the iconic actress.
The 30-time Golden Globe nominee also spoke of the importance of empathy, choosing to focus her speech on other people instead of her illustrious career. She stressed the importance of the arts, highlighting the work of every person in the ballroom of the Beverly Hilton Hotel.
Did you catch Streep's speech? Sound off in the comments.
For complete Golden Globes coverage, watch E! News at 7 p.m. and 11 p.m.