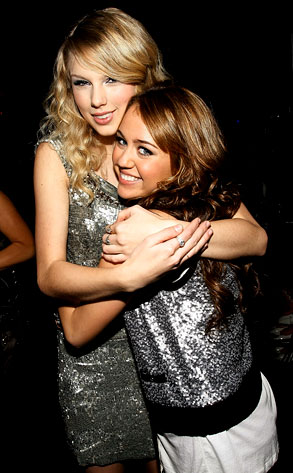 Michael Buckner/Getty Images for AMA
They may not have been able to make sweet—or at least lasting—music with the Jonas Brothers, but Miley Cyrus and Taylor Swift are giving it a go with each other.
The fresh-faced songbirds are teaming up to perform a duet of the Swift-penned tune "Fifteen" at this weekend's Grammy Awards.
"We were trying to figure out different things that would be cool," Swift told E! News' Ryan Seacrest this morning. "We all kind of agreed, 'Wouldn't it be cool if Miley was up there too and we're singing together?' And we're excited about it."
That is, provided Selena Gomez and Camilla Belle don't sign on as last-minute presenters.
In a call from Nashville, Cyrus told Seacrest that Swift's lyrics "are very inspiring" and hit close to home for the Disney superstar.
"This song is perfect for the Grammys," she said.
Cyrus, currently at the ripe old age of 16, also said that she, like most teens, spent her formative 15th year "thinking you know everything," before realizing, "the only thing you're left with are your best friends."
Of which she apparently counts Taylor as one—and vice versa.
"We've known each other for a while," Cyrus said, while Swift added, "We've definitely been there for each other."
As for their rapidly dwindling practice time, the girls said they planned to meet up in Nashville tomorrow for "some rehearsing and hanging out."
In addition to the teen dreams, fellow nominees Adele, Chris Brown and Sugarland have also been added to the performance lineup. Also dueting will be Estelle and Kanye West, while Jamie Foxx and Ne-Yo will team up for a Four Tops tribute in honor of the legendary Motown group's Lifetime Achievement Award, to be collected by sole surviving member Duke Fakir.
Previously announced performers include Paul McCartney (with Dave Grohl on drums), U2, Coldplay, Radiohead, Lil Wayne, Jennifer Hudson and Justin Timberlake.
And, lest we forget, the Jonas Brothers will also be rocking the stage.
The 51st Grammy Awards air Sunday on CBS.