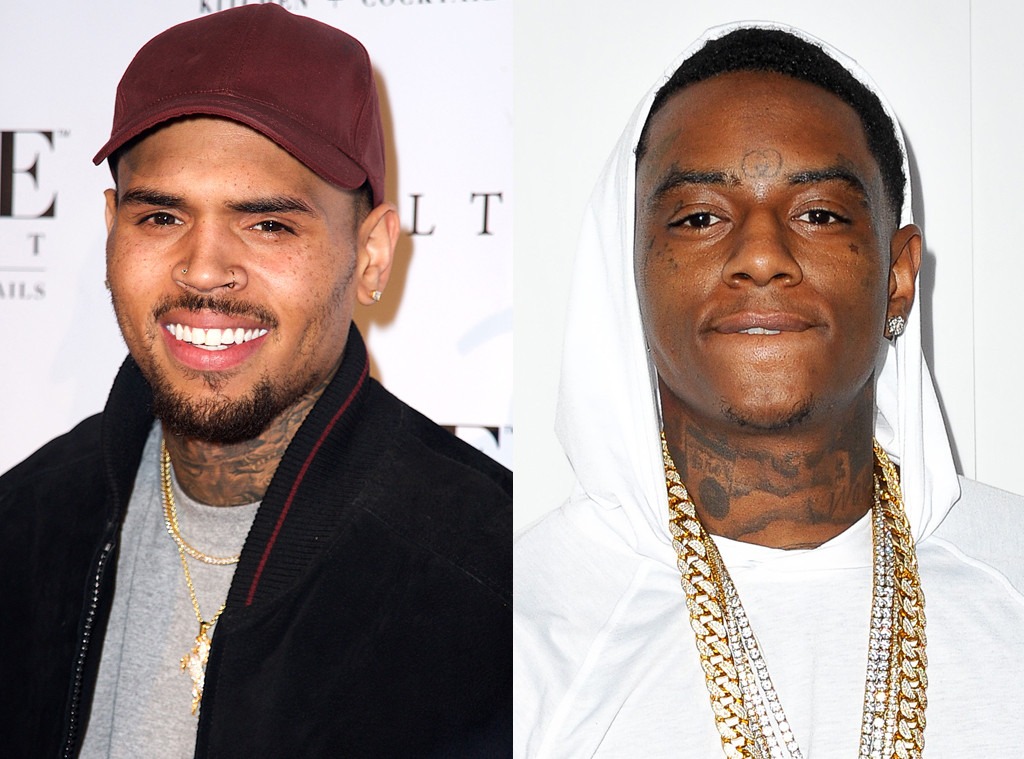 FilmMagic/Getty Images
Soulja Boy and Chris Brown's feud just even more personal as they prepare for their big fight.
The two, who have collaborated on music in the past, exchanged harsh words on social media last week and 50 Cent helped arrange a pay-per-view boxing match. Brown got especially angry after Soulja Boy tweeted about his daughter, Royalty.
On Sunday, after learning Mike Tyson was going to train Brown for the match, Soulja Boy said his fight against the singer was "for Rihanna." In 2009, Brown was sentenced to five years of probation and six months of community service for attacking Rihanna, his then-girlfriend.
Soulja Boy had initially said Brown told him he wants to "fight" him because he liked a photo the R&B singer's ex Karrueche Tran had posted online. The rapper tweeted that he invited both her and Rihanna to the fight. 
On Friday, 50 Cent had posted an Instagram video showing him talking to Tyson on the phone, saying he should train Brown and that fellow boxing star Floyd Mayweather, whose company is promoting the fight, is training Soulja Boy.
"Yeah. Soulja Boy is gonna get f--ked up!" Tyson told 50 Cent.
"What the f--k is Mike Tyson gonna teach Chris Brown? How to bite my ear off? Bitch the money team never lost shoutout big bro Floyd," Soulja Boy tweeted Sunday, referring to boxing champion-turned-boxing promoter Floyd Mayweather, whose company is promoting the fight.
"After I knock Chris brown out I'm going to crank that Soulja boy and super man in the ring on his stupid ass," Soulja Boy wrote. "I was going to chill but now I'm going to finish this n---a. I'm doing it for Rihanna. That was f--ked up how he beat her ass like that smh."
On Sunday, Tyson said in an Instagram video he talked to Brown and was going to train him for the fight. The former heavyweight boxing champion also responded to Soulja Boy's comments.
"Soulja Boy, what the f--k are you talking about, 'only thing I'm gonna teach him is to bite somebody's ear—yeah, that's right!" Tyson said. "I'm gonna teach him every dirty trick in the book to knock you out. 'Cause I'm not gonna teach him how to run."
He also shared a photo of the two shaking hands during happier times.
Speaking while getting a haircut, Soulja Boy said in an Instagram video, "Brothers fight. Sometimes brother fight, friends fight, and after the fight, they shake hands and keep it moving."
"But when we get in that ring, it ain't no friends," he said. "and we're gonna duke it out. And that's what it is. Ain't no beef, ain't no violence. Put the guns down. Put your hands up. Soulja Boy versus Chris Brown, the biggest boxing match, the biggest fight of the century or the year. Get your tickets, they're selling now."