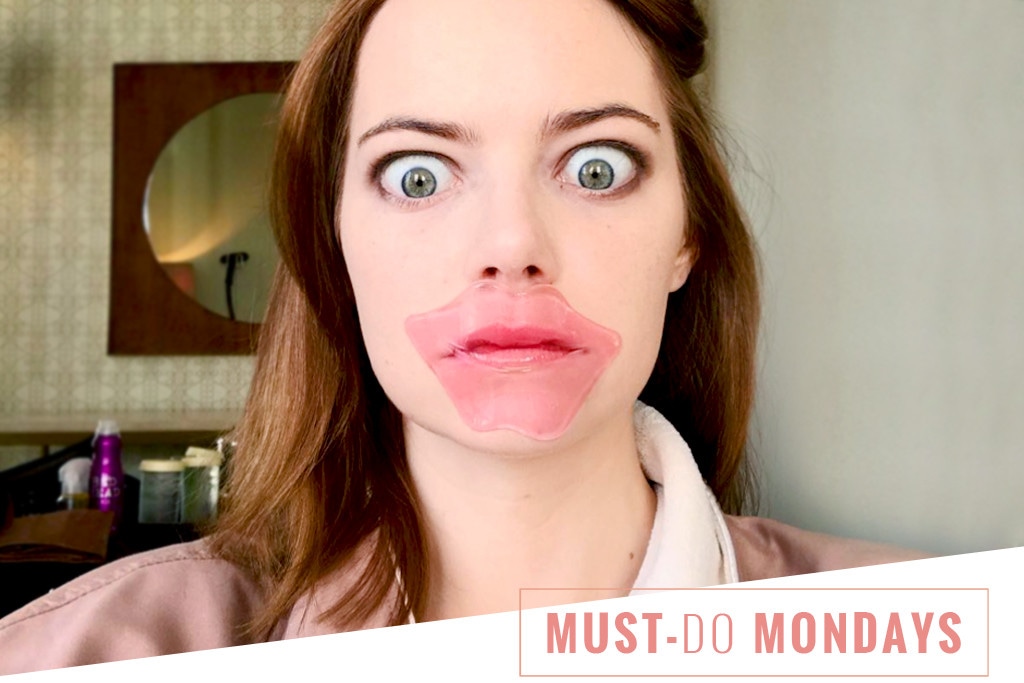 Instagram
Emma Stone is yet another celeb to join the lip mask movement.
The actress' makeup artist, Rachel Goodwin, posted a photo of Emma using a KNC Beauty pout cover right before the Golden Globes on Sunday.
"Some say beauty is pain, others say [it's] just ridiculous! And so is prepping for the #goldenglobes with this hilarious human being!" wrote the beauty guru.
Ridiculous? Maybe. Effective? There's a reason why other celebs, like Kim Kardashian, Jessica Alba and Lady Gaga, are fans.
Not only is the shape fun and totally, like, Instagram-worthy, but the gel-like covering contains hyaluronic acid (super ingredient for retaining moisture), rose flower oil, vitamin E, collagen and deionized water. Despite its silicone feel, the formula is all natural, with no parabens, sulfates or artificial dyes or fragrances.
After a few minutes, you may feel a refreshing, tingly sensation. Once you take them off 15 to 20 minutes later, you're not left with a goopy mess either. The formula works more like a serum, in which the liquid is more or less absorbed into your lips, leaving them feeling less juicy but well hydrated.
You may also realize that the skin around your lips needs more love than you're probably giving it. Just like how you treat the area around your eyes with eye cream, you should moisturize the delicate skin around your lips.
The only downside to this beauty trend? The mask is a slippery sucker, so multi-tasking is hard…unless you can lean back. We say: If Emma can relax for 15 minutes before a major award show, you can sit back and let this lip mask work its magic.