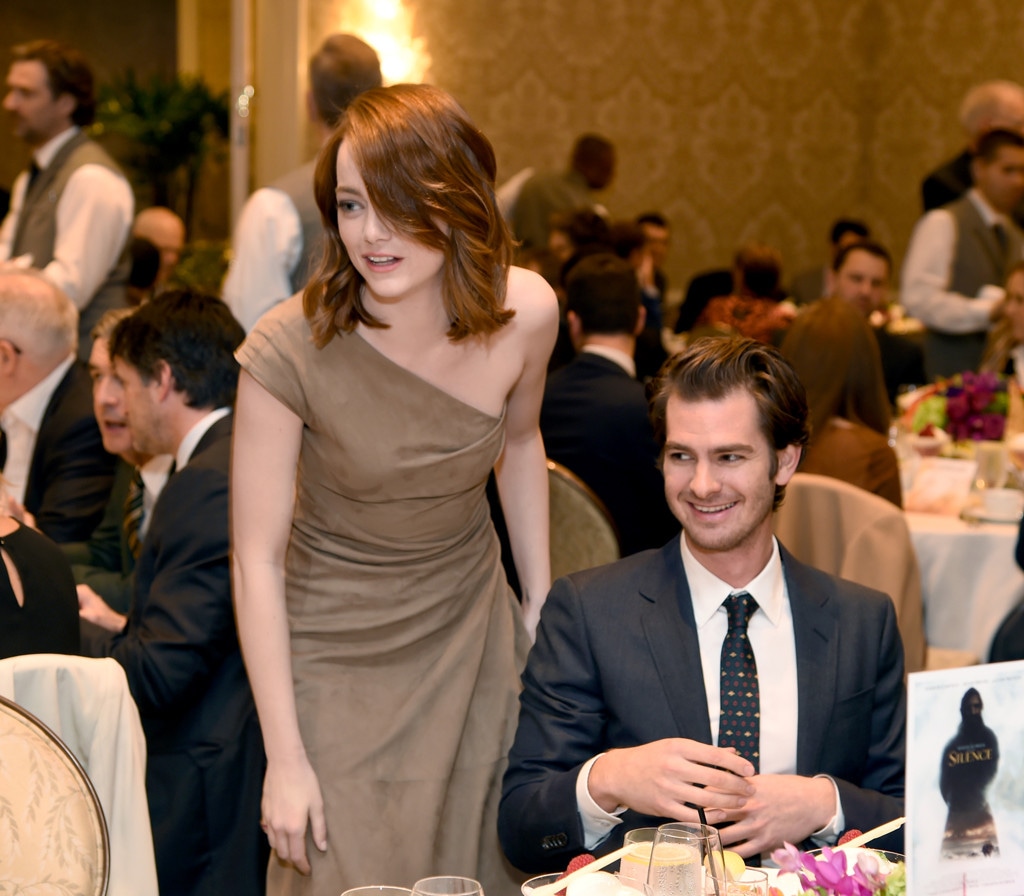 Frazer Harrison/Getty Images for AFI
Awkward or heartwarming reunion? The first of several?
Emma Stone ran into her ex, fellow actor Andrew Garfield, at the 17th annual AFI Awards at the Four Seasons hotel at Beverly Hills Friday afternoon, more than four months after they were first spotted together since their 2015 split. Her latest film, La La Land, and his latest movies, the Mel Gibson-directed Hacksaw Ridge and Martin Scorsese's Silence, are among 10 chosen as the AFI Movies of the Year for 2016.
Garfield, 33, walked over to Stone's table and sat in an empty seat next to her. The two chatted and the 28-year-old actress was heard telling him, "I feel so much better."
He then stood up and continued talking to her and La La Land director Damien Chazelle, while keeping his hand on the actress' shoulder. Garfield then made his way to the Silence table, where he was greeted with applause by Scorsese.
Stone and Garfield met on the set of The Amazing Spider-Man in 2010 and dated for four years. A source told E! News in October 2015 the two broke up two months prior.
They were photographed for the first time together since their breakup a year later, in August 2016, walking and laughing on the streets of London. At the time, a source told E! News, "There is definitely still love for each other there. They remain close and are on good terms."
Last fall, Vogue reported Stone was single and quoted her as saying Garfield is "someone I still love very much."
Garfield recently reminisced about one of their happier times together—at the "Happiest Place on Earth." In a W magazine video posted Wednesday, the actor talked about celebrating his 29th birthday at Disneyland with Stone and friends in 2012, while high.
"We ate pot brownies," he said. "It was literally heaven. How about Space Mountain three times in a row? I freaked out on It's a Small World. I was like, 'It is a f--king small world.'" 
It sure is; The two are likely to bump into each other quite a bit this award season as both are nominated for awards at Sunday's 2017 Golden Globes for their recent roles. They also received Screen Actors Guild Award nods. The 2017 SAG Awards take place on Jan. 29.
On Jan. 24, the nominations for the 2017 Oscars will be announced and it is possible both will receive nods.
Now, back to the AFI Awards. The honorees list also included Arrival, Fences, Manchester by the Sea, Moonlight, Sully and Zootopia. Television award winners included The Americans, Atlanta, Better Call Saul, The Crown, Game of Thrones, The Night Of, The People V. O.J. Simpson: American Crime Story, Stranger Things, This Is Us and Veep. A Special Award was giving to O.J.: Made In America.
Legendary film critic Leonard Maltin called award season favorite La La Land a "rainbow glowing iridescent with color" and described Stone and Gosling as "triple threat talents." We couldn't agree more!

The star-studded guest list also included Ryan Gosling, John Travolta, Sarah Paulson, Amy Adams, Naomi Harris, Claire Foy, Luke Bracey, Michelle Williams, Mandy Moore, Chrissy Metz, Milo Ventimiglia, Chris Sullivan, Mahershala Ali, Chris Pine, Donald Glover, Jeff Bridges, John Lithgow, Ginnifer Goodwin and Riz Ahmed as well as behind-the-camera superstars Ryan Murphy, Clint Eastwood, Damien Chazelle and Kenneth Lonergan.
Denzel Washington was the lone celeb asked to deliver remarks from the stage. He beamed with pride talking about how his son Malcolm Washington is a recent graduate of the AFI Conservatory. The Fences star and director quipped, "I hope one day he hires me."
It was also announced that the new Audi Fellowship Program will launch in August to provide a full-tuition scholarship to a promising female director.
For complete Golden Globes coverage, watch E! News at 7 p.m. and 11 p.m.