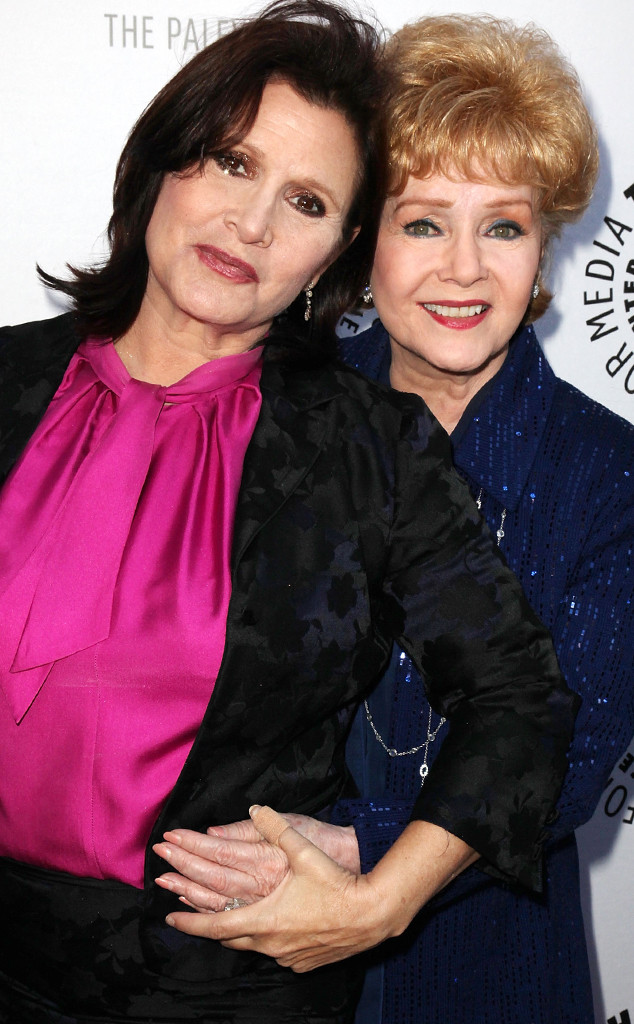 Brian To/FilmMagic
A private memorial for Carrie Fisher and her mother, Debbie Reynolds, who passed away one day after her last month, was held in Beverly Hills Thursday.
The service took place at Carrie's home a day before a planned joint funeral. Family members such as Carrie's daughter and Scream Queens actress Billie Lourd, 24, her dad and Carrie's ex Bryan Lourd, and Carrie's brother and Debbie's only other child Todd Fisher attended the service.
Stars Taylor Lautner, Jamie Lee Curtis, Gwyneth Paltrow, Meg Ryan, Alex Trebek and Meryl Streep were among the 125 guests in attendance. Streep is considered "part of the family," a source previously told E! News.
The intimate yet casual afternoon gathering was reminiscent of the parties Fisher often threw in her home. "Billie wanted the people her mother loved to gather in that living room one last time," a family source told People.
Lourd and Streep, who also performed Fisher's favorite song "Happy Days Are Here Again," were also a few of the handful of loved ones who delivered a eulogy at the memorial.
"All the tributes circled back to Billie and how much Carrie loved her," the mag reports. Guests dined on Fisher's usual party menu: fried chicken, collard greens, and cornbread.
 "The only things missing were Carrie and Debbie," the family insider continued. "Debbie would sit in the corner, and everyone there would come up and pay homage. Even the biggest stars were starstruck by her. Carrie would walk around barefoot with a can of Coca-Cola, making sure everyone was having a good time, saying the funniest things you've ever heard."
Carrie, best known for playing Leia in the Star Wars films, died after on Dec. 27, days after suffering a cardiac event on a plane. Debbie, a veteran actress who starred in movies like Singin' in the Rain, passed away a day after her daughter from what is believed to be a stroke. Carrie's body was recently cremated. 
Carrie and Debbie will be buried next to each other "and among friends," including actress Bette Davis and pianist Liberace, at Forest Lawn Memorial Park in L.A.
In addition to the private service and funeral, their family is also planning to honor them with a public memorial. No date has been set.
"We'll have quite an event," a source told E! News exclusively. "Anybody who loved Carrie and worked with Carrie will be invited to that big event."
Todd recently talked to ABC News about Carrie and Debbie and how his family has been coping with the tragic loss. 
Rocstar/Javiles/FAMEFLYNET PICTURES
"We're brokenhearted, those of us that are left behind," he said. "We also are happy that they're together. It's horrible. It's beautiful. It's magical they're together. It's beyond words. It's beyond understanding."
After her mother and grandmother's deaths, Billie had said on Instagram this week, "Receiving all of your prayers and kind words over the past week has given me strength during a time I thought strength could not exist. There are no words to express how much I will miss my Abadaba and my one and only Momby. Your love and support means the world to me."