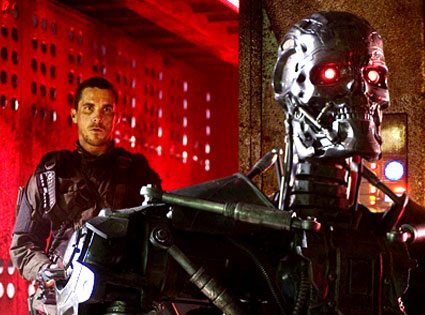 Warner Bros. Entertainment
Sounds like John Connor's biggest weapon is his mouth.
Christian Bale, ticked off at Terminator: Salvation's director of photography for interrupting what we're told was a very intense scene, ripped into the guy for about three and a half minutes, at one point telling him he was going to "kick his f--king ass" and threatening to quit the set unless the man was fired.
"I want you off the set! You prick!" the 35-year-old actor yelled at D.P. Shane Hurlbut. "No, don't just be sorry! Think for one f--king second! What the f--k are you doing? Are you professional or not?"
The rant, captured on tape last year, continued in that vein for several minutes, with the F-word taking center stage.
(WARNING: The following clip contains language that may be found offensive.)
"If you are working in a very intense scene and someone takes you out of your groove...It was the most emotional scene in the movie," said Franklin. "And for him to get stopped in the middle of it. He is very intensely involved in his character. He didn't walk around like that all day long. It was just a moment and it passed.
"This was my second movie with Christian, and it has always been a good experience with him," added Franklin, who also worked with the actor on 2000's Shaft. "He is so dedicated to the craft. I think someone is begging to make some noise about this, but I don't think it's fair. The art of acting is not paint by numbers, it's an art form. "
Reps for Bale and Hurlbut did not immediately return calls for comment.
Rumors of Bale's Terminator temper tantrum made the rounds last July, when he was questioned by British authorities in connection with a public spat he had with his mom and sister. The Dark Knight star was ultimately cleared of any wrongdoing.
—Additional reporting by Whitney English and Claudia Rosenbaum
(Originally published Feb. 2, 2009, at 4:00 p.m. PT.)